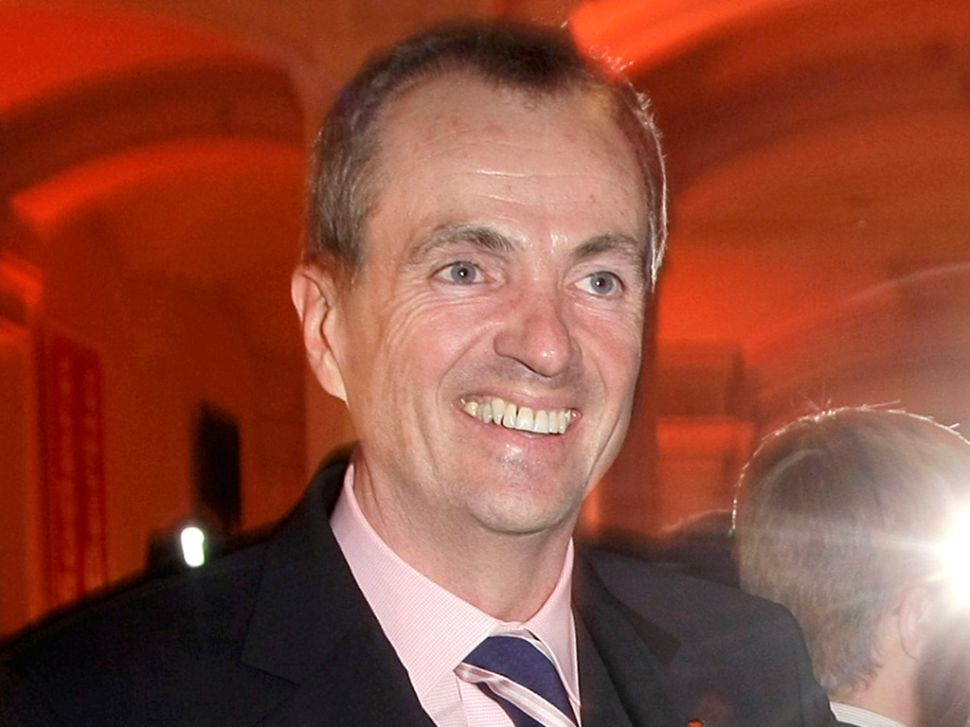 Kim Guadagno missed the Chamber of Commerce Walk to Washington because Chris Christie was in DC and the LG ought not leave NJ when the Governor is out of state. She announced the endorsements of another 100 GOP officials, but no new county chairs — her total stands at ten. While Ocean's George Gilmore hasn't formally endorsed, he is also with Guadagno, as evidenced by endorsements from the Brick and Lakewood Republican Clubs this week (something that is inconceivable without Gilmore's approval.) She also picked up the support of the Passaic County Women's Republican Club.
Phil Murphy took the train to Washington, after spending his week talking about his plan for pay equity in New Jersey.  He says a woman earns about 80% of what a man earns – 60% if that woman is Black.  He promised to "beat the pants" off Massachusetts, where his former high school classmate, Republican Gov. Charlie Baker, signed a pay equity law.
Let's fact check Murphy's math on pay equity in New Jersey: Christie makes $175,000-a-year and Guadagno has a $141,000 salary – just about 80% of what Christie makes. And Guadagno has spent more than 500 days as Acting Governor, whenever Christie is out of New Jersey.
The issue of the week for Jack Ciattarelli was sanctuary cities, opposing a move by legislative Democrats to provide state funds to any sanctuary city that loses federal funding under President Trump. Not a bad way to court Republican primary voters, especially as Ciattarelli and Guadagno – both of whom refused to support Trump last year – look for support among the 356,697 New Jersey Republicans who cast their votes for Trump in the June 2016 primary. Ciattarelli skipped the Chamber Train as an understandable strategy during his recovery from cancer treatment. He still managed to make his presence felt, though, with a blistering fake CD aimed at frontrunner Kim Guadagno.
Former Saturday Night Live cast member Joe Piscopo told CNN last week that he's still "seriously" considering a run for Governor in 2017. He wouldn't say if he'd run as a Republican or an Independent – but definitively ruled out entering the Democratic primary.
Bill Brennan got the best press of the week, after a Judge in Bergen County ruled – again – that there is probable cause in a criminal complaint the retired firefighter-turned-activist filed against Chris Christie over the lane closures at the George Washington Bridge. This offers opportunity to Brennan's fledgling campaign at a point where it appears to be four-way fight for second place.
Taking a page out of Chris Christie's 2009 playbook, Jim Johnson opted not to ride the Chamber Train. Instead, he stood on the platform at Newark Penn Station and handed out his press release deriding the trip as "another opportunity for lobbyists to rub elbows and curry favor with elected officials."  This could be one of those tree falls in woods things: when Christie used a similar strategy, he was coming off seven years as a high-profile federal prosecutor and was already the front runner for the GOP nomination. As Undersecretary of the Treasury under Bill Clinton, Johnson is polling at 2% among Democrats.
Raymond Lesniak did ride the train, and said he saw no real value in Johnson's strategy. "There's nothing wrong with a bunch of friends, business, people getting together and having fun. That's all it is," the Union County Senator told Gannett.
John Wisniewski, who skipped the train this year in favor of advocating for desperately needed improvements to the Port Authority Bus Terminal, made Chris Christie's White House lunch with Donald Trump his big issue of the week. And on the cusp of being old news, last Sunday, The Wiz won at least 60% of the vote to capture the endorsement of the Princeton Community Democratic Organization – a bigger deal than it seems, since Murphy, Lesniak and Johnson were also there.
Joe Rullo, the Republican who is polling literally at zero, is being urged out of the race by his former campaign manager, Michael Tothian. (Editor's Note: What is the margin of error when someone polls at zero?) Nutley Commissioner Steve Rogers continues to be slightly AWOL, although he and Rullo were the only two candidates at a Morris County Young Republicans gubernatorial forum two weeks ago. There were, reportedly, 150 people there. Not a big enough crowd for Guadagno or Ciattarelli?
CORRECTION: An earlier version of this story mistakenly said that John Wisniewski had joined the Chamber Trip. The Observer regrets the error.