Here's what happened this week in the 2017 Governor's race. (This recap covers Feb 6, 2017 – Feb 12, 2017; read last week's gov race recap here.)
A Fairleigh Dickinson University Public Mind poll shows former Ambassador Phil Murphy with a ten-point lead in the Democratic primary. Or, he's in tied for second with "Someone Else" and running way behind "Don't Know," depending on which lens you choose to view the race through. Murphy is at 17%, followed by State Sen. Raymond Lesniak (7%), Assemblyman John Wisniewski (6%), and former U.S. Undersecretary of the Treasury (and the only Democratic candidate who's not a white male) Jim Johnson (2%).
The GOP race reveals a similar story: 52% don't know and 13% want someone else. Lt. Gov. Kim Guadagno leads the pack with 18%, but the story here is that comedian/former SNL star Joe Piscopo (who is mulling the race but not yet announced) is at 12%. Among the actual candidates, Assemblyman Jack Ciattarelli and Nutley Commissioner Steve Rogers are at 2%, and businessman Joe Rullo pulled a zero.
While remembering Rogers and Rullo, FDU erred in forgetting to include retired firefighter/Christie irritant Bill Brennan, an announced Democratic gubernatorial candidate, in its poll. In the only actual vote so far – the Monmouth County Democratic Convention – Brennan finished third, ahead of Lesniak and Johnson.
The Democratic race picked up another candidate with the announcement that two-term Tenafly Councilman Mark Zinna will run. Zinna, who unsuccessfully sought the Democratic nomination for Bergen County Freeholder last year, says he has hired two full-time staffers.
2017 By the Numbers: Twitter followers (as of Saturday evening)
@JohnWisniewski – 14,477
@JrzyJoePiscopo – 11,439
@SenatorLesniak – 8,009
@KimGuadagnoNJ – 6,033
@PhilMurphyNJ – 4,454
@joeyrullo – 1,776
@JackCiattarelli – 1,347
@jimjohnsonnj – 700
@BillBrennansays – 263
@ZinnaMark – 19
Murphy picked up the biggest endorsement of the week: the International Union of Operating Engineers (IUOE) Local 825. He had Bernie Sanders' son, Levi, joining him at events this Saturday in West Windsor and North Brunswick. That's a slap at Wisniewski, who bucked the Hillary hordes and showed some personal courage in chairing the Sanders campaign in New Jersey last year.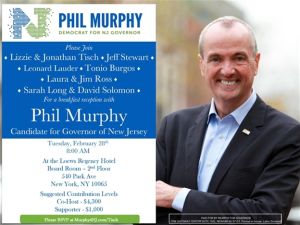 Murphy, whose personal wealth played a role in knocking A-list challengers out of the race, is also opening the spigots on the fundraising front. This week, he held a high-dollar event ($4300 for co-host; $1000 for supporter) at the Fair Haven home of Bill Luby, who's a partner at the private equity firm Seaport Capital. He also sent out invitations to a high-dollar breakfast event in New York City on February 28 at the Loews—that location figures because one of the hosts is Loews owner Jonathan Tisch and his wife Lizzie, as well as other shock and awe names like Leonard Lauder and the power lobbyist Tonio Burgos.
Meanwhile, Lesniak won the support of Steven Goldstein, the former president of Garden State Equality and one of New Jersey's leading progressive voices.
Johnson made a bold, but likely irrelevant move: he called upon Murphy (and others, but the reality is that it'll only effect Murphy, who has vast personal wealth) to limit their campaigns' spending to $15 million in the Democratic primary. Johnson has already raised enough to qualify for matching funds.
Wisniewski appears to have violated a pay-to-play law he helped write when he gave a $1,000 campaign contribution to the Monmouth Democrats while serving as the Keyport tax appeal attorney. The Wiz said it was a case of mistaken identity: he didn't give the money, his campaign did.
Guadagno won last week with the announcement of 100 endorsements – more importantly, ten county chairs – but this week was limited mostly to extending birthday wishes to Ronald Reagan on Twitter and Facebook, and climbing to #11—and the top woman—on the NJ Biz power list (she was #20 last year).
Ciattarelli launched a strong attack against Guadagno, calling a fundraising letter that boasts of her job creation record "embarrassing, dishonest, and easily fact-checked."
As an unannounced candidate, Piscopo still gets the most air time. In addition to his own growing radio show on 970 where he talked Neil Gorsuch with Scott Brown, the former SNL star made appearances on FoxBusiness with Neil Cavuto ("Stop the whining Democrats").
Joe Rullo has meet and greets scheduled next week in Point Pleasant and Bayonne. Rogers spent the week AWOL again, with signs that he might have fared better in the "frankly, we don't give a dam" 2014 GOP U.S. Senate primary.