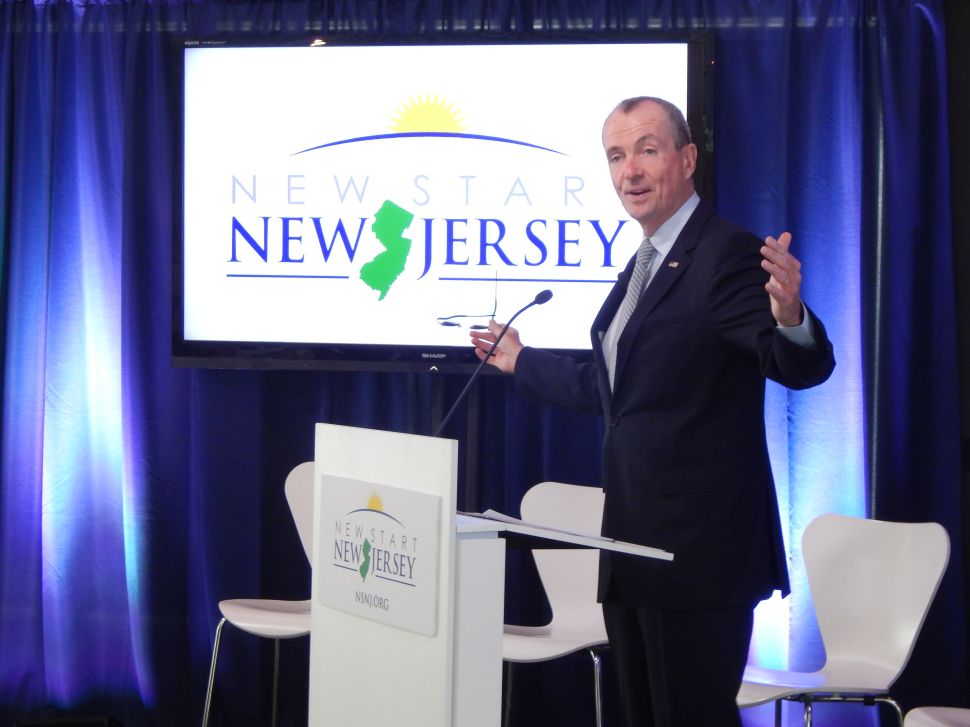 Here's what happened this week in the 2017 Governor's race. (This recap covers Jan 30, 2017 – Feb 5, 2017.)
Jan. 31 Quinnipiac poll matches up the two front runners head-to-head. Democrat Phil Murphy holds a 16-point lead, 45%-29% over Lt. Gov. Kim Guadagno. Key takeaways: 70% of NJ voters (61% of Dems) haven't heard of Murphy; 61% of NJ (53% of GOP) haven't heard of Guadagno. What it means is that it doesn't mean anything – it's way too early – though it does show the institutional advantage for Democrats in New Jersey. Christie's 17% approval at the start of his 8th year is probably more significant. His approval among Republicans is just 53%, which hurts Guadagno in the primary and general elections.
Guadagno endorsed by 100 party leaders. The really significant number is 10 County Chairs. That's a strong showing. And it's really eleven, since Ocean's George Gilmore supports her, but he presumably wasn't on the list because of the federal subpoenas that may indicate he is the target of a criminal probe. The ten chairs on record represent 34.5% of the potential statewide Republican primary vote. If you add in Ocean, that number jumps to 44%. Nobody gets every vote – unless you're Brian Stack – but the party support clearly makes Guadagno the one to beat.
Jack Ciattarelli was endorsed by his home county chairman, Al Gaburo of Somerset, and by his Senate running mate, Kip Bateman. That's about the minimum he should be getting. This is showing a bit of a split in western NJ between Guadagno and Ciattarelli.  Guadagno has the County Chairmen in Warren and Sussex, as well as Sussex Assemblyman Parker Space. Ciattarelli got the backing of most of the Hunterdon countywide officials, and Assemblyman John DiMaio of Warren. In a funny tidbit indicating that Guadagno is leaving nothing to chance, even as the presumed favorite, her campaign has bought some Google air support. If one enters "Ciattarelli for Governor" into the search box, the first result is a paid ad directing users to kimfornj.com.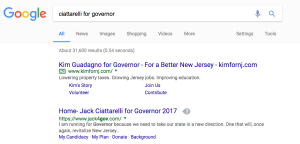 Phil Murphy spent the week battling President Trump on immigration – a smart move for a New Jersey Democrat. His comments were actually more constructive than those of Trump's ally, Chris Christie, who called the rollout of the controversial plan "terrible." Christie, described by the New York Times in a brutal December story as having been "Abandoned" in New Jersey, was said by the Times to be expecting Trump "to eventually come around to him." The idea is that the current White House team advising the president would fail and then the president would turn to Christie for a steadying hand. Christie seemed to be auditioning for precisely that scenario this week in a rare press conference, when he said the rollout was botched and that the president "deserves to be served better."
John Wisniewski tried to follow Murphy's lead on immigration. Running to Murphy's left, The Wiz picked up an endorsement from National Nurses United, the nation's largest nurses' union. In terms of Democratic primary votes, he'd be better off getting endorsed by Craig Coughlin.
Bill Brennan might have had the best week of the Democrats, after Chris Christie's lawyer didn't show up in court on the matter involving a criminal complaint Brennan filed against the Governor.
Jim Johnson didn't do much of anything.