In May 2009, the artist John Armleder had a brain tumor removed.
"I said 'maybe I should stay at the hospital,'" he recalls, though he can't remember why he had that impulse, after he'd been patched up. Had he not, he wouldn't have been at the hospital when the hematoma, which became infected and left him in the ICU for 14 months, became engorged, and he would have died.
"It's better not to have these things happen, obviously," he said recently, surrounded by large canvases of his work. "But when they do, they're fruitful—they teach you something about life you could not otherwise experience."
In the intervening years, the performance artist, painter and sculptor—who has dabbled as curator and publisher and spends his time between New York City and Geneva—has made pieces wildly divergent from the furniture sculptures for which he became well-known and critically acclaimed in the 1990s. But if you've followed his work, you'll know that's not because of his near-death experience. He's been switching gears in as dramatic a fashion since the 1969, when he founded his influential publishing house, Groupe Ecart, which was later credited with introducing Europe to Andy Warhol.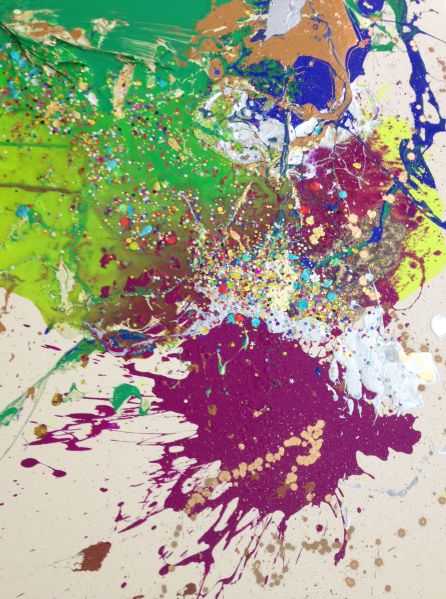 If you hurry, you can catch Armleder's recent canvases—joyful splashes of neon colors and glitter—adorning the walls of the Almine Rech Gallery on New York's Upper East Side and interspersed with his drawings and select found object works. Or, you could check out the sprawling space appointed by David Kordansky Gallery in Hollywood, where another survey of the pioneering artist also happens to be on view more than two thousand miles away.
"The inspiration for the show at Almine Rech was to propose a sort of survey," said Nicolas Trembley, the curator. "The gallery was the right format to show [Armleder's] historical drawings, shown for the first time in New York City."
The exhibit, with works spanning the last half century, somehow manages to convey the avant-garde spirit of Armleder, even as only one or two examples of many of his phases are on display. There is a drawing the artist made at age 15, not far from the abstract, bright paintings that seem to celebrate his victory over ill health.
"You can really see the influences in those works, from modernism to Russian avant-garde," Trembley said. "His practice is… Much more avant-garde than what people think."
The L.A. Show, meanwhile, manages to show entirely separate facets of Armleder's work, with the same whimsical variety.
"Interior decorator run amok," is the feeling Kurt Mueller, a director at David Kordansky, would say best sums up the Armleder show there. "'Grand inclusivity.' 'Too much is not enough.' …I think that captures the spirit of our show."
From a diptych of two dog beds, to an assemblage of Pierre Cardin lamps, to an installation of plants, to the wall painting of an almost cartoon-like octopus (which appears almost like an accident, as its cut off at the side), the Kordansky show is as playful as Armleder's career has been, heaping together his utterly disparate milieux seamlessly.
"David has followed John's work for a very long time," Mueller said. "He's someone we've always respected and admired and he hasn't had a show in Los Angeles in 20 years."
***
The son of a prominent Genevan hotelier, Armleder is the first to point out that he's been lucky, and not just in his recent scrape (to put it lightly) with mortality. He said it was fortuitous that his brother was willing to take on the responsibility of running the family business when they were younger, so he could pursue his craft. At the time, that choice felt firmly Bohemian; Armleder is as surprised (and pleased, and grateful) as anyone at his successes. 
One figure who had an exacting influence on the artist was the avant-garde musician John Cage. His use of so-called chance operations—the emphasis on randomness in life and in art, as taught in Eastern thought—has recurred in Armleder's work. But Cage's influence was also personal, an inspiration that had nothing to do with what would eventually develop into a shared aesthetic.
"I met him when I was 12 years old," Armleder said. "Geneva was a small city, with a fantastic music scene." As such, he was able to attend a workshop with Cage around that age and converse with him. Six years later, in Cologne, Armleder was attending a performance by the Merce Cunningham Dance Company, with whom Cage frequently performed, when Cage spotted Armleder on the street and reintroduced himself, identifying him completely out of context.
"I had gone from being 12 years old, to nearly a grown man, and he recognized me by the back of my head," Armleder said. The two became acquaintances over the years, although Armleder hesitates to call it a friendship. Nonetheless, the impact was lasting. In his performance works, for which he became well-known in the 1970s and 80's, a flavor of Cage's emphasis on chance was often apparent.  
Armleder's authorship, emphasizing the performative aspects of his practice, was more in play in setting up the Kordansky show, Mueller said, while the New York exhibit was practically erected without his input. 
"Working with Armleder is really easy," said Trembley. "He gives a lot of freedom and anyway keeps saying that he loves to discover his shows at openings. He had not much to do so was very happy!"
The result is two aligning shows that in no way overlap but that serve as a sort of cooperative exploration of both Armleder's work and the sensation of avant-garde art production through time. Luckily, you can experience one without the other, depending upon on which coast you reside.
The works of John Armleder are at Almine Rech until February 23 and at David Kordansky in Los Angeles until February 25.
Welcome to Closing Time, a new feature where Observer Arts alerts you to great shows you should catch before they're gone.