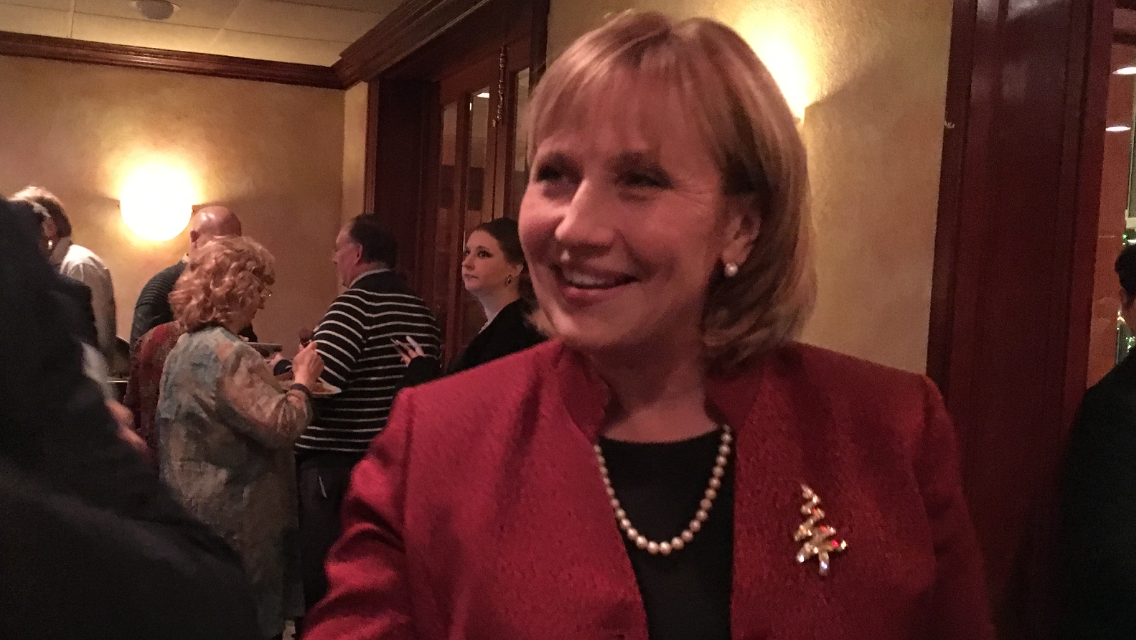 New Jersey's Lieutenant Governor Kim Guadagno continues to wrack up endorsements from GOP leaders across New Jersey as she pursues the party's nomination for governor. On Monday, her campaign released 100 names of endorsers. To date, Guadagno's campaign has released the names of 200 endorsers.
"I thank these leaders for their support as momentum for our campaign to create a better New Jersey continues to grow," said Guadagno in a statement announcing the endorsements. "Our team is hard at work building the organization, raising the money and recruiting the volunteers necessary to win the primary and defeat the tax and spend Democrats this November."
While Gudagno's first round of endorsements—released earlier this month—featured big names including state senators and assemblypeople, the second round features many of the state's local Republican leaders leaders.
One interesting thing about Guadagno's second round of endorsements was the inclusion of a quote from former Democratic Governor Brendan Byrne stating that Gudagno is "probably the best [candidate] the Republicans have." Her inclusion of a Democratic figure like Byrne in her announcement suggests that the Lieutenant Governor may be aiming to run a more moderate campaign and continue to distance herself from current Republican Governor Chris Christie.
Check out the full second round of endorsements here:
County Party Leadership
* Rosalie Baker, Atlantic County GOP Vice-Chair/Buena Borough Council-President
* Antwan McClellan, Cape May County GOP Treasurer/Ocean City Councilman
* Thomas Conrad, Cape May County GOP Sergeant-At-Arms/Lower Twp. Ward 1 Councilman
* Jeff Pino, Middlesex County GOP Regional Vice Chair
* John Anagnostis, Middlesex County GOP Regional Vice Chair
* Ailish Hambel, Former Sussex County GOP Chairwoman
State Committee Leaders
* Bill Fey, Gloucester County GOP State Committeeman
* Russell Maffei, Hudson County GOP State Committeeman
* Mary Van Lieu, Warren County GOP State Committeewoman
County Elected Officials
* Frank Balles, Atlantic County Sheriff
* Amy Gatto, Atlantic County Freeholder/Hamilton Twp. GOP Municipal Chair
* James Bertino, Atlantic County Freeholder
* John Driscoll, Former Bergen County Freeholder Director
* Gerald M. Thornton, Cape May County Freeholder Director
* E. Marie Hayes, Cape May County Freeholder
* Will Morey, Cape May County Freeholder
* Douglas Cabana, Morris County Freeholder Director
* Kathy DeFillippo, Morris County Freeholder
* Thomas Mastrangelo, Morris County Freeholder
* Deborah Smith, Morris County Freeholder
* Julie Acton, Former Salem County Freeholder Director
* Jonathan Rose, Sussex County Freeholder Deputy Director
* Rick Gardner, Warren County Freeholder Director
* Ed Smith, Warren County Freeholder Deputy Director
Mayors, Council Members and Township Committee Members
* Beth Holtzman, Ventnor City Mayor
* Robert Hermansen, Mahwah Council President/Former Bergen County Freeholder
* John Cosgrove, Fair Lawn Mayor
* Mike Friedman, Voorhes Councilman
* Martin Pagliughi, Avalon Mayor
* Bruce Hankins, Hopewell Twp. Mayor
* Greg Facemyer, Hopewell Twp. Committeeman
* Kelly Yaede, Hamilton Mayor
* Ileana Schirmer, Hamilton Councilwoman
* Joseph Mollis, Old Bridge Councilman
* John Krenzel, South River Mayor
* Bobby Brown, Neptune City Mayor
* Susan Cohen, Manalapan Mayor
* Dennis Connelly, Eatontown Mayor
* Lester Preston Jr., Freehold Twp. Mayor
* Paul Smith, Union Beach Mayor
* Sue Kiley, Hazlet Mayor
* Rob Acerra, Ocean Twp. Deputy Mayor
* David Salkin, Freehold Twp. Deputy Mayor
* Jack McNaboe, Manalapan Deputy Mayor
* Charlie Cocuzza, Union Beach Councilman
* Cherlanne Roche, Union Beach Councilwoman
* Mark Regan, Eatontown Councilman
* Bob Walsh, Howell Councilman
* Evelyn O'Donnell, Howell Councilwoman
* Joseph Irace, Oceanport Councilman
* Stephanie Murray, Middletown Twp. Committeewoman
* Anthony Ammiano, Freehold Twp. Committeeman
* Barbara McMorrow, Freehold Twp. Committeewoman
* Tom Cook, Freehold Twp. Committeeman
* Mary Ann Musich, Manalapan Twp. Committeewoman
* Kevin Uniglicht, Manalapan Twp. Committeeman
* Michael Glackin, Hazlet Twp. Committeeman
* Douglas Gabel, Denville Twp. Councilman
* John Bacchione, Berkeley Councilman
* Keith Buscio, Berkeley Councilman
* James Byrnes, Berkeley Councilman
* Sophia Gingrich, Berkeley Councilwoman
* Thomas Grosse, Berkeley Councilman
* Angelo Guadagno, Berkeley Councilman
* Judy Noonan, Berkeley Councilwoman
* Barry Calogero, Jackson Councilman
* Anne Updegrave, Jackson Councilwoman
* Robert Nixon, Jackson Councilman
* Kenneth Bressi, Jackson Councilman
* Nick Juliano, Lacey Twp. Committeeman
* Steve Kennis, Lacey Twp. Committeeman
* Tim McDonald, Lacey Twp. Committeeman
* Peter Curatola, Lacey Twp. Mayor
* Bobbi Crea, Little Egg Harbor Twp. Committeewoman
* Maria Maruca, Toms River Councilwoman
* Brian Kubiel, Toms River Councilman
* Al Manforti, Toms River Councilman
* Maurice "Mo" Hill, Toms River Councilman
* Kevin Geoghegan, Toms River Councilman
* Michael Francis, Hopatcong Mayor
* James Kern III, Pohatcong Twp. Mayor
* Dan Schuberth, Robbinsville Council President
Municipal Chairs and GOP Organization Leaders
* Dennis Kleiner, Egg Harbor Twp. Republican Club President
* Drita McNamara, Wyckoff Municipal Chair
* Laure Schroeder, New Milford Republican Club President/Municipal Chairwoman
* Monica Darko, Essex County Young Republican Chairwoman
* Peter Del Borrello, Washington Twp. Republican Club President
* Mary Jane Chipowsky, Hopewell Twp. Republican Chairwoman
* Christine Ciaccio, Robbinsville Twp. Republican Chairwoman
* Veronica Kadash, Helmetta Republican Chair
* Anthony Cook, Plainsboro Republican Chair
* Anthony Graziano, Freehold Twp. Municipal Chairman
* Gene Kiley, Hazlet Municipal Chairman
* Donna Phelps, Manasquan Municipal Chairwoman
* Bob DiBiase, Toms River Republican Club President
* Brian DeLuca, Brick Municipal Chairman
* Joni Huston, Hawthorne Republican Leader
* Ashley Rosone, New Jersey College Republicans Chairwoman/West Milford Executive Committee
* Virginia Rutledge, New Jersey Federation of Republican Women Board Member
* Dawn Higgins, Washington Borough Municipal Chair