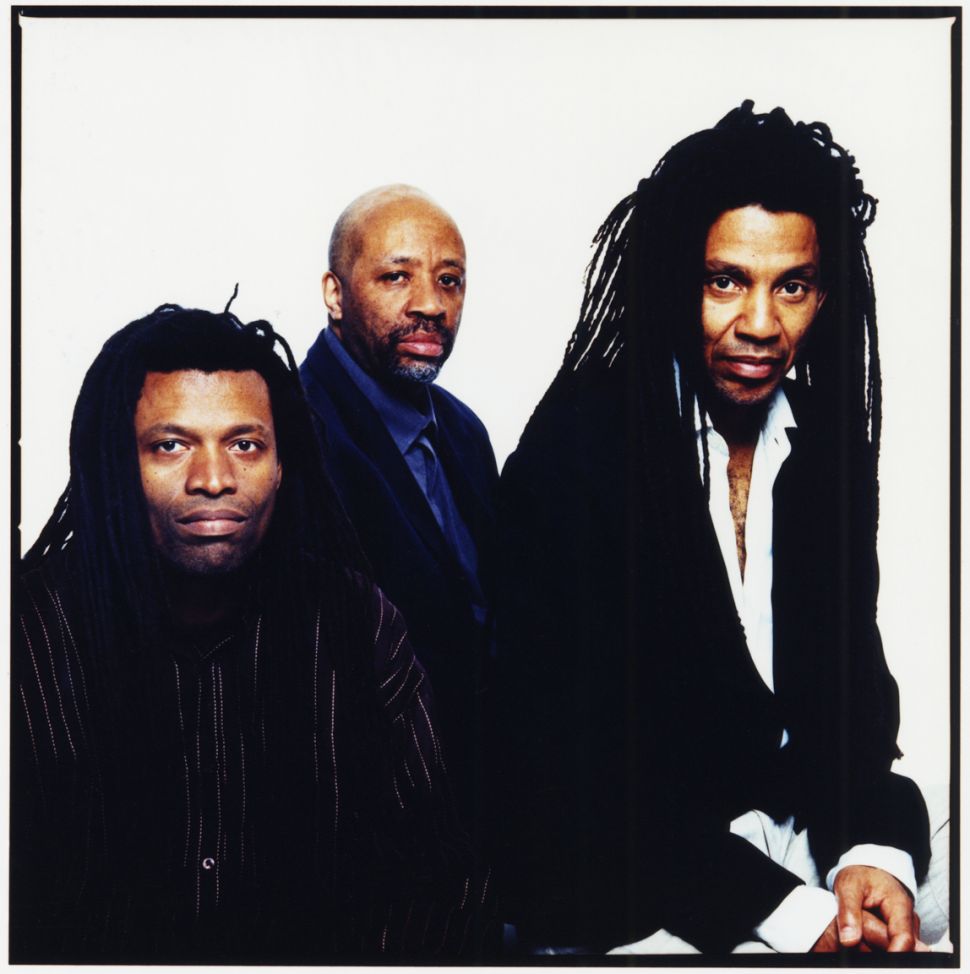 Of New York City's avant-garde jazzhead survivors, John Zorn bassist/composer William Parker and pianist Matt Shipp are its ever-present kingpins, forever synonymous with the downtown movement regardless of the ever-changing gentrified landscape.
Then there's the lower-profile but racket-raising NYC lifers, Harriet Tubman.
Going on two decades, Harriet Tubman—the power-jazz trio made up of guitarist Brandon Ross, bassist Melvin Gibbs and drummer J.T. Lewis—have been a steadfast anchor of NYC's experimental music scene, once upon a time helping put the sorely-missed LES avant hang/music space Tonic and The Knitting Factory on the proverbial downtown map.
Despite HT's intermittent recording and live show presence (see their 11-year gap in between 2000's Prototype and 2011's Ascension), Ross, Gibbs (a one-time member of the Rollins Band and Arto Lindsay's samba-cum-no wave groups) and Lewis emerge with a message of freedom, hope and protest in the form of their soul-baring, politically-tweaked fusion of funk, rock, jazz and dub that is spiritually cleansing as it is earth-scorching when we most need it.
Enter 2017's Araminta.
An epically righteous mind-fuck that carries the space-jazz torch of Bitches Brew electric Miles, Coltrane's Ascension and Interstellar Space, Sonny Sharrock, Parliament-Funkadelic and Bad Brains' reggae leanings, Araminta, the band's first new record in six years, comes with a Herculean addition: iconic trumpeter and the finalist for the 2013 Pulitzer Prize in Music, Wadada Leo Smith.
Araminta is arguably the band's definitive statement of the liberating musical expression and transcendent mediations that has been the center of their career arc and Smith and his soaring trumpet is the band's kindred spirit.
The four titans join forces on sound-manipulating, bass-booming atmospherics and the heaviest of jazz/rock free-improv and groove-intensive jams that speak loud and clear through the art of their singular protest music.
The Observer recently caught up with Ross (who just kicked off his six-day residency at Zorn's Avenue C performance space, The Stone on February 14) and Gibbs via email to trace the band's path from downtown to the present, what it was like working with Smith and seeing New York City's transformation.
[youtube https://www.youtube.com/watch?v=PDHKFDGdj7E&w=560&h=315]
Let's begin with your new record, Araminta. It seems rather timely that, in light of the current political climate, you guys would return with a new record, your first in six years. Araminta is also being released during Black History Month. What was your thought processes on this record coming out at this particular juncture? It feels like a kind of veiled—or not so veiled—statement.
Brandon Ross: It's funny how life sets things up, isn't it? I had been pushing to get Araminta out in the fall of 2016, mostly for reasons of commerce. As it turned out, due to schedules and availability, the CD is being released this month…following the new state of affairs in the White House, and the turmoil that's developed in response to the initiatives of the Trump administration.
Harriet Tubman was a Wayshower; a "criminal"; a revolutionary; a freedom bringer and a Black woman who refused to be a slave. She will probably be on the $20 bill in a few years, unless things develop differently. All that is to say, the veil has been lifted, on the entrenched fear, hostility and resentment that until recently, was considered a self-limiting, indulgent, debatable narrative of the minority class in the USA.
The title of the record and some of the song titles seem to follow a conceptual-type theme ("Taken," "Real Cool Killers") while paying tribute to others ("Nina Simone," "Sweet Araminta," "President Obama's Speech at the Selma Bridge"). What was going through your minds as you composed and titled the songs that make up the record?
Ross: I came up with four of the titles on this record, though each of us contributed to them and the synergy of the composite feeling they produce. "Real Cool Killers" is a tribute to novelist, Chester Himes and his work, and the title is borrowed from the title of one of his early novels. It seemed to align with the musical narrative of the track.
"Taken" is about the feeling of being taken somewhere or to someplace by choice or perhaps not by choice. "Sweet Araminta" is the sentiment of a lullaby for a beautiful innocence encapsulated in a child.
You guys have had guests/collaborators before on records like your last one, Ascension. Now on Araminta, you've joined forces with Wadada Leo Smith. Considering his iconic pedigree and political leanings, Harriet Tubman and Wadada together seem like kindred spirits, plus Brandon, you've worked with him and other AACM members in the past. How did he wind up joining the group for this record?
Ross: I had been working with Wadada in his "Organic" band, and as I recall, we just thought it could be an interesting collaboration and asked Wadada if he would be interested in recording with us. He was, and we did.
[bandcamp width=100% height=120 album=2049349035 size=large bgcol=ffffff linkcol=0687f5 tracklist=false artwork=small track=1969419042]
What does Wadada bring to the Harriet Tubman sound and vision?
Ross: Wadada brought the Wadada vision and sound to the Harriet Tubman sound. We had to find a way to work with the trumpet sonically—at least for me—finding the right mix of information in a musical sense, timbral territory and range, balance of orchestration and application of effects (signal processing).
Wadada also brings decades of musical and personal experience—theoretical awareness and his own "systems" of musical interaction, and a simply individual, dynamic instrumental sound that you won't find anywhere else.
I'm thinking his presence is not just in the musical sense. Dude is a giant!
Ross: Wadada is a "teacher." He is in my opinion a person who knows what he wants and has spent many years developing and refining himself. As such, he brings wisdom and insight into the Human creative process. Awareness is palpable around Wadada. Awareness is really everything.
Araminta was recorded in 2013. Why did it take you guys nearly four years to get it out?
Ross: Araminta was begun in 2012, at the end of that year—though Melvin differs with me on the timeline—and completed in July of 2016.
Melvin Gibbs: The actual percentage is more like 45 percent was recorded in 2013 and the rest was recorded a few months ago. Scotty Hard was instrumental in actually getting the record off of our hard drives and out into the world. A good mixing engineer and an extra set of ears were a critical part of the Araminta process.
[youtube https://www.youtube.com/watch?v=RFvCjG1wAxc&w=560&h=315]
Speaking of past records and the way you work, Ascension came out in 2011 but that was recorded live back in 2000. The previous records came out in '98 and 2000. I know the three of you are super-busy with many different projects but what is the method to your madness when it comes time to put out a new Harriet Tubman record?
Ross: The madness is our method, apparently!
For a long time, we just weren't able to get work for the band, as strange as that may sound. Either the people who were working with us, or promoters or labels, just weren't where we were. When I contacted Sunnyside Records back when I was looking for a label to release our Ascension CD, I didn't expect much, because all, and I mean all, the likely suspects had turned us down. Meeting Francois and Bret was like, "You do, want to release this? Well, O.K.! Let's meet."
We got some degree of work after that, but basically what we do musically has been so different from the majority of what the scene was serving, that we were living off of our sideman gigs, and looking for resources to record with. I don't consider what we do to be so radical that we were not marketable or sellable. What we do is make direct honest music, with the tools we're interested in at the time. One of our agents has lamented that while we are a band that performs adventurous music, the scene out there was leaning in another direction.
Harriet Tubman has always played music that was not easily categorized. It wasn't our intention to do that; it was and remains our intention to create in an open context. We create as artists who use all of their experiences to draw from, create. It isn't necessarily dictated by stylistic rules or behaviors.
Our music does come at the listener from places that are familiar but that are perhaps somewhat unfamiliar at the same time. The feeling that audiences who experience what we do seem to come away with is one of inspiration and liberation. As if to recognize that music is not merely a collection of genres lined up on a playlist menu, but that it is whatever you want it to be, if you open your ears and your imagination. The most natural thing in the world.
Gibbs: It's really been much more a question of "When will the world be ready for what we're doing?"
From your end I actually think the more interesting questions are: "Why did a project we did in 2000 sound fresh 10 years later?" "Why is music we recorded three years ago timely now?"
Being ahead of the curve is a blessing for an artist's creativity, but it's not necessarily a blessing for their career. This is something we've grappled with. At this point I'm O.K. with fact that the world is ready to listen now, and not so concerned about why it took so long and what that means going forward.
[youtube https://www.youtube.com/watch?v=oowxVZEejgU&w=560&h=315]
In the liner notes of Araminta, Greg Tate writes, "those who rally behind the ritual hashtag #BlackLivesMatter may readily relate to the principles of instrumental discourse found here." It seems to me the music and message of Harriet Tubman is more relevant now more than ever. How would you reconcile what you're doing in Harriet Tubman with the Black Lives Matter movement and what's happening now with Trump as president? That said, Melvin, I know you are a founding member of the Black Rock Coalition and are president of the C3 – Content Creators Coalition so social, musicians rights, and racial justice issues are in your lifeblood.
Gibbs: Yes, I'm not new to this. None of us are. I went and talked to ex-Panthers to get their feedback on organizing back when the BRC started. I was on the committee that organized the committee that unionized the Winter Jazz Festival. J.T. was on the unionizing committee, by the way.
I've spoken at the UN and on Capitol Hill on artist rights, so yeah, it's in the lifeblood.
I think Tubman's role in Black Lives Matter and during this cultural moment is to make mental space for people, so that they can get in a place where they can see themselves processing complex cultural info in a way that leads to positive change.
Ross: As I see it, and as I said previously, the new administration has been construed as giving license to a fairytale conservative vision; a nostalgia for a time when certain people did not have to consider the world outside the "Other Lives Matter?" purview. I'm being ironic here, only to point out that this isn't anything that is actually new. It's just actually being audaciously acknowledged and proclaimed (with the rise of Trump to the Oval Office) again.
Reconciliation with the BLM and the new POTUS, almost doesn't seem relevant here. Harriet Tubman isn't a political platform per se. Just showing up as "other" is a political platform nowadays!
We create and perform music for anyone who's listening. My life matters to me, and as a Black person, my life still matters to me.
Let's got back to HT's beginnings. From the band name you first chose, there was obviously a mission and common bond in mind. What did the three of you originally form a bond over as you birthed Harriet Tubman? Did you have a specific idea of the type of music you wanted to create then convey to express your vision?
Ross: We formed a common bond around musical viability. Not career viability particularly…
There are other folks who could have taken the road we took, but made a different choice. I'm reminded of the ways "commercial success" can sidetrack otherwise brilliant artists into dead ends. The music business and the music world…Melvin and I had played music together over the years with various band leader and Melvin played in my band, The Overflow back in the '90s [with Don Byron, Dougie Bowne, and Sadiq Bey] and there was already a respect and admiration between us.
J.T. and I met through the producer, Kip Hanrahan and then worked together in Henry Threadgill's Make A Move band in the mid-'90s. The bond was forged in the recognition of a musical chemistry that was instantly understood by the three of us.
We built Harriet Tubman from the inside out. We let the music do us, not the other way around. Kinds like, you have a child. You may want the child to be or do a certain thing in life. Hopefully the child will discover what s/he wants to do, and the parents will discover who s/he is, and provide opportunities for that identity/direction to develop and flourish.
For me, as this thing continues, it's a matter of responding to who my two colleagues are being, with who I am being, in ways that interest and inspire me.
Gibbs: Freedom. Freedom to be free. In certain ways "free jazz" is the most rigid music out there.
For years I've been wondering "Why are people calling a style of music 'free jazz' when the sound has become so codified?" Tubman's mission has been to break that mold by aiming at the same point of freedom the cats in '60s were aiming at using the cultural info the three of us have.
[youtube https://www.youtube.com/watch?v=FUJ3FVarDV4&w=560&h=315]
The three of you have deep lineage within the downtown NYC avant-garde scene, being on both the record label arm of The Knitting Factory and John Zorn's label at one point. What stands out in your mind thinking back to the late '90s and 2000s? Shows you recall at the Knit, Tonic, The Cooler or other venues you played at?
Gibbs: The jazz scene in NY the late '90s and early 2000s was and is vastly underrated. Ascension is proof of that. Guys in our lineage (post-AACM, post-harmalodic, post-psychedelic Black music) weren't being paid attention to by the jazz critics, who were more interested in what was happening in Europe or more interested on propping up museum music. But John [Zorn] made sure that at least a subset of the N.Y. scene got documented. And Tonic was essential to what we doing. They and the Knit held it down for us as far as having a place to play was concerned.
Shows: My Liberation Theology show at the Leonard St Knit show after the "Wall to Wall Miles" show. The first batch of Project Logic shows at the Knit. The "Cipher of Genesis" show, which was Tubman meets Project Logic—with two drummers—featuring Graham Haynes, Casey Benjamin, DJ Logic and Tubman at the Knit. The first time Pedrito Martinez sang with me—Liberation Theology at Tonic—he showed up out of the blue with my drummers, having come straight from a Lukumi Santeria ceremony.
Ross: I think the biggest loss to the community was losing Tonic. John and Melissa were incredible, and the scene at Tonic was a real scene. Musically open, and a place where the musicians could go and hang and interact. It would be a good thing to have another venue that functioned as Tonic did.
Shows I recall at the Knit or Tonic were usually the ones I was playing in! A week Omg run at The Knit with Threadgill and Make A Move; the debut of Harriet Tubman for the '98 Texaco Jazz Festival; the performance of Ascension with Harriet Tubman Double Trio with Ron Miles; DJ Logic & DJ Singe…too many to cover here.
I'd love to hear your takes on the sense of community there was back then and how it compares to the current gentrified landscape here where there isn't much of a unified "scene" and now with The Stone closing next year, it's taking a big hit.
Gibbs: A scene requires real estate—places to rehearse, place to play, places to hang out and trade ideas—and of course, places to live. Without this—no scene, period.
Ross: The community always takes a hit, it seems. On our Prototype CD, we did a piece titled, "There Goes The Neighborhood," playing on the former racist associations referring to loss of property values when a certain type of person moved in, to the presence of the early, tell-tale signs of gentrification taking hold…
It's really about developers and zoning, and profit, and values regarding Art and culture as commodity. As a society we appear to be motivated by profit, as the stopgap against becoming underclass. But I digress… yes, it would be cool to have a scene where younger and new and established musicians, artists, could commune.
"It's really been much more a question of 'When will the world be ready for what we're doing?' "
Back to Araminta—how much of the record was born from composed music vs. improvised? Did the three of you and Wadada jam out these tunes or were they well thought out beforehand?
Ross: This gets into a major discussion that is at the heart of what constitutes composed music and what constitutes improvised music…For our purposes here, I'll say simply that we composed all of the material on Araminta, using various techniques.
We used directions in some cases, and in some, where a "composition" was in place ("President Obama's Speech…") we developed the music from the existing form.
You've now teamed with Wadada, DJ's Logic and Singe and Ron Miles, to name a few. Who else is on your dream list of musicians to collaborate with?
Gibbs: I'll name a few more we've teamed up with: Kyp Malone, H Prizm from Anti-Pop Consortium, Meshell Ndegocello—all of whom we've performed with live but haven't recorded with. And of course Cassandra Wilson, who we're doing Black Sun with. I wrote the actual song "Black Sun" with Valerie June, but she hasn't performed with us yet.
I don't know about the word "dream," but there are a few collaborations that I've put on file for the band to examine in the future depending on how things line up, including a double trio with the Norwegian band Supersilent and a project with RL Burnside's kids. There are also some less blue-sky ideas, but I want hold those close.
Ross: Playing in Harriet Tubman isn't as easy as it might appear…my list would have included Ornette Coleman. He's gone now, so there's not someone on my list right now. The question is, how much would we have to adjust or modify our approach to accommodate that individual? If it's not natural, it's not worthwhile…for me.
After the gig at The Stone, the new record coming out and Brandon's Stone residency, what's next for Tubman and as far as individual projects go?
Gibbs: I'm currently a collaborative project with the scientist who wrote "The Jazz of Physics," Stephon Alexander. I'll be doing a rap-focused project with D.C.-based rapper Kokayi Issa along with members of Anti-Pop Consortium. Tubman is playing the Atlanta Jazz Festival and touring Europe in the summer and fall.
Ross: Next for Tubman is taking Araminta out to the world beyond the wall…We're slated for Europe this Summer, and next Fall, and more opportunities in North America than ever before. I'm going to be recording some of my Residency music, and more recording with Tubman so the next one will appear sooner than six years hence!
Harriet Tubman "Meta" (Brandon Ross on electric guitar, banjo; Melvin Gibbs on electric bass; JT Lewis on drums; Alicia Hall Moran singing mezzo soprano; and Wadada Leo Smith on trumpet) play The Stone on Saturday, February 18 at 9 p.m.
Harriet Tubman's new album Araminta is out now on Sunnyside Records.