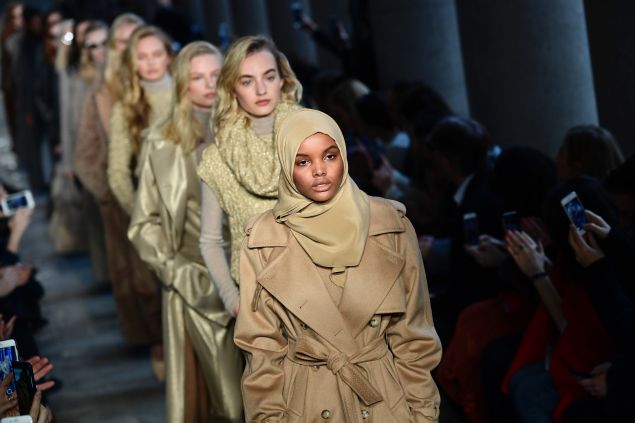 Move over Gigi and Kendall, there's a new "it" girl in town. Her name is Halima Aden and you probably first saw her, donning a hijab, on the Yeezy Season 5 runway. Now, on the second day of Milan Fashion Week, she's walked in two more very Italian shows: Alberta Ferretti and Max Mara.
The Somali-American model is signed to IMG Models, but it looks like Carine Roitfeld has been the major champion for her burgeoning career. The French editrix placed Aden on the cover of the latest issue of CR Fashion Book and styled all three of the aforementioned shows, likely encouraging the casting of this 19-year-old. However, Aden first made history when she became the first beauty pageant contestant to wear a hijab and a burkini on stage, during the November 2016 Miss Minnesota USA Pageant. Since then, she's taken her headscarf (and her braces) to the world of high fashion.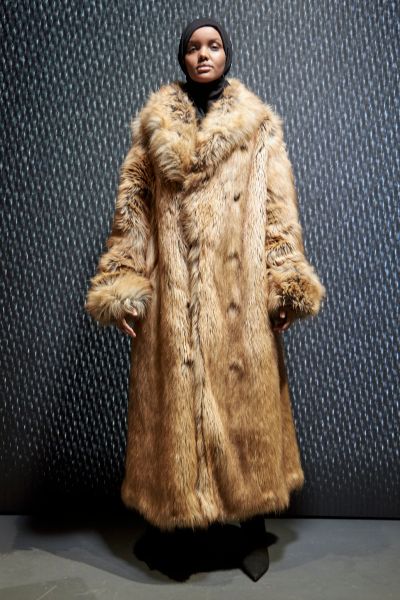 "You hear comments like Brace Face or Train Tracks. It can make you insecure about your teeth," the teen told The Cut about her orthodontics. "So I thought, What a great way to show people I'm not perfect. My teeth aren't perfect. But I'm still modeling."
"To me, makeup is temporary," she told Vogue about her approach to beauty, backstage at Alberta Ferretti. "What's more important to me is good skin."
If it seems like Aden has a sunny outlook on life, that's because she does. Born in a Kenyan refugee camp, she moved with her family to St. Cloud, Minnesota as a child. She went on to become the very first Muslim homecoming queen at St. Cloud's Apollo High School and the first Somali-American to take part in her school's student government. But her dreams are much larger than just being an "it" girl; Aden wants to become a U.N. Ambassador.
"For a really long time I thought being different was a negative thing. But as I grew older, I started to realize we are all born to stand out, nobody is born to blend in," Aden told CBS Minnesota. "How boring would this world be if everyone was the same?"
If you needed an inspirational start to your Thursday, consider taking a note from this wise teen.