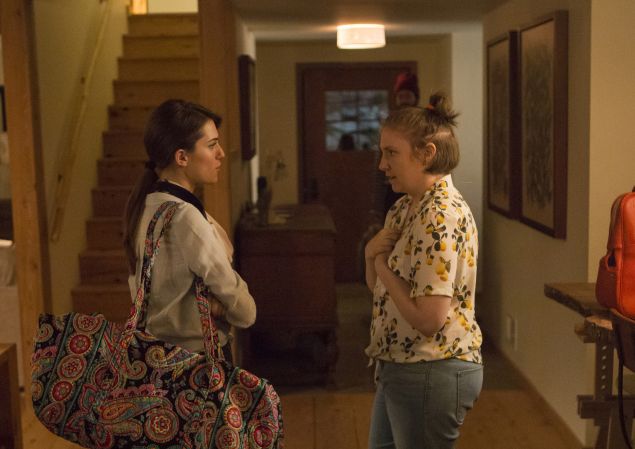 Welcome to our TV Fashion column, where TV Ate My Wardrobe's Emma Fraser discusses the trends in television apparel. This week: The characters of HBO's Girls finally start dressing like adults. 
Reality versus expectation is taking center stage on this final season of Girls and introspection has never been in short supply with these characters. But now it actually feels like they might be doing something with this attempt at insight. Hannah is doing relatively well in her writing career and is settled into a rhythm that doesn't include the usual level of discontentment, but the same cannot be said for everyone else.
While looking back on five years of Girls – which, because of poor time management on my part, resulted in watching 12 episodes in one day (that is a lot of Hannah) – you'll notice the evolution of character through costume is strong. You can easily see their trajectory of who they were in the pilot episode to now and there is nothing about this progression that comes across as a deviation or without something else to back it up; costume designer Jenn Rogien clearly has a strong handle on these characters. Some of this is down to changing trends and the simple matter of getting older; it is the latter that I will be taking a look at this week as clothes can say a lot about growing up as well as reflecting the triumphs and disasters in both the personal and professional.
Over the seasons Hannah has worn a lot of questionable outfits; often because the fit hasn't been quite right. She is the queen of picking up whatever is lying on her bedroom floor and throwing it on, but there has definitely been a shift over the last couple of seasons with outfits that look more purposefully put together. There are still moments such as last week's wetsuit misunderstanding, but generally, Hannah has got her wardrobe shit together in line with her career.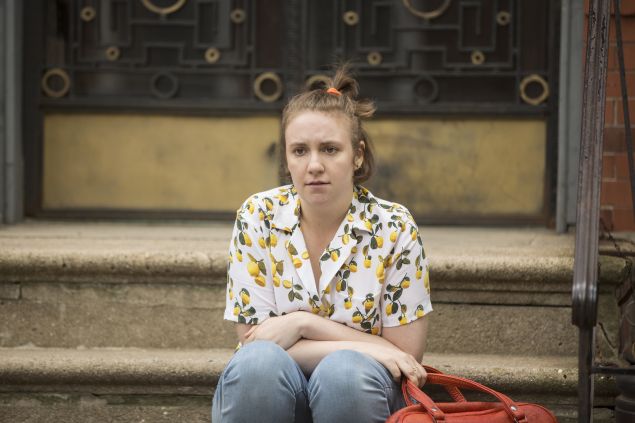 This week Hannah is the one who most looks like she isn't faking her way through anything and right now that's because she isn't. The lemon print Equipment shirt is very much in her wheelhouse and there's no level of pretense; while everyone else is playing dress up in one way or another in an attempt to either fake their way through or prove that they are doing okay.
Hannah's relationships range from patchy to pretty solid and her conversation with Marnie in "Hostages" shows that they've got that Friends theme song central thesis down. Even if I don't always understand why any of these people would still be in each other's lives. Well, aside from the ones who are actually related and this also plays a big part in this episode as Shoshanna's frustrations at her cousin coming pouring out all over the sidewalk. This family link is also something the writers go to great lengths to remind us of – just in case you had forgotten – including a video message to their grandma and Shoshanna introducing Jessa as her cousin.
Shoshanna goes to this big deal (to her) networking event with the unlikely pairing of Elijah and the not really invited Jessa and it gives Shosh an opportunity to see what her life could've been like if she hadn't decided to hang out with Jessa and her friends. She explains to Elijah as they ride up in the elevator (while wearing outfits that somehow blend into the elevator walls) that she made the "fatal mistake" of thinking that Jessa et al were the "apex of maturity." Shosh when we first met her in the pilot was pretty naive to the ways of the world in her Juicy like sweats and was thrilled to be hanging out with her super cool relative and her just as wise friends. Except, of course, they weren't and they're still not; as with a lot of things reality rarely measures up to our expectations of where we thought we would be by a certain point in our lives.
This night out in her work appropriate romper (which also features on the Girls season 6 promo poster), fun Kate Spade purse and oversized hoop earrings is a reminder of what could've been; she could've been a founding member of Jamba Jeans if she had gone on the Aruba trip as planned, but instead she listened to Jessa and this is who she blames for holding her back. Jessa is right that the Jamba Jeans ladies are awful (see everything about their speech, but especially their non-committal views regarding trans women being allowed to take part in WEMUN), but Shoshanna is still correct in raising her objections to the way Jessa inserted herself into Shosh's entire existence. The last time Shosh went off like this was in season 3 at Marnie's weekend getaway and she's now capable of revealing her truth without the aid of accidental crack smoking (see season 1) or all the booze as was the case at the beach house.
Despite having been places there is sense that Shoshanna feels like she is stuck in the same place and Jessa is that reminder even if she looks a lot different from when she first dumped her entire life in her cousin's apartment. Jessa's wardrobe has progressively shifted away from boho siren to the simple jeans and stripe t-shirt look we see her sporting while recording the birthday message to their grandma earlier in the episode. In fact this scene does a good job of showing both Shosh and Jessa in their comfy/casual attire; Shosh still has big hoop earrings, but they're not the same size as her head and the rest of her outfit is standard too on trend Shoshanna so that it looks a little much.
Also in the comfy daytime outfit stakes pre-going out; Elijah's hanging out at the apartment with Hannah look involves actual hanging out as he goes full Winnie the Pooh in just a t-shirt (which reads "I survived season 3 of Ally McBeal) and no bottoms whatsoever. Now that is a strong level of comfort.
Elijah might be content in 'fucking his way to the middle' as he revealed last week, but he isn't above helping a semi-friend especially if there is a free bar. It also means he gets to play dress up in a cream double breasted jacket and turtleneck; Elijah is always up for this kind of sartorial statement even if it turns out that Shosh has him down as her assistant. A fabulously dressed one at that. Loyalty levels toward Jessa are low since she got together with Adam and this point is reiterated as emotions are vomited all over the sidewalk. They might all be in their fancy networking getups with Jessa in a matching plaid skirt and jacket with open-toed pumps, a long undone trench and a red lipstick – adding to the long list of colors/brands I need to hunt down – but the same old pettiness bubbles beneath the surface.
Yelling at someone to grow up is a good way of getting them to react in a childish manner and Jessa elicits this exact response from Elijah as he yells back "I'm a fucking grown-up" quickly followed by muttering "I'm so bored." Not everyone can be Elijah levels of defiant and Shosh's face crumples revealing how much Jessa's words have stung and how this night didn't go anywhere near the way she wanted. They might both be wearing the trench coats of networking dreams, but Shoshanna and her cousin are worlds apart right now and Jessa stomps away into the night with her stolen bit of china and no pigs in blanket to speak of.
Meanwhile, a trip to Poughkeepsie with the now having an affair Desi and Marnie shines a light on Hannah and Marnie's friendship. The Marnie/Hannah bestie status has never been the same since the end of season 1 after the whole "You're the wound" back and forth as both have shielded a lot of themselves from the other. The conversation over the phone while Marnie carries the body of her gold plastic dress after her 'break up' with Booth Jonathan in season 2 is indicative of this fracture that has continued. Hannah reluctantly agrees to be the affair shield from Ray – you know she will definitely want to write about the events of this night – and is every eye roll ever at Marnie's attempt at convertible fashion in her headscarf and oversized sunglasses. Part of Marnie definitely thinks she is Audrey Hepburn while pulling off some incognito moves. Desi looks like the picture of hipster perfection in his beanie, shades and striped sweater aka if someone in the Pacific Northwest knitted a man. While Hannah is just doing Hannah.
What follows is a nightmare night with plenty of horror movie attributes including broken windows and late night breaking in attempts from Desi as Marnie discovers just how blinkered she is. The holes in Desi's sweater are not the only thing that is frayed, but somehow this is the closest we have seen Hannah and Marnie since they shared an apartment, as they sit on the kitchen floor of this house that isn't theirs surrounded by broken crockery. They still have a long way to go, but now Marnie has removed the accessories that were part of the pretence she looks very much like a more grown-up (and currently tear stained) version of the character we met in season 1. And this also happens to be the Marnie costume that Allison Williams pointed out was very much the same as the one she showed up to work in.
Unlike the supposed clarity of a night in sequin red dress with an ex, all Marnie needed was to spend time with her best friend looking like herself.
Emma Fraser is the creator of TV Ate My Wardrobe and spends most of her time writing about TV, fashion and costuming; Abbi and Ilana's Broad City style, the wigs on The Americans and Mindy Lahiri's pajamas are just as vital as talking about '90s, '00s teen shows. Emma has a MA in film and television, and she probably holds Angela Chase responsible for this path. You can find her on Twitter @frazbelina.