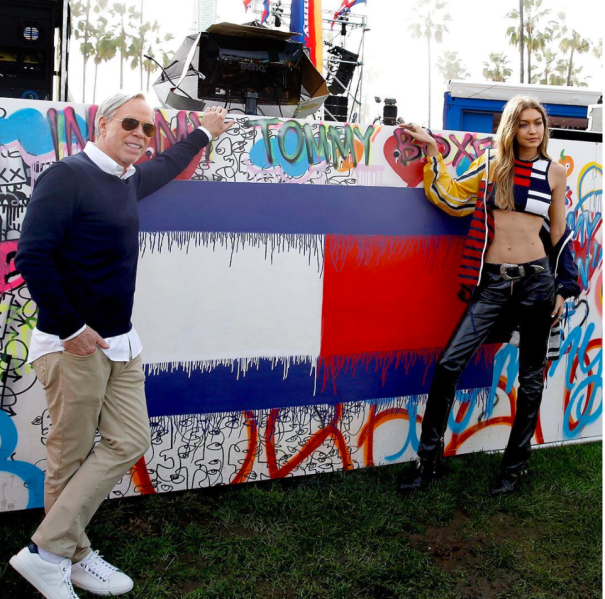 "Where's Gigi Hadid?" a young woman asked an employee at the Tommyland popup show.
"She's not here right now, but we do have a 360º photo booth, tote bags you can decorate and you can enter to win a free trip to LA for you and your friends," the employee responded with a smile.
On Wednesday, February 8, Gigi Hadid opened the Tommy x Gigi runway show in Los Angeles with her sister Bella following behind her, to release her Spring 2017 "see now, buy now" collection in collaboration with Tommy Hilfiger. The collection, which is described as "co-designed by the king of East Coast classics and the queen of West Coast cool," includes patchwork denim, leather skirts and patriotic swimwear. On Friday, the duo unveiled the collection to New York City at a Tommyland experiential popup show, in the Westfield World Trade Center Oculus, but Gigi was not there for its kickoff. Wednesday's runway show was playing on four television screens around the popup show, instead.
"We are just coming back from LA, trying to stay relevant within the Fashion Week scene in New York," Kat Fressle, a member of the Tommy Team, said. "It's a spring collection, and it's snowing in New York, so it kind of felt like the perfect touch for us to go to LA. Being that it's a collaboration with Gigi and Tommy, it's a really good mix of East Coast and West Coast vibes."
Social media influencer Mary Seng, who was decked out in pieces from Tommy x Gigi, including a red bomber jacket and patterned denim, held a meet and greet at the event. Tomorrow, Marianna Hewitt is set to make an appearance. Hadid's absence didn't stop people from lining up for the photo booth, entering Vanity Fair's sweepstakes for a free trip to Los Angeles for the Young Hollywood party, taking photos with the models and decorating their tote bags with retro pins.
Four models used the Oculus floor to dance, mingle with curious customers, and most importantly, show off the looks, which are available through the Tommyland Snap : Shop app. The app lets you take a picture of any outfit, whether on a model, an advertisement, or a panel, and it automatically allows you to shop the individual pieces in that look.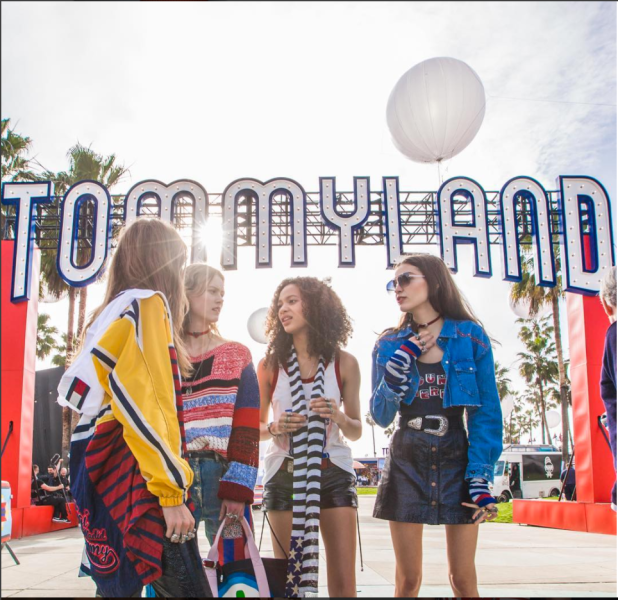 The event runs until 8 p.m. Friday, and from 10 a.m. until 7 p.m. Saturday. It is unclear whether the model is planning on showing up tonight or tomorrow, but for now, the closest you'll get to behind the scenes with Gigi Hadid is watching the 'Tommyland' runway show here.