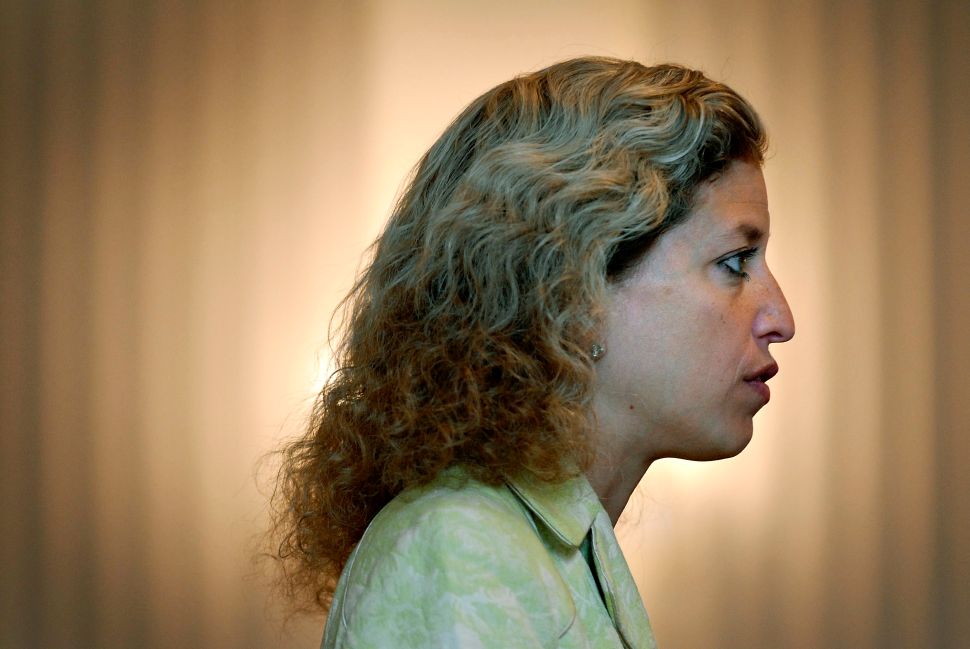 After her embarrassing resignation from her role as DNC chair, Rep. Debbie Wasserman Schultz hid from the spotlight for months. However, she is back, and, once again, linked to a corruption scandal.
Politico reported on February 6 that Imran Awan, who is currently employed by Wasserman Schultz, is under criminal investigation for "wide-range equipment and data theft." Wasserman Schultz's communications director provided Politico with few details into the investigation and refused to answer any followup questions.
Relatives of Awan—including Hina Alvi, Abid Awan and Jamal Awan—are implicated in the investigation as well. Hina Alvi is currently employed by Rep. Gregory Meeks.
"Five House staffers are accused of stealing equipment from members' offices without their knowledge and committing serious, potentially illegal, violations on the House IT network, according to multiple sources briefed on the investigation," Politico reported, noting that no one that they contacted provided any information.
The Daily Caller reported on February 4 that the accused allegedly accessed congressional computers without permission. It's unclear what data was stolen and what the motive for the breach was.
The Democratic Party is no stranger to criminal investigations.
When Hillary Clinton was the Democratic nominee for the presidency, she was under an FBI investigation for using a private email server during her tenure as secretary of state. Critics suspect that she never set up a State.gov email in order to circumvent laws in the Freedom of Information Act about keeping records. The Clinton Foundation was also under investigation during Clinton's presidential campaign. Additionally, hacked emails from the DNC and Clinton campaign manager John Podesta exposed collusion between the "neutral" DNC, the Clinton campaign, and several mainstream media journalists. This scandal resulted in Debbie Wasserman Schultz and several other DNC staff members resigning from their positions. DNC interim chair Donna Brazile was fired by CNN after the leaked emails revealed that helped the Clinton campaign cheat before debates hosted by CNN. A class action lawsuit against Wasserman Schultz and the DNC for violating Section 5 Article 4 of the DNC Charter is still pending.
In 2016, Rep. Chaka Fattah was convicted and sentenced to 10 years in prison for money laundering, bribery and fraud. Fattah was indicted in 2014, but he continued to serve in Congress until his conviction.
After serving 10 terms in Congress, Rep. Corinne Brown lost her re-election bid due to being indicted in July 2016 for allegedly using a charity as a slush fund. The Washington Post reported that Brown blamed the Orlando shooting on the Department of Justice because they spent too much time investigating her.
Even though he was indicted in 2015 on corruption charges, Sen. Bob Menendez continues to serve in the Senate.
In June 2016, a formal ethics probe investigated Gov. Dannel Malloy's appointment of former Cigna lobbyist Katharine Wade to a position in which she would oversee a proposed merger between Cigna and Anthem, which would be the largest health insurance company merger in the country. Two weeks into the probe, IBTimes reported Gov. Malloy "slashed the budgets of watchdog agencies that enforce ethics, campaign finance and open records laws." Wade ultimately recused herself from the position.
In September 2016, Gov. Andrew Cuomo was the subject of a federal corruption probe that resulted in the conviction of two of this former aides and six other people.
In May 2016, CNN reported that the FBI was investigating Gov. Terry McAuliffe for a $120,000 campaign donation from a Chinese billionaire. In October 2016, the Wall Street Journal reported that Gov. McAuliffe donated nearly half a million dollars to the campaign of a wife of a top FBI Director—who was overseeing the investigation into Hillary Clinton's private email server—to run for State Senate in Virginia.
Because the Democratic Party is rife with corporate and wealthy influence, corruption investigations have become the norm. The party continues to embrace corruption as it coalesces around Hillary Clinton and her minion Debbie Wasserman Schultz, who are both magnets for corruption and dirty politics.