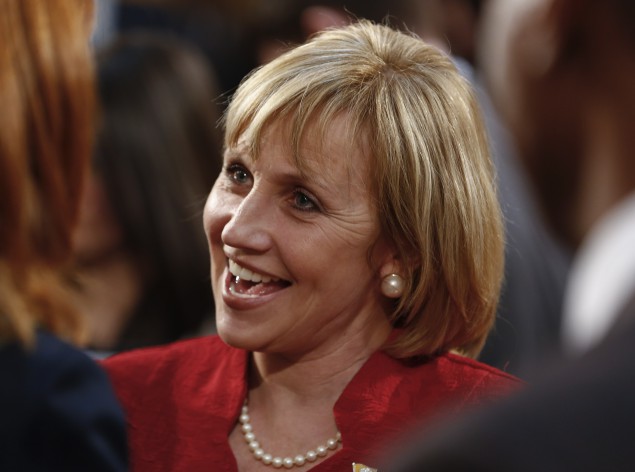 Only in New Jersey can insiders and outsiders switch places so quickly.
The frontrunner for the Democratic gubernatorial nomination is Phil Murphy, a Goldman Sachs millionaire who served as Finance Chairman of the Democratic National Committee and was appointed Ambassador to Germany by President Obama. Murphy began his campaign as an outsider, when he was running against Jersey City Mayor Steve Fulop and Senate President Steve Sweeney. Once Fulop and Sweeney were deftly outmaneuvered, Murphy quickly became the establishment guy. Murphy's ability to straddle the insider and outsider labels was something his predecessor, Jon Corzine, was never able to do. That might bode well for his ability to govern, if it gets to that.
The irony here is that his two rivals for the nomination, state Sen. Raymond Lesniak and Assemblyman John Wisniewski, have spent their careers as political insiders.
Lesniak was a de facto political boss in Union County and built a successful law firm on the strength of his own insider connections. Gov. Jim Florio selected him to serve as the Democratic State Chairman in 1992, to help guide the party back from the devastating 1991 GOP landslide. Lesniak was close to Bill Clinton and Al Gore; his overt campaign for U.S. Ambassador to France was ended when George W. Bush narrowly won the 2000 election.
Wisniewski, who has also leveraged his political contacts to generate clients for his law firm, was the Democratic State Chairman from 2011 to 2013, and became a fierce, effective critic of Gov. Chris Christie. Passed over for Assembly Speaker and Majority Leader—and having earned the strong condemnation of the man who replaced him as state chair, John Currie—Wisniewski has reinvented himself as a reformer. He endorsed Frank Pallone in the U.S. Senate special election against Cory Booker, served as Bernie Sanders' NJ campaign chairman, and led the legislative investigation into the Bridgegate scandal.
This week, Wisniewski's home county endorsed Murphy. The Wiz got just three votes at the Middlesex County Democratic Convention. Wisniewski, who has been part of the Middlesex Democratic machine for more than twenty years, claims the process was "rigged," and that his vote tally was the product by a strategic decision to have his supporters boycott the vote in protest of the same process that he used to launch his own political career. He also issued an unusually scathing letter attacking Middlesex County Chairman Kevin McCabe in quite personal terms.
Calling McCabe a "so-called leader," Wisniewski says McCabe "has made it clear he will not tolerate a democratic process for determining who Middlesex County supports for Governor. … Chairman McCabe has rigged the rules to ensure he gets the result he wants. … It is all part of a larger campaign by a handful of party bosses to coronate one candidate, while harassing and intimidating anyone who dares to support any candidate other than their own."
The Republicans also have an insider-turned-outsider. GOP frontrunner Lt. Gov. Kim Guadagno spent seven years as Christie's doting running mate. Christie plucked her from political obscurity in 2009 – passing on brand-name insiders like Kathleen Donovan and Diane Allen. As LG and Secretary of State, she was simultaneously an insider and outsider. She spent more than 500 days as Acting Governor – a constitutional mandate caused by Christie's frequent out-of-state travel – but she was rarely allowed to speak publicly, and according to reports from real statehouse insiders, had a tempestuous relationship with the governor and his senior staff.
As a candidate for Governor, Guadagno has begun to break away from Christie – smart politics, considering a recent poll that showed 73% of the state disapproved of Christie. She opposed Christie on the gas tax increase, and on a deal that would have raised salaries for cabinet members and legislative staff in return for giving the governor the chance to profit through a book deal. Still, she has managed the endorsements of ten GOP County Chairman – nine more than top rival Jack Ciattarelli – as well as key support in Republican-rich Ocean County.