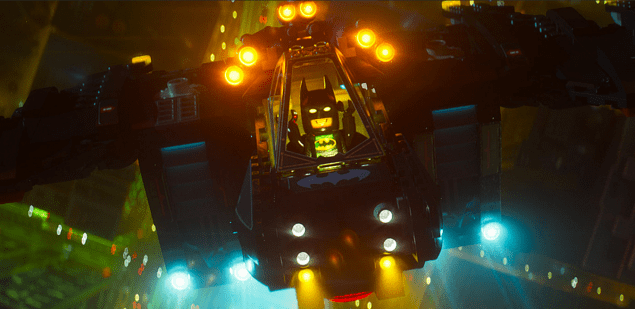 In 2014, The LEGO Movie breathed new life into the genre of franchise-crossing films. With its super-smart gags, incredible self-awareness and heart-bursting joie de vivre, audiences were rendered incalculably happy around the world.
---

THE LEGO BATMAN MOVIE ★★★
(3/4 stars)

Directed by: Chris McKay
Written by: Seth Grahame-Smith, Chris McKenna & Erik Sommers
Starring: Will Arnett, Jenny Slate and Ralph Fiennes
Running time: 104 mins.

---
Three years later and, arguably, the real star of that film jumps into his own big screen outing in The LEGO Batman Movie. But can the Dark Knight carry a whole film with his brooding thoughts, spontaneous dark metal-rap tunes and love for lobster thermidor?
Of course he can – he's Batman motherfuckers!
It's difficult to recall a character in the history of cinema to receive so many varied and interesting, not to mention popular, interpretations (outside the likes of Macbeth and Hamlet). From the Sixties to the TwentyTens, there's been joy, melancholy, anger and camp – to name but a few adjectives. Will Arnett's Batman is now one of the greats. His darkness is matched only by his passion for hanging out in his smoking jacket and his superhero abilities are equaled by his own hilarity at films such as Jerry Maguire and Must Love Dogs. Arnett, probably best known as Arrested Development's Gob, is the hero to a new generation and delivers the lines like no other. It's a familiar Batman growl but you'll be impersonating him for days after. Though Arnett has the script to thank for laughs, it's difficult to imagine anyone bettering his performance and style. Voice-acting at its peak.
Likewise, The Joker has enjoyed numerous different portrayals over the decades though Zach Galifianakis (The Hangover) doesn't attain the same level as his co-star. This Joker, while still up to some bad-ass shit on the streets of Gotham — accompanied by many familiar supervillains like Penguin, Catwoman, Bane (a stand-out, it should be noted), et al, and some unfamiliar, such as Eraser and Condiment King — does not hit the mark in the same way in terms of character. Cleverly, the writers have taken a new look at their relationship with Batman as the alpha male and Joker the doting spouse, looking for constant approval and affirmation. But Bats isn't as keen on Jokes as the latter would like. The Dark Knight's metaphorical admission that he's been fighting other villains does not go down well and spurs the maniacal clown on to vengeance. This, for want of a better word, is a cute Joker; he even makes emoji-like sad eyes at his quarry when spurned. Sadly, Galifianakis isn't up to the task and delivers a vague and impressionless performance. This is no Mark Hamill by any means.
It's not a terrible or even bad performance, it's just lost within the whirlwind of the movie. And then there's Ralph Fiennes as Alfred Pennyworth – certainly up there and fighting Michael Gough and Michael Caine for best portrayal as Wayne Manor's ever-present butler. Robin, who it's fair to say hasn't been represented on screen magnificently (not since 1966 anyway), also receives top-notch voice action from Michael Cera (another Arrested Development alumni). His innocence and unbridled joy as both the Boy Wonder and orphan Dick Grayson are pitched perfectly, countering Batman's darker tones. In truth, Robin is us as we watch the film – constantly in awe of Batman and enjoying every single brick of the ride.
Speaking of bricks, this is a LEGO movie and there's a lot of brick on display. Some of the more cynical among you may think this is just a multi-million dollar advert for merchandise but, frankly, we don't care. And we're pretty sure LEGO are doing alright for cash.
Audiences will delight at the evil army unlocked by the Joker in Phantom Zone (that's a prison set up by Batman's "rival" Superman for particularly nasty villains) including, but not limited to: Voldemort, from the Harry Potter series (played by comedian Eddie Izzard, incidentally); Sauron, from The Lord of the Rings, in his glorious all-seeing eye phase; Gremlins from the, erm, Gremlins movies; and the Daleks, from the long-running BBC television series, Doctor Who.
Bat-fans will raise a cheer to hear Billy Dee Williams finally voice Two-Face, after starring as Harvey Dent in the two Tim Burton Batman outings, and hilarious mentions and recreations of previous live-action films, including references to defeating the Joker in "the one with two boats" (2008's The Dark Knight) and "the one with the parade and the Prince music" (1989's Batman).
The LEGO Batman Movie is such a hugely gratifying and smile-inducing watch that it seems churlish to pick up its flaws, but they are there. Because The LEGO Movie was such a hit and so amusing, this comes off as second best (not a bad thing in itself). It's not quite as gag-filled as its predecessor and the final third suffers from being more action-packed (like a traditional superhero movie), with a maelstrom of bricks replacing the laughs and fun.
The show, however, belongs to Batman and Will Arnett. This is a movie that will be enjoyed heartily and repeatedly. Oh, and you'll be surprised at just how funny watching Batman wait on his microwave is. Comedy moment of the year so far.
The LEGO Batman Movie is in cinemas from Feb 10, 2017.