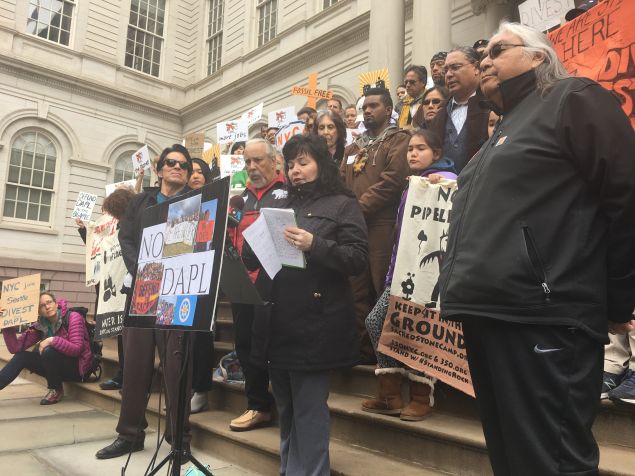 Indigenous leaders rallied at City Hall today to urge Mayor Bill de Blasio and Comptroller Scott Stringer to pull municipal assets out of banks funding the Dakota Access Pipeline—after President Donald Trump reversed his predecessor's decision to withhold crucial permits allowing the controversial petroleum conduit to resume construction upriver from the Standing Rock Sioux Indian reservation.
The leaders acknowledged that Stringer and de Blasio separately declared their opposition to the pipeline, but they called on the two Democrats—who frequently spar on a variety of issues—to follow the example of Seattle, which recently ended its business with Wells Fargo over its investment in for DAPL. New York City does business with six of the banks that fund the pipeline—Wells Fargo, Bank of America, Citibank, HSBC, JP Morgan Chase and TD Bank—and its five employee pension funds also invest in lending institutions involved in financing it.
"I just wanna remind everyone that $165 billion in pension funds is still sitting there, right," Betty Lyons, president of the American Indian Law Alliance, said. "It needs to be divested. Wells Fargo alone underwrote half a billion dollars in New York City municipal bonds. They're about to get a new contract. So Mr. Mayor, you have to do something about this and you have to do it now!"
In response, some people yelled, "Do it now!" and other responded with, "de Blasio!"
The leaders asserted that the city has substantial influence over the banks, as a major institutional investor—$165 billion in five pension funds—and as a larger customer for services the banks offer. They also said that Wells Fargo is providing $467 million in financing for the pipeline.
The $3.7 billion, 1,172-mile pipeline would connect the Bakken and Three Forks production areas in North Dakota and Pakota, Illinois. Current plans call for the tube crossing under the Missouri River in North Dakota—the Standing Rock reservation's only source of water.
As part of his earliest executive orders, Trump reversed former President Barack Obama's decision to review the effects of the project before granting final permits, and declared his support for the project. Oil could flow through the pipeline within months.
As of last year, the president owned shares in two companies involved in the construction process.
Speakers at today's rally included leaders from the Ramapough Lenape Nation and a variety of community, environmental and environmental justice groups.
The event description targeted both the mayor and the comptroller but speakers focused on de Blasio—though Lyons mentioned that Stringer has a role to play during the question-and-answer session, a point she reiterated to the Observer.
"Well Comptroller Stringer certainly has a very—plays a very large part in this divestment and so that's why we're not only asking the mayor but the comptroller as well," she said. "And it's very important to understand that. I mean, this is a broad spectrum issue that needs to be addressed."
The mayor's office did not immediately respond to a request for comment.
De Blasio sent a letter earlier this year to Wells Fargo, urging an immediate withdrawal of financing for pipeline. The mayor questioned whether the bank could count on Energy Transfer Partners, the company behind the project, to repay its investors.
The comptroller's office said Stringer had also signed onto a statement with a coalition of more than 130 investors representing more than $685 billion in assets under management, calling on the banks to support rerouting the pipeline.
The spokesperson noted that the entire pension system Board of Trustees would have to approve a full divestment like the one the activists demanded, and such a move could make it harder to deliver strong returns for city employees. Stringer's also asserted that the banks would not necessarily comply with the city's demands.
"In every situation in which we see wrong, we believe in using our position as a major shareholder to change behavior and change policy," the spokesman said. "It's been a highly successful strategy for us."
Cedric Goodhouse, the Hunkpapa Lakota chairman of the Long Soldier District of Fort Yates at Standing Rock, spoke of witnessing dog kennels, dog bites, mace, water cannons, concussion grenades, rubber bullets and batons.
"This is real stuff and it's hurting people," Goodhouse said, speaking of the pipeline. "That's what this is paying for. Grandmas, children, people my age and older getting hurt just to pray."
North Dakota authorities evicted a protest camp near the reservation yesterday.