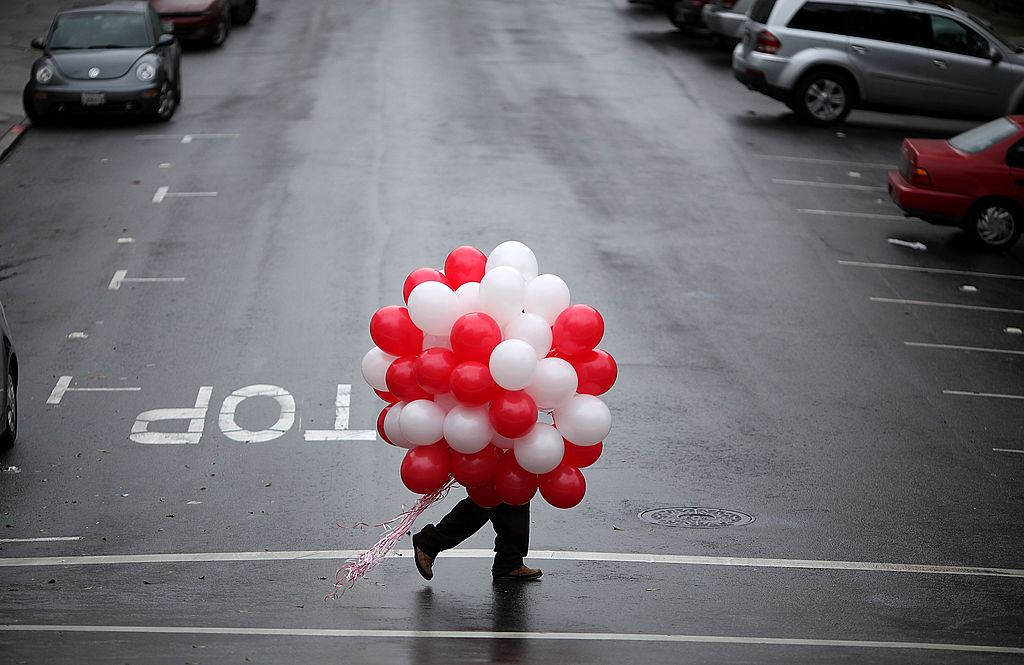 Valentine's Day might be over, but the gifts live on…at least on Instagram. If you didn't receive exactly what you wanted this year, you should probably start dropping hints for 2018, now. Or, consider embracing your inner Beyoncé and purchase a diamond for yourself.
Most celebrities don't post photos of their actual gifts (unless they're Kylie Jenner), as they don't want to offend the American public with piles of diamonds and helicopter rides to exotic places. But a few other celebrities did show off their best jewelry, enormous teddy bears and flower wall-worthy bouquets to commemorate the occasion, even if it did slightly overlap with the excitement of the Grammys and NYFW.
These bouquets might be a gift from Drake, who is always extra. But J.Lo did not say exactly who sent her this over-the-top selection of blossoms. Lopez also p0sted a snap in her Valentine's Day outfit, a festive red spandex number paired with hoops.
Pink received a trip to Mammoth Mountain, although it's unclear if it was provided by her motocross husband or a publicist. The couple celebrated the holiday and their vacation with a throwback photo where they look extremely young; Pink even had pink hair.
DJ and actor Ansol Elgort appears to have showered his longtime girlfriend with flowers. The pair celebrated the day snorkeling at Sailrock Resort, as if they were on the latest episode of The Bachelor. 
Who said a Valentine had to be from a romantic interest? No one in grade school, where shoe boxes stuffed with store bought cards were the norm. Kerry Washington received a personal gift from pal Michael Kors, which is more enviable than plain old chocolates.
Lauren Conrad and husband William Tell are notoriously private, so even sharing a snap of Tell from behind, in the distance, is a present to her adoring fans. It appears the couple spent the holiday back in Laguna Beach, where it all started…only this time, Conrad is pregnant. Perhaps their child will be on the next revival of the show?
https://www.instagram.com/p/BQgnqNmgWXs/?taken-by=alyraisman&hl=en
Sure, an enormous teddy bear and roses are a bit of a cliche, but the Olympian is only 22. Plus, she and her former NFL boyfriend do have quite a meet-cute. The two went on a date after Colton Underwood made his intentions known on video.
Year after year, John Legend has done something wildly impressive and equally Instagram-worthy for Chrissy Teigen, including helicopter rides and plenty of flowers. This year he had to impress baby Luna and an enormous bouquet did the trick.
The Millionaire Matchmaker, Patti Stanger, offered this cryptic bouquet as proof that someone loves her. Sure, it's not the most romantic gift of all time, but it does give everyone hope—or perhaps the inspiration to sign up for a matchmaker, so they receive their very own bouquet next year.