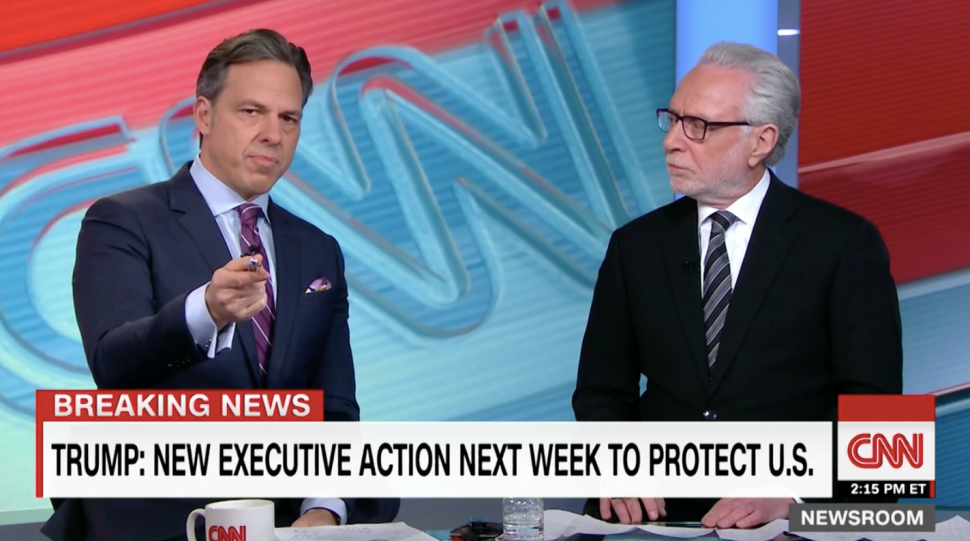 Shortly after President Trump's televised tantrum Thursday afternoon, CNN's John King read a message from a Republican senator he did not name.
"He should do this with a therapist," the Republican senator wrote of Trump, "not on live television."
Hours later, while everyone tried to analyze Trump's rambling attacks, Chris Matthews of MSNBC said on Hardball that listening to Trump perform was like hearing a guy "on a couch explaining his problems to a shrink."
Matthews described Trump's news conference with words like "psychic" and "id" and "so manic, almost manic."
Along with the dollar-store psychology, Matthews also discerned something revealing about Trump's answer to reporters' questions in the East Room of the White House. And Matthews put it into historical context.
Whenever answering (or dodging) inquiries about his campaign's involvement with the Russians, Matthews said, Trump used phrases like "to the best of my knowledge" and "I don't recall" to deflect questions without quite denying them.
Matthews compared Trump's "weasel words" to those of Alger Hiss, an American who spied for the Soviet Union during the Red Scare of the Cold War.
"Those are ways to avoid perjury," Matthews said of Trump's word choices. "They're not truth-telling, generally."
Trump's hissy fit—He's such a victim! The media is so dishonest!—obscured but didn't eliminate bigger problems fleshed out Thursday night by CNN, MSNBC and even, just a little, on FOX (FOXA) News Channel.
'The person is not dealing with the world in which we live.'
All reacted to a new Washington Post report that Mike Flynn—who resigned Wednesday as national security advisor—had lied to the Federal Bureau of Investigation in January.
To the FBI, Flynn denied talking to the Russian ambassador in December about sanctions imposed by President Obama for Russian interference in the November election on behalf of Trump and against Democratic candidate Hillary Clinton.
"Why would he (Flynn) lie to the FBI?" Bill O'Reilly asked Bernie Goldberg on The O'Reilly Factor on Fox. "That's a crime."
A similar point was raised the following hour on MSNBC on the Rachel Maddow show by the anchor, who said lying to the FBI "is a felony. He could be looking at serious jail time."
Then Maddow dropped the other shoe by noting that any prosecution of Flynn for perjury or obstruction of justice would have to be led by Jefferson Beauregard Sessions III, the new attorney general who heads Trump's Justice Department.
During Trump's campaign, Flynn and Sessions were allies backing Trump.
"Raise your hand," Maddow said with a smile, "if you think Jeff Sessions is going to prosecute Mike Flynn for lying to the FBI."
Less cynical in the next hour on MSNBC was Jack Rice, a former CIA agent, who spoke on The Last Word with guest host Ari Melber. Rice said Flynn "needs to be subpoenaed by multiple, different agencies and multiple, different panels within Congress" with an eye toward bigger prey.
"Then start to drive that up the line," he said, referring to the prosecutorial squeeze tactic that forces lower-level miscreants to flip on their bosses. "See how high this goes."
Melber added: "The cloud is whether there is collusion—carrots or sticks, rewards or blackmail—that are being brought to bear on either the president or his associates."
This brought to mind an insight offered earlier in the week on CNN, just hours before the Post broke a different story—the one that led to Flynn's resignation.
Paul Begala, a former aide to President Bill Clinton, told Anderson Cooper on AC-360 that Trump might want to be careful about firing Flynn.
"If, in fact, as has been suggested, the Russians have compromising information about our president, the chances are very high that General Flynn knows what that information is," Begala said.
Flynn, in recent years, has developed strong connections with Russia, even dining with President Vladimir Putin. What tales might Flynn tell, especially under oath? Anyone remember a White House lawyer named John Dean?
"You cut him loose, Mr. President, you solve one problem right now," Begala said of Flynn. "But you create a huge problem because he's going to turn on you. He may very well have a lot of information that people want and he will no longer be protected by executive privilege."
The immediate aftermath of Thursday's Trump Show included scolding of the president by Shepard Smith on Fox and Jake Tapper on CNN.
"It's crazy what we're watching every day," Smith said of the month-old Trump administration. "It's absolutely crazy. He keeps repeating ridiculous throwaway lines that are not true at all and sort of avoiding this issue of Russia as if we're some kind of fools."
Smith expressed resentment that Trump calls honest reporting "fake news" and he "put us down like children" for asking questions for which Americans deserve answers.
Tapper—at the command desk with Wolf Blitzer—marveled at the way the president spoke.
"He said the leaks were real but the news was fake," Tapper said, "which doesn't make any sense whatsoever."
Tapper said Trump's performance "was unhinged. It was wild." He said viewers at home should ask themselves how they would react if they experienced such a bizarre tirade from their boss or from a relative.
"The person is not dealing with the world in which we live," Tapper said. "He said things that weren't true."
In that Trump is known to watch cable news channels obsessively—he couldn't stop talking about them Thursday—Tapper turned toward the camera and addressed Trump about Trump's insecurities over his legitimacy.
"President Trump, if you're watching, you're the president," Tapper said. "You legitimately won the presidency. Now, get to work and stop whining about it."