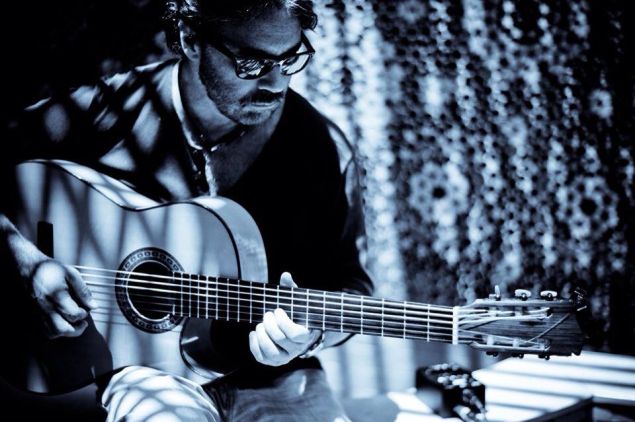 This week in jazz, the dominant instrument is clearly the guitar. (And not just because of the death of superstar Larry Coryell last week.)
No less than five of the all-time greatest guitarists in jazz are in town this week: John Pizzarelli and his trio play Birdland on Tuesday, February 28 through Saturday, March 4 (featuring special guest Bucky Pizzarelli on the first two nights), while Stephane Wrembel, Stochelo Rosenberg, and Al Di Meola play Carnegie Hall on Friday in what promises to be a spectacular concert titled "Django a Gogo."
Wrembel is primarily known for his work with Woody Allen. Anyone who's seen Midnight in Paris can't forget "Bistro Fada" (also currently available on a dozen different CDs), the haunting, minor-key waltz that underscores Owen Wilson's journey backwards in time from contemporary Paris to the Jazz Age.
[youtube https://www.youtube.com/watch?v=mWNhn7xB2w8&w=560&h=315]
This parallels the way in which, especially over the last 50 years or so, the guitar has been jazz's primary means of connecting with other musics and other cultures. You're far more likely to meet a guitarist who plays both rock and jazz, for instance, than a trombonist; thus, the guitar has been the primary player in the fusion movement pioneered by, among others, the late Coryell.
The guitar is also how jazz connects with the music of the Roma people; "Gypsy Jazz" or "Jazz Manouche" is perhaps even more exclusively guitar-centric than any other subgenre of the music.
For North Americans, Stephane Wrembel represents the living face of gypsy jazz, and not just because his connection with Allen (he's also heard in Vicky Cristina Barcelona) but because he is perhaps the one major Roma who was somehow persuaded to trade Paris for New Jersey and reside in the United States. For all of the 21st century so far, he has spread the gospel of manouche music throughout the USA and is a constant, welcome presence, especially in the New York area—it's his music that accounts for those lines of people you see waiting to get into the back room at Barbes in Park Slope.
In looking for a North American guitar hero to co-headline Django a Gogo, Wremble made an excellent choice in Al Di Meola, who, despite the exotic name, was actually born in New Jersey (in 1954). He is a fusion player in every sense of the term: his first album (Land of the Midnight Sun, 1976) featured jazz-rock fusion icons Chick Corea and Jaco Pastorious, but he very quickly moved on to fusions of jazz with music from other lands: Elegant Gypsy (1977), Brazilian bossa novas (The Guitar Trio), and Argentine tangos (as on his single most noteworthy album, Di Meola Plays Piazzolla).
[youtube https://www.youtube.com/watch?v=wp9DEaIVL2Y&w=560&h=315]
With no disrespect to Di Meola, the major attraction for gypsy jazz junkies will be a very rare New York appearance by the Holland-born Roma, Stochelo Rosenberg.
The two will make an effective contrast: Wremble plays mostly his own originals, and thus, to the uninitiated, his music tends to sound more like the jazz-influenced sounds of a foreign culture. Rosenberg, conversely, plays more familiar American standard songs; to North American ears he sounds more like what we think of as coming from a recognizable jazz tradition.
But both are monsters of technique and speed demons who can make your pulse race with breathtakingly fast runs—almost more notes than the ear can comprehend—that still make brilliant musical sense. (Just listen to Rosenberg on "Pour Parler" from his 2006 album Gypsy Guitar Masters).
[youtube https://www.youtube.com/watch?v=uj9Gm9bEITU&w=560&h=315]
The same can be said of the two Pizzarellis, and, likewise, their technical ability is fully matched by their capacity to swing and to invest every note and phrase with emotional resonance.
If guitar jazz in Europe has been dominated by the Roma, a disproportionate number of great American jazz guitarists have been Italo-American, from Eddie Lang (born Salvatore Massaro. 1902-1933), the first great jazz guitarist, going forward.
Bucky Pizzarelli, who turned 91 this year, is a history of jazz unto himself—and this is his first major New York appearance since he recovered from a stroke in 2015. Originally inspired by Lang and Charlie Christian (the first master of the electrified instrument), Pizzarelli senior grew up to play with Benny Goodman (among other things, Christian's chief collaborator). He too is a bridge between generations, starting with his own sons, guitarist John and bassist Martin, to hundreds of young players he has both directly mentored and inspired.
With his own trio, John Pizzarelli is not only a virtuoso guitarist but a gifted, Nat King Cole-inspired singer, and a lightning-quick punster, mimic, and comedian. His trio is sufficiently entertaining by itself, but when his father joins him on stage, the two Pizzarellis (who both play the seven-string instrument developed by George Van Eps) become one of the great duos of jazz. They render standards with uncommon grace and agility, relentless energy, and non-verbal humor that's perhaps even funnier than John Pizzarelli's bandstand one-liners.
[youtube https://www.youtube.com/watch?v=_n_xnPMVKOs&w=560&h=315]
That's something that the Italo-American Pizzarellis have in common with the best European Roma players. Though they play a different instrument, they are all the most direct descendants of Art Tatum and Oscar Peterson in their deployment of extreme technical skill driven by a flair for narrative.
The sheer, exuberant speed they play with is never an end unto itself, but counterbalanced by a relentless desire to both entertain and thrill an audience. When one of the major jazz guitarists is playing, audiences pay attention and hang on to every note—despite the sheer multitude of them—in a way that they do for perhaps no other instrument.
***
The John Pizzarelli Trio with special guest Bucky Pizzarelli plays Birdland Tuesday, February 28, through Saturday, March 4
Stephane Wrembel, Stochelo Rosenberg, and Al Di Meola play "Django a Go-Go 2017 Music Festival: A Celebration of Guitar through the Music of Django Reinhardt" at Carnegie Hall's Isaac Stern Auditorium (Perelman Stage) on Friday, March 3