Last night at Spring Studios, Joe Biden's daughter Ashley launched a hoodie collection inspired by her family and dedicated to focusing on community development initiatives.
The former Vice President's youngest child attended Tulane University, where she majored in Cultural Anthropology before devoting 15 years to the social service space. While Vice President Biden expressed fear his daughter would end up in New Orleans (or Looziana, as he told The New Yorker), she married a plastic surgeon from Philadelphia. And now, the most under the radar Biden has stepped into the spotlight, partnering with Gilt.com to launch an exclusive collection for a truly worthy cause.
"Livelihood is about income equality in our country," Ashley told the Observer, surrounded by the hoodies she created. One hundred percent of proceeds from the collection, which is made in America and socially and ethically conscious, benefits her community organization Livelihood Inc.'s community development initiatives. "Economic development can be for education, workforce development and job placement in the communities. I'm hoping community centers apply, the local schools apply, to build up the capacity within the community," Ashley said of the Livelihood x Gilt mission.
"I really believe that poverty is the root cause of many of our social ills," Ashley explained. "It's not that addiction or mental illness doesn't affect people who are middle to upper class, but it's about quality and access. We are one of the wealthiest countries, we have the largest income gap, we have minimum wages that can't sustain individuals let alone families. And we have 45 million living in poverty." 
Livelihood is targeting specific zip codes, starting with Wilmington, Delaware and Anacostia, an area of Washington D.C. "Riverside is a part of Wilmington that's under-resourced. Many people are living under the poverty line. It was one of my first jobs when I was a freshman coming from Tulane—that summer I worked at Riverside," Ashley said. "My second job my sophomore year was in Anacostia. In addition, my parents have lived in D.C."
The collaboration already received the seal of approval from cool girl actress Aubrey Plaza. "Aubrey Plaza endorsed us and she's from Delaware, she gets it. And also dad was on Parks and Rec. It was a neat connection and I'm super grateful that she did it," Ashley said.
Ashley created the hoodies when she couldn't find one that was equal parts sleek and cozy. "This is the people's power fist," she demonstrated, poking her hand through the thumbhole and showing of a reflector on the wrist. "But also you can hail a cab." The back of the jacket reads 'keep your hood up,' a play on 'keep your head up.'
"Life is really tough. Keep your neighborhood up in prosperity. We have a common humanity," Ashley explained. Despite the turmoil that is currently surrounding Donald Trump's presidency, the timing of the launch is surprisingly apolitical, at least according to Ashley. "This is when it was manufactured and produced," she said. "It's interesting the timing to all of this because this wasn't planned, I thought of this maybe two years ago."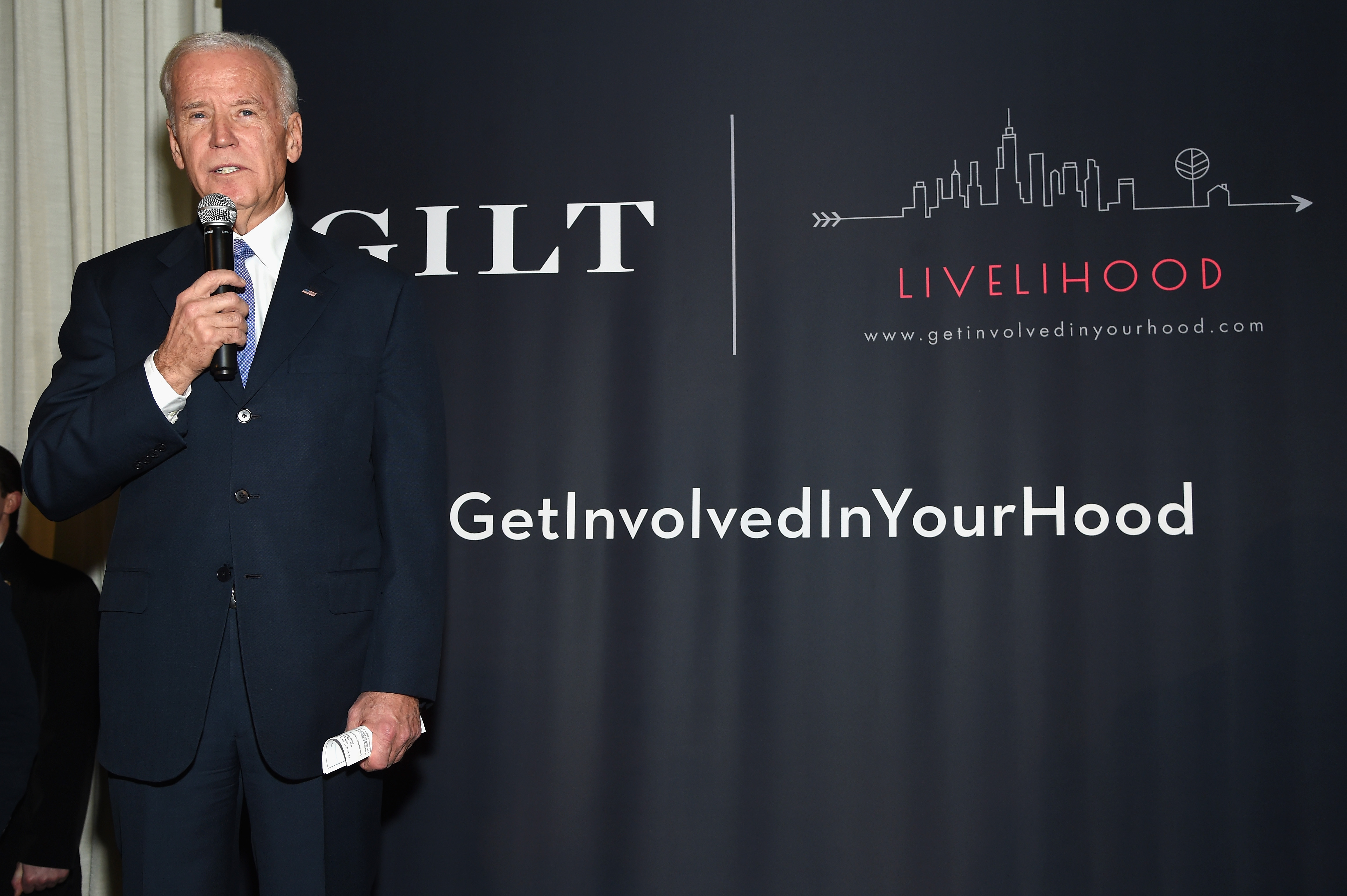 Famous faces Olivia Palermo, Fran Drescher, Andrew Warren, Rev. Al Sharpton and Mara Hoffman were spotted in the crowd, as former Vice President Biden praised his daughter, in his first public appearance since leaving office.
"Every single person in the world is entitled to be treated with dignity."
"Her commitment for trying to change the world for the better is even more intense than mine has been," Vice President Biden announced. Their close relationship was apparent, as he told the audience she used to have him in the palm of her hand—but he didn't mind. "You know you're a success as a parents when your children are better than you," he said, referring to his own father's expression and applying it to his own children.
"At the end of the day, this is all about dignity. This is all about giving folks an opportunity. Every single person in the world is entitled to be treated with dignity," he said.
When Ashley took the stage, she was brought to tears while remembering her brother Beau, who helped shape her vision. She paid homage to her entire family with the logo, which has small signs to acknowledge each of them. "You have taught me to chase after my dreams, to do what I'm passionate about, to keep going when I'm knocked down and you taught me all I know about kindness, compassion and making this world a better place," she said to a rapt audience.