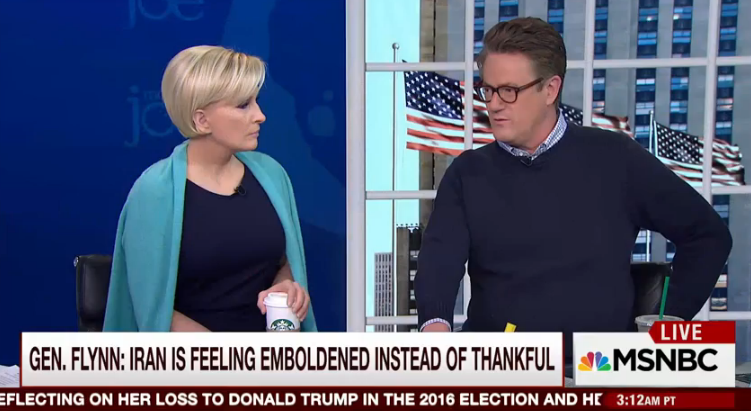 Two contrasting video clips opened the Morning Joe show on Tuesday at 6 a.m. on MSNBC.
The first showed Democratic Sen. Chuck Schumer of New York discussing on Sunday the reckless and discriminatory ban against travel and immigration against seven Muslim-majority nations.
It was ordered last Friday by amateur United States President Donald J. Trump.
"This executive order," Schumer said, his voice catching with emotion, "was mean-spirited and un-American."
The second clip, from Monday, showed Trump sitting at his Oval Office desk, his fat face smug and his words oozing scorn.
"I noticed Chuck Schumer yesterday with fake tears," Trump said. "I'm going to ask him who was his acting coach."
Trump's casual cruelty, hard to ignore, was barely noticed by hosts Joe Scarborough and Mika Brzezinski, Trump's semi-official, non-Fox leak conduits.
Besides, by Wednesday, Trump had changed the topic by nominating Neil Gorsuch for the Supreme Court and the MSNBC co-hosts were woozy with wonder over Trump's announcement in the East Room of the White House on Tuesday night.
They reviewed it, of course, in television terms for the former star of The Apprentice.
It is as if we have tossed our car keys to the biggest, loudest, meanest drunk in the bar and said 'Here, Butch, you take us home.'
"Ooooh!" gushed Brzezinski. "It was like 'The Bachelor.' I liked it."
And so did Joe.
"You could tell he was in his element," Scarborough said. ". . . Very relaxed . . . hit it out of the park."
Both seemed impressed that Trump could approach a lectern and read a script and greet Gorsuch's wife without grabbing her by the crotch. They glossed over Trump's verbal goof while trying to read his announcement.
"Today, I am keeping another promise to the American people," The Great Leader said, "by nominating Judge Neil Gorsuch of the United States Supreme Court [sic] to be of the United States Supreme Court" [sic].
Yes, that's just what he said. But Trump's words don't matter, remember? Watch his deeds, we are told. And in two weeks, we've seen what the new Chief Executive can do.
His immigration and travel policy is a barely-disguised variation of the same unconstitutional ban on Muslims that he vowed during the campaign to cheering, chanting mobs.
By springing his Muslim travel ban late last Friday, Trump showed—in his crude, sloppy way—that he can mess with Muslims when he pleases and just let the courts try to stop him.
In the weeks before his menacing inaugural speech—which took place before a relatively small live audience in Washington—Trump went on a "thank-you tour" to several cities.
In rallies, he entertained his old campaign crowds with the same demagoguery that got him elected despite losing the popular vote by almost three million ballots.
All the rallies were in prime time, as was his Supreme Court announcement. This old TV sharpie knows how to find an audience.
But it was not really a "thank-you tour." It was Trump's demonstration to all who oppose him that he can assemble a flash mob anytime and, hey, who knows what those people are capable of? Nice little country you've got here. Be a shame if something happened to it.
Look for more TV-based governance from this authoritarian regime. And watch the cable news channels scurry to cover him as if he is just another normal president. They can't see the burning forest for all the burning trees.
For example, note how little attention they devoted to Alexandre Bissonnette, the right-wing gunman in Quebec City who murdered six people Sunday and wounded 19 more at the Quebec Islamic Cultural Center.
The Globe and Mail, a national Canadian newspaper, reported that the gunman "was known in the city's activist circles as a right-wing troll who frequently took anti-foreigner and anti-feminist positions and stood up for U.S. President Donald Trump."
His hero quickly spread false reports that the shooter came from Morocco, not Canada. Trump did this by re-tweeting an erroneous Twitter message circulated by mistake-prone "journalist" Bret Baier of Fox News Channel.
"Suspect in Quebec mosque terror attack was of Moroccan origin," Baier's inaccurate message said.
As the days passed, reports of the attack dwindled to almost nothing on U.S. TV.
Few newscasters made the connection between what happened in that mosque on Sunday and Trump's crackdown on Muslims two days before.
Would they have dismissed the story so quickly if the mass murder occurred in the U.S.?
And what if this slaughter had different victims and perpetrators? Imagine a Muslim killer entering a Christian church in "middle America" and slaughtering six Protestants or Catholics. Or maybe Jews in a synagogue.
Imagine, in that case, the knee-jerk reaction of Trump and the neo-nationalists and racial extremists who helped elect him? What backlash might bubble from the bile of Trump's words and deeds?
For the next four years – live and in living color on our high-definition televisions – we will be entertained and appalled by Trump's surly sur-reality show.
In less than two weeks, he's already feuded with Mexico and Australia. England wants him to stay home. And these are our allies. What might we expect from hostile rivals like China, North Korea and Iran? And what about Russia?
It is as if we have tossed our car keys to the biggest, loudest, meanest drunk in the bar and said "Here, Butch, you take us home."