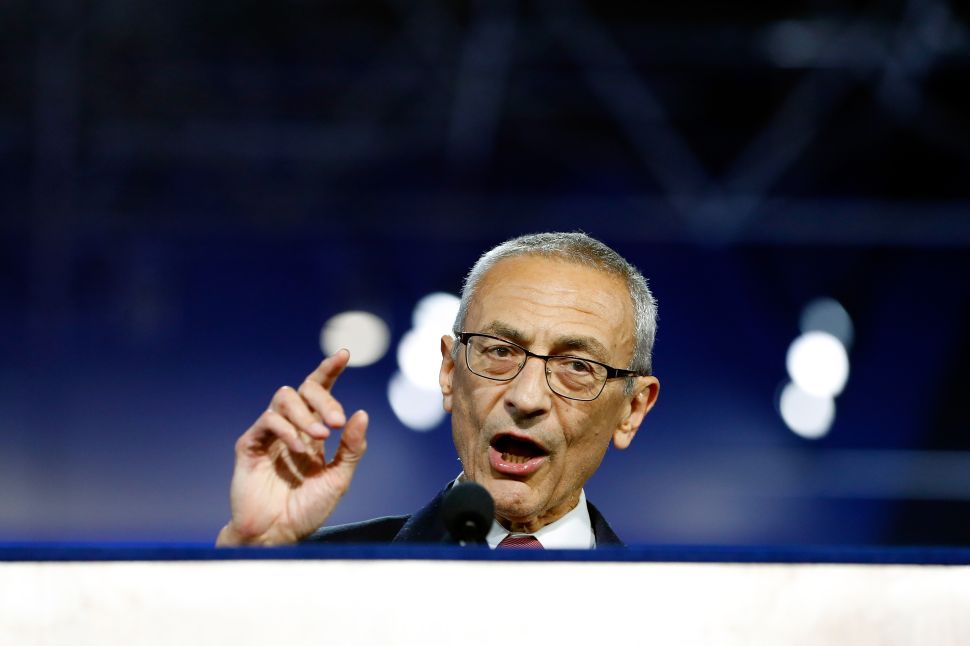 It has been more than three months since Hillary Clinton lost the presidential election, and her staff is still circulating blame for the embarrassing defeat.
On February 20, Politico reported that Clinton campaign Chairman John Podesta claimed there were "forces within the FBI" that wanted Clinton to lose. "I'm not sure they really understood the alternative, but they wanted her to lose. I think that's one possibility," Podesta said in an interview.
What Podesta fails to acknowledge is that the FBI didn't start the investigation into Clinton's private email server—the State Department did. Journalists encouraged the investigation under the Freedom of Information Act (FOIA) after uncovering that Clinton used a private email server and did not properly address previous inquiries into it. In April 2015, CNN reported, "it is discovered that Clinton ignored questions from Congress in 2012 about her email."
Clinton, her staff, and the Democratic establishment have yet to acknowledge how terrible of a strategy it was to coalesce around a presidential nominee under an FBI investigation. Never before in recent American history has a president been elected who was under investigation from their previous employer. However, Clinton remains an infallible icon for her loyal supporters, including her staff who perpetuate self-serving narratives to avoid accountability.
The Democratic establishment has wasted more resources, time and effort blaming the FBI, Russia, Sen. Bernie Sanders, millennials, fake news and others for Clinton's failed bid at the presidency—instead of using the loss and anti-Trump protests to rebuild the Democratic Party around the grassroots base that Sanders' inspired. The current mobilization has largely stemmed from millennials, who overwhelmingly supported Sanders during the Democratic primaries.
Huffington Post reported that in Monroe County, Indiana, Sanders' supporters who have join the Democratic Party are breathing new life into the party at a local level, which is traditionally dominated by Republicans. "The influx of new people is making the party younger," reported Huffington Post. "About two-thirds of them came through Sen. Bernie Sanders' campaign, many of them encouraged by his organization Our Revolution to do so." The article also reported that young Sanders supporters were increasingly attending local Democratic Party meetings in Massachusetts. In Hawaii, Nebraska, California and Washington, Sanders' supporters have made substantial gains in Democratic leadership roles, and hope to make the Party more progressive and democratic.
Still, the main obstacle to meaningfully reforming the Democratic Party is the false narrative that Clinton's election loss was not her or the Democratic establishment's fault. Clinton must assume responsibility for the mistakes her campaign made, and the DNC needs to apologize for rigging the primaries in favor of Clinton. The Democratic Party needs to reform their primaries to better reflect the democracy that they often market themselves as promoting. All of the mobilizing, resources, and strategies against Trump and Republicans won't amount to anything if the Democratic Party doesn't recognize its mistake in anointing Clinton as the face of their party. Clintonism is a disastrous ideology, and, if continued, will only worsen the political climate that enabled Trump's victory in the first place.