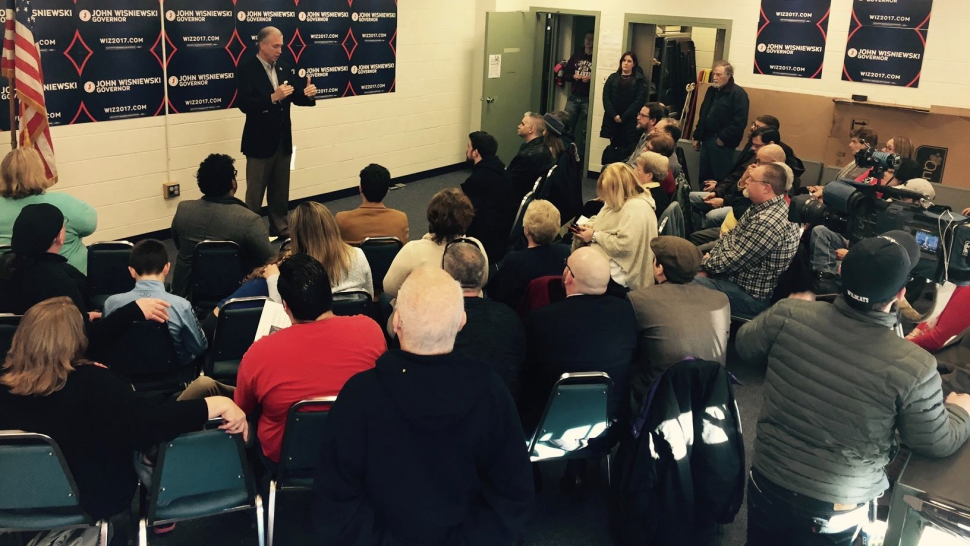 UPDATE (10:53 p.m.): After this story was posted, John Wisniewski tweeted that he had won the endorsement of the Princeton organization that's referred to in this story.
Assemblyman John Wisniewski took his gubernatorial campaign to South Jersey today, criticizing fellow Democrat Cory Booker for joining Senate Republicans to vote down an amendment sponsored by Sen. Bernie Sanders that would have allowed Americans to purchase cheaper prescription drugs from Canada.
"That vote against it was about protecting the pharmaceutical industry," said Wisniewski, who served as chairman of Sanders' presidential campaign in New Jersey campaign chairman, told a forum in Evesham sponsored by Our Revolution New Jersey, a grass roots group whose genesis was Sanders' 2016 presidential campaign.
Wisniewski pledged to put pressure on New Jersey-based drug manufacturers "on day one," if he is elected Governor.
He also sharply criticized frontrunner Phil Murphy for recommendations he made as chairman of a 2005 pensions and benefits task force that recommended "that public employees should retire later, pay more, and get less." Wisniewski also compared Murphy to Corzine, saying that Murphy had also proposed selling state assets that would have caused layoffs and toll increases.
The eleven-term legislator was also forced to defend his 1997 Assembly vote in support of two hotbed abortion rights issues: a partial birth abortion ban and parental notification. "You would hope that in your elected leaders that they are able to go through an evolution of thought and grow with the times and not be vicious ideologues at every turn," Wisniewski told the group at the Evesham Public Library.
Wisniewski took a considerable political risk in becoming the sole elected official to back Sanders against an establishment that was otherwise unanimous in its support of eventual nominee Hillary Clinton. But the gamble seems to have paid off; when Clinton lost the presidency to Donald Trump, the shock and dismay felt by Democrats coalesced around the Sanders wing of the party. One would expect Wisniewski to benefit from that energy, especially in a Democratic primary. Unfortunately for Wiz, despite saying Wisniewski would make an "excellent governor for New Jersey," Sanders has chosen to remain neutral in the race. And just yesterday, Sanders' son Levi campaigned with Phil Murphy.
This leaves Wisniewski scrambling to counteract his primary rival's money by energizing the base of the party.
Characterizing himself as a small businessman against a Goldman Sachs banker, Wisniewski was sharply critical of New Jersey party leaders and the gov-race frontrunner, Phil Murphy.
"We see in New Jersey an analog of what happened in the national election, with party leaders wanting to preordain the outcome of this primary," Wisniewski said. "Think about this: while we were hoping to elect a President Clinton, Democratic party leaders were selecting the next governor. That's the kind of insider mentality that this campaign is fighting against."
Wisniewski also held well-attended forums in Marlton and Collingswood. He will be in Princeton tonight to address the influential Princeton Community Democratic Organization.