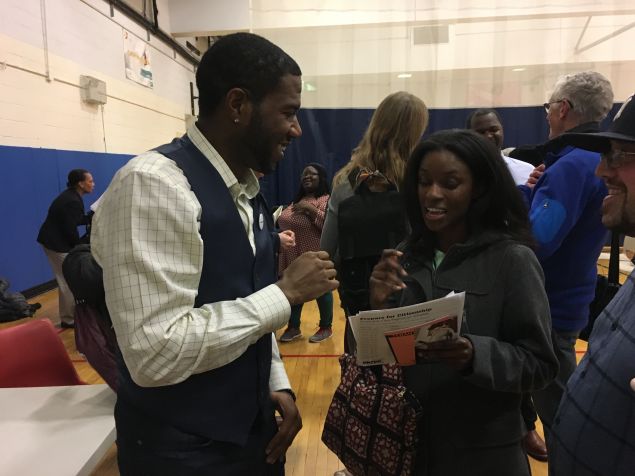 Brooklyn Councilman Jumaane Williams—one of the City Council's most left-leaning members since his election in 2009—shared his hopes to replace Speaker Melissa Mark-Viverito when she runs into term limits at the close of this year, marking his second attempt at the perch after jumping into the race at the last minute in 2013.
Williams confirmed to the Observer after  an unrelated event last night that he intends to run for speaker, a role that carries enormous power over legislation, zoning and the crafting of the city budget. The councilman's bid, like that of several of his colleagues, has been the subject of considerable rumor in the past year—particularly as he courted media attention with his fervent endorsement of Vermont Sen. Bernie Sanders for president, and with his decision to remain seated during the Council's recitation of the Pledge of Allegiance.
"I am planning to run for speaker," Williams,who represents the predominantly Caribbean-American community of East Flatbush, said in an interview following the event.
Williams indicated to DNAinfo New York earlier this week that he would be "proud" to be the first speaker from Brooklyn, but that he would work to serve the interests of all five boroughs. At the time, he was merely mentioned as a hypothetical candidate.
When the Observer asked him if he is definitely running, he answered in the affirmative, and reiterated that he would strive to be a speaker for all boroughs.
"I'm proud to be that but I'll be obviously a speaker for all of my colleagues, making sure that all of the boroughs are represented properly," Williams continued. "But I also said in that Brooklyn piece, I'd be proud to do that but it's about all the boroughs and all the Council members that are there. So while I'm proud of that, you have to put it in the broader context."
A co-founder of the City Council's Progressive Caucus, he was a frequent participant in the Occupy Wall Street and Black Lives Matter protests. He was also a tough critic of former Mayor Michael Bloomberg's policing policies and of Gov. Andrew Cuomo's treatment of the city's rent laws.
In 2013, Williams stunned the political world when he shouted in protest during former Mayor Michael Bloomberg's final State of the City address, and when he suddenly announced that he was running for Council speaker after the November election. By the time he decided to jump into the race, the Progressive Caucus had already backed Mark-Viverito.
His bid ultimately proved brief.
Williams has not shied away from criticizing former Police Commissioner Bill Bratton, or Mayor Bill de Blasio himself.
Manhattan Councilmen Mark Levine and Corey Johnson and Queens Councilwoman Julissa Ferreras-Copeland are all known to have lobbied their fellow Council members and potential candidates for vacant seats to support them for the position. All three are members of the Progressive Caucus, and Ferreras-Copeland is believed to be de Blasio's favorite for the role, as Mark-Viverito was in 2013.
Brooklyn Councilman Robert Cornegy, who recently ascended to co-chair of the Council's Black, Latino and Asian Caucus—to which Williams and Ferreras-Copeland also belong—is believed to be in the running as well. Cornegy is not a member of the Progressive Caucus, but has become more outspoken in recent months about race and criminal justice issues.
Cornegy publicly opposed to the city's contractor of choice for the NYPD's body camera program, and last year joined with BLAC co-chairman Bronx Councilman Ritchie Torres in calling for the New York City Housing Authority to take the names of slaveholders off of its developments.
The two Brooklyn pols led parallel protests over recent police killings of African-Americans at the start of a Council stated meeting in October of last year. Nearly the entire 48-member Democratic delegation followed Cornegy's call to rise and sing the "Negro National Anthem."
Williams, joined in the singing, but afterward sat through the Pledge of Allegiance with only Councilwoman Inez Barron following suit. Williams had previously convinced seven of his peers to remain seated with him at a stated meeting in September.
Sources suggested to the Observer at the time that Cornegy was trying to contrast himself with Williams, in order to appeal to some of the Council's more moderate members.
Mark-Viverito has remained close to de Blasio since he pushed her colleagues to vote her into power in 2014, despite occasional differences between the pair. She has used her position's influence to prevent legislation he opposes—including controversial police reform bills—from receiving a vote, even though they enjoy the backing of the majority of Council members.