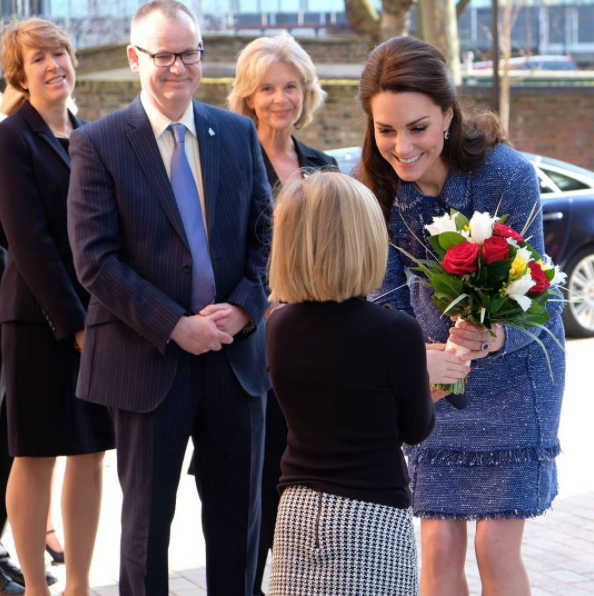 Kate Middleton has been busy fulfilling her volunteer obligations in style, along with the rest of the royal family. The Duchess of Cambridge stopped by the Ronald McDonald House in London to celebrate the opening of brand new accommodations for the families of children being treated at Evelina Hospital. The Duchess met with some of the hospital's young patients to hear their stories and the whole event was well-documented on Instagram.
Kensington Palace shared some of the most moving stories, including one about baby Jack, who was born with half a heart. His parents are able to stay with him while he receives treatment, thanks to the new facility. The Ronald McDonald House built a 59-bedroom facility with all the comforts of home. The Duchess joined the children and reportedly chatted with them about the current state of cartoons and coloring. Last week, she visited two Action For Children projects in Wales, as the Patron of the charity.
If her blue tweed skirt suit looks familiar (unfortunately, it's not a pantsuit, despite their recent popularity), it's because she wore a similar version of the Rebecca Taylor ensemble in 2012. While this particular look is sold out, there are plenty of similar Rebecca Taylor tweed options available, offering many opportunities to channel the princess' vibe.
Prince Harry didn't join her during this round, as he's been busy doing his own charity work. The prince has been working with the non-profit Heads Together, and not just by cheering along those training for a marathon or wearing spandex. The runaway royal visited their London office to learn about how former military members deal with mental health issues.
Unfortunately, Prince George wasn't present either event, as he was busy at nursery school making pancakes—the perfect preparation for National Pancake Day.