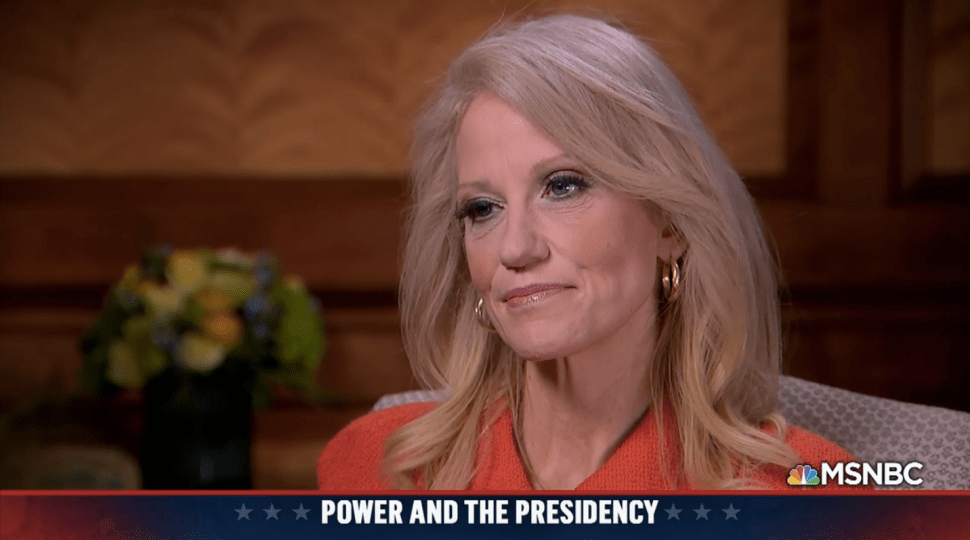 White House mouthpiece Kellyanne Conway was righteously ridiculed on CNN this morning for inventing the "Bowling Green Massacre" to advance President Donald Trump's authoritarian crusade against Muslims, Arabs and immigrants.
But avoiding criticism—so far—is Conway's enabler, Chris Matthews of MSNBC, who allowed her bigoted slander to go unchallenged Thursday night on Hardball.
Conway's comments came as part of a larger effort by amateur President Trump and his staff to justify their crude and unconstitutional ban on Muslims inflicted last Friday, causing chaos in airports across the United States and parts of the world.
On CNN Newsroom in the 9 a.m. hour Friday, anchor Carol Costello re-played Conway's tall tale to Matthews about two refugees who came to Bowling Green, Ky., and massacred an untold number of people.
Conway used this lie to bolster another lie: that the Obama administration suspended Iraqi immigration for six months because of this.
"It never happened," Costello said.
CNN's Jeff Zeleny, speaking to Costello from in front of the White House, said: "Alternative facts aren't anything I learned in journalism school."
He was referring to Conway's coining of the phrase "alternative facts" to explain what used to be known as "lies" from the The Great Leader and his Trumpist followers.
Ron Brownstein of CNN added that the Conway delusion "resonates so much because it is an administration that already has shown it is willing to push the boundaries of the truth."
Jackie Kucinich of the Daily Beast referred to the "fear-mongering about refugees" coming from the Trump regime.
But all ignored the role of Matthews, who has favored his teacher's pet, Conway, through the campaign, the election and the new administration. She used to be Trump's campaign manager. Now, she is his "counselor." For Matthews, she is bamboozler-in-chief.
In what was supposed to be a "town hall" with college students in Washington, Matthews donated the first quarter of his show to Conway.
She told him two Iraquis were "masterminds" of the Bowling Green terror and she accused "the media" of failing to cover it. Matthews—who rarely lets anyone talk uninterrupted—allowed Conway to finish without question or challenge.
Then he changed the subject. True, most interviewers know that arguing with Conway is like debating a barking dog. But in the name of journalism, you have to try. Pay attention.