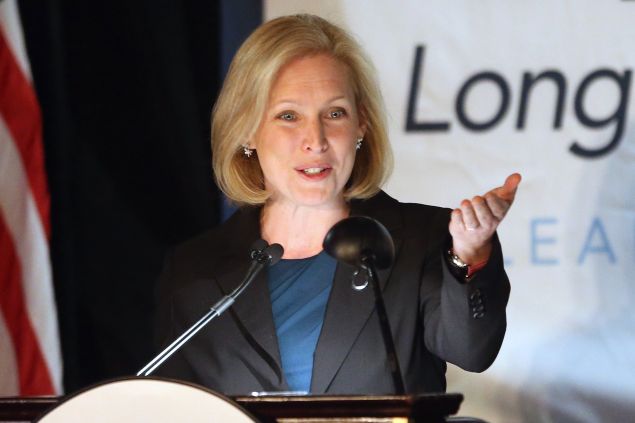 Sen. Kirsten Gillibrand declared today that Gov. Andrew Cuomo, a fellow Democrat and Hillary Clinton surrogate, would "be a great candidate" for president in the 2020 election—ruling out her own rumored bid.
Both Cuomo and Gillibrand have been floated as potential 2020 presidential candidates, though both have insisted they hope to seek only another term when they come up for re-election next year. The junior senator from New York has earned plaudits from liberals for voting against the majority of President Donald Trump's Cabinet nominees, but she boosted Cuomo's achievements in the Empire State during an NY1 interview aired tonight.
"He'd be a great candidate," Gillibrand said in a NY1 interview tonight. "He's a great governor, he's done great things in our state. I love the fact that he's focused on paid leave and marriage equality, so he's a terrific governor. I know he's running for reelection, it's what he said as well."
The senator conceded that there are "lots of good people," saying that she anticipates that there'll be "a dozen candidates" who will all be "better than President Trump." The Democrats in fact suffer from a badly diminished bench, and Cuomo is one of just 16 governors from the party in office nationwide.
The New York governor has sought to build his national profile by pushing socially liberal policies like gay marriage legalization and gun control in his first term, even as he earned the ire of left-wing groups for his fiscal conservatism and battles with public employee unions. After his re-election in 2014, Cuomo reinvented himself as a full-throated economic populist, pushing through a minimum wage hike and a paid family leave program, and unveiling massive infrastructure spending plans and a proposal for free public college tuition—though he has been light on details about funding.
Despite having rode into office in 2010 as an anti-corruption crusader, his second term saw several of his top aides and donors indicted on charges of bribery and rigging bids for economic development contracts. More reports have arisen recently of other hefty state giveaways to the governor's donors.
In a Quinnipiac University survey released in December, 50 percent of New Yorkers said they wanted their governor to "become a national leader challenging the policies of the Trump administration."
But 56 percent of them said that he would not make a good presidential candidate in four years, and 54 percent think he would make a poor president.
As for her own political future, Gillibrand does not anticipate that she'll be a senator for life but has ruled out any possibility of running in 2020—responding in the affirmative when asked whether she'd carry out her full term.
"Yes, I am entirely focused on running in 2018," she said. "I feel honored and privileged that I get to serve this state as their senator and I feel like as their senator, I can fight on all of these issues, so I very much would like to be reelected a second term."
She also predicted in the interview that Judge Neil Gorsuch, Trump's Supreme Court nominee, will be confirmed. She anticipated that the GOP will utilize the so-called "nuclear option"—changing Senate rules to eliminate the filibuster—to install him on the bench.
She pledged to vote against Gorsuch's confirmation when Trump first nominated him.
"I expect our colleagues to vote their conscience and to really look at his record and see if he's the kind of nominee that's worthy of our support," she added.
She also said that Senate Minority Leader Charles Schumer—of whom she is a close ally—has been "doing an extraordinary job" as the most powerful Democrat in Washington. She also said that Republican State Senate Majority Leader John Flanagan is "wrong" to say that she and Schumer need to stop attacking Trump because "you have to be able to stand up when someone does something wrong."