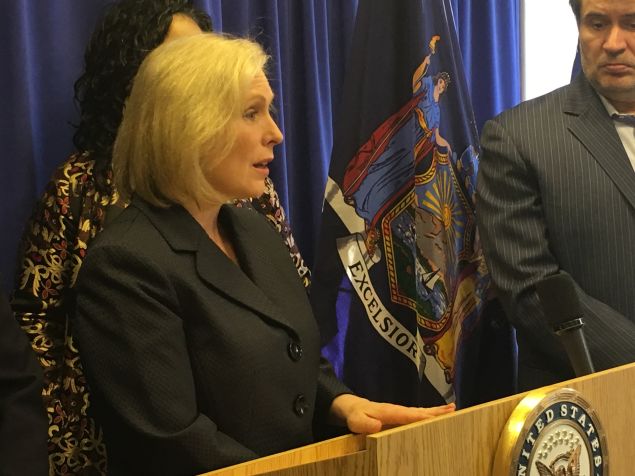 Sen. Kirsten Gillibrand said today that President Donald Trump's plan to increase security and defense spending "doesn't add up"—and anticipates that he will add "trillions of dollars" to the deficit.
On Monday, the Office of Management and Budget announced that Trump will increase defense and security funding by $54 billion, reallocating that money away from agencies unrelated to security. Treasury Secretary Steven Mnuchin said that the president will not cut funding for Medicare or Social Security.
"Well, I have a concern that the president has articulated a plan that doesn't add up," Gillibrand said during a conference call about Trump's upcoming speech to Joint Session of Congress. "He plans to add $50 billion to defense. He plans to cut every other area of spending."
She proclaimed that Trump's proposal will likely worsen the country's debt.
"I think he's going to add trillions of dollars to the deficit," she said.
The junior senator from New York urged Trump to explain how he will finance the budget increase without creating another budget shortfall for the country.
"We need to understand where he is on these issues and how he's going to pay for the increased spending or whether he intends to leave this debt for our grandchildren," Gillibrand said.
During the conference call, Gillibrand said that during his speech tonight, she would like to hear the president discuss how he will end outsourcing of manufacturing, raise wages for low-wage workers and develop workforce policies that reflect what the workplace looks like in the present day—particularly in the areas of paid leave and affordable childcare.
Gillibrand said that she has already introduced her version of a paid leave bill, the Family Act, which would create a national paid leave program so that any American has access to paid work when they need it.
"We've already heard him speak quite forcefully on a number of topics so far…but there is one very important area the president has not yet dressed through executive action or proposed legislation," Gillibrand said. "That topic is jobs, good jobs that pay well. In communities across our state…hard-working New Yorkers who want to work but can't find jobs that pay well or they do have jobs but there's not enough hours."
And she dismissed criticism that it's too early in Trump's presidency to make such a request, saying that there's many positions for which "he hasn't even made recommendations" and that "he's taking his time."
"Yes," Gillibrand said, on whether it's fair to ask him to outline his jobs plan "Because he hasn't announced one proposal or one initiative or one piece of legislation that affects the economy or jobs."