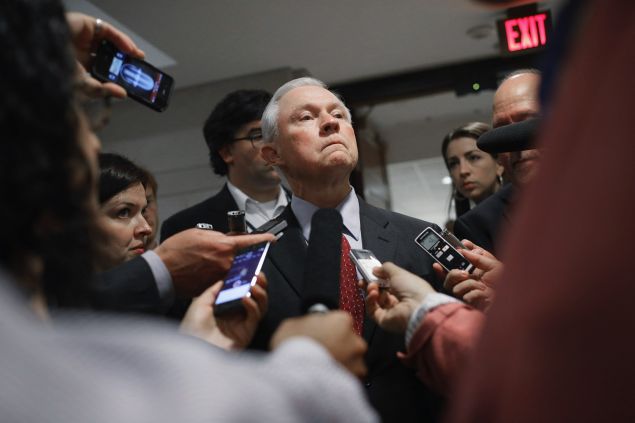 Sen. Kirsten Gillibrand tore into Alabama Sen. Jeff Sessions, President Donald Trump's pick for U.S. Attorney General, on the Senate floor this morning—bashing her southern colleague's voting record on hate crime legislation, and his remarks last year regarding a tape that caught Trump candidly talking about molesting women.
The junior senator from New York rose to describe the "outpouring" of concerns and complaints she has received from constituents about all of the president's nominees, and about the ultra-conservative Sessions in particular. She read aloud a letter from a Jewish constituent, who voiced anxiety that Sessions would fail to adequately enforce anti-discrimination statutes designed to shield religious, racial and sexual minorities.
"Our country, Mr. President, desperately needs an attorney general who will reject discrimination in all forms," Gillibrand said after setting the letter aside. "We need an attorney general who will defend our civil rights and human rights—with no exceptions."
Gillibrand cited Sessions' opposition to the renewal of the 1994 Violence Against Women Act and to the 2009 Matthew Shepard and James Byrd, Jr. Hate Crimes Prevention Act. The nominee defended the first vote last month by asserting that he took issue with a section of the bill relating to its enforcement on Indian reservations, and in 2013 accused Democrats of deliberately freighting the legislation with controversial provisions so they could attack Republicans for opposing it.
The Alabama lawmaker dissented on the Hate Crimes Prevention Act eight years ago on the grounds that it asserted federal jurisdiction over offenses normally handled by local law enforcement, because it was attached to an unrelated defense bill and because it was unclear whether it would classify terror attacks as hate crimes.
Sessions became nationally famous in 2013 by successfully defeating the bipartisan "Gang of Eight" immigration bill, which would have provided a pathway to citizenship for foreign nationals residing in the United States without proper paperwork. Almost a year ago, he became the first sitting senator to endorse Trump's outsider bid for the White House.
When a 2005 recording of the then-GOP nominee talking about grabbing women "by the pussy" surfaced last fall, Sessions gave a nebulous statement describing the comments as "improper talk." When pressed, the senator said "I don't characterize that as sexual assault," then "I don't know."
"We need an attorney general who knows very clearly what sexual assault is—and who cares enough to prosecute it," Gillibrand, a longtime advocate for sexual assault survivors, said today.
The New York lawmaker also asserted that those comments indicate that Sessions will not preserve the Justice Department's history of independence from the rest of the executive branch. She pointed to Trump's far-reaching executive orders on immigration and travel from Muslim lands—and his derogatory comments about a judge who blocked the latter—as evidence the president has endangered the traditional separation of powers in American government.
This, she argued, makes a truly autonomous and impartial attorney general more important than ever.
"We need an attorney general who will not be afraid to challenge the president if an order is illegal or unconstitutional," Gillibrand said. "Senator Sessions has not made it clear that he would use his power as attorney general to stand up for the voiceless and the oppressed, or to stand up to the president when he's wrong."
Gillibrand has distinguished herself in recent weeks by voting against each of the president's Cabinet picks, with the sole exception of South Carolina Gov. Nikki Haley for ambassador to the United Nations. She is a close ally of Senate Minority Leader Charles Schumer, who has voted for several of Trump's nominees but has vowed to block Sessions.
She follows several of her liberal colleagues, including Massachusetts Sen. Elizabeth Warren and Oregon Sen. Jeff Merkley, in speaking out against Sessions' appointment. Sessions has also drawn fire from civil rights leaders like Rev. Al Sharpton due to his history of racially tinged remarks.
A full Senate confirmation vote is expected later today.