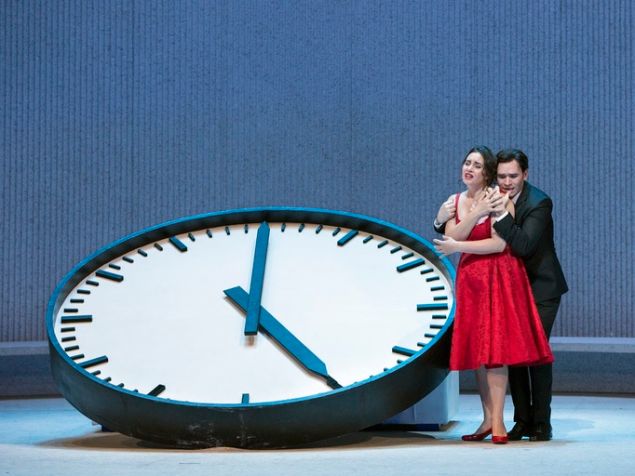 "Croce e delizia al cor!" Torment and delight of the heart! That's how the bestotted youth Alfredo explains the emotion of love to the seemingly unfeeling courtesan Violetta in the first act of Verdi's La Traviata.
And, perhaps not so coincidentally, that phrase sums up how one must feel about the Met's current revival of this masterpiece as heard last Friday. There is delight at seeing and hearing one of the finest Traviatas in decades, but it's mixed up with the torment of knowing that Willy Decker's magnificent staging of this piece will vanish from New York at the end of this season, never to return.
Decker's stark take on the familiar "Lady of the Camellias" story strips away both period detail and sentimentality, leaving behind a harrowing account of how a woman who defies sexual mores is marginalized and eventually destroyed by a disapproving patriarchy.
Against a monumental and unvarying setting of cold white stone, free-loving Violetta is the only flash of color in a scarlet cocktail dress, surrounded by a crowd of taunting men in identical tuxedoes. At the height of her popularity, she cavorts atop a lipstick-colored sofa held aloft by her admirers; later, rejected, she collapses in the middle of an empty stage as those dearest to her turn their heads away in revulsion.
Five years before this staging came to the Met, it was a sensation at the 2005 Salzburg Festival starring the electrifying team of Anna Netrebko and Rolando Villazón. But even that pair, as documented on video, do not surpass the Met's current casting of soprano Sonya Yoncheva and tenor Michael Fabiano.
Yoncheva combines a genuine glamour voice—a sound both beautiful and hauntingly complex—with a rare honestly of expression. Her singing is refreshingly frank and open, with the virtuousity the bravura role of Violetta requires always kept in the background. Only in retrospect do you stop to recall the smoothness of her scales, the brilliance of her high notes, or the dynamic variety she brought to lyrical passages.
Her approach to the character is so offbeat that at first it felt like a mistake. Generally we first see Violetta in a manic mood, glittering as she greets her party guests. Yoncheva adopted curiously casual, even sloppy body language, as if we had caught the heroine toward the end of a bender. Eventually, it all made sense: the courtesan, diagnosed with incurable tuberculosis, is deliberately numbing her feelings.
How that contrasted with Fabiano's white-hot take on her young lover Alfredo! Again, what we mostly see in this part is puppy love, but from the tenor's first entrance—lurching into the room as if he'd been shoved—Fabiano played the character as an obsessive, almost a stalker. (Early on, Alfredo reveals that he has been watching Violetta from afar for a whole year. Yoncheva's reaction to this piece of information could best be described as guarded.)
The relationship that develops between them may be romantic, but it's definitely not healthy. After Violetta leaves Alfredo (for the noblest possible reasons) he confronts her at a party and—per the libretto—throws cash at her. Decker's staging amplifies this moment having Alfredo seize handfuls of banknotes and shove them up the courtesan's skirt, into her bodice and even into her mouth.
Essentially, he rapes her with money, and here Fabiano flew into such a black-eyed rage that one momentarily feared for Yoncheva's safety. (She was all right, of course, but the feeling of nausea at seeing a woman's body violated hung on through the ensemble that finished the act.)
What's miraculous here is that Fabiano's singing if anything surpassed his acting. His tenor is a dark, muscular sound with a lively vibrato that quickens in moments of high emotion. The effect is pure frisson, like feeling a knife blade drawn across the skin. He can also scale the sound back to a caressing mezza voce, though even there there is a hint of danger behind the velvet. "What the hell is he up to?" you'd think as he began an aria, but by the final note you'd have changed your mind completely: "But this is what the piece is all about. How could I have missed that before?" In a word, this was a revelatory performance.
I felt a little sorry for baritone Thomas Hampson as Alfredo's father Germont, who yelled and hectored but scarcely sang a note all night long. He did manage, however, to keep up with this colleagues dramatically, creating a disturbing portrait of a middle-aged fussbudget terrified of human contact.
Besides Hampson, the only weak spot was conductor Nicola Luisotti, who seemed to echo Germont's stiffness with hard, inflexible tempos and unvariegated tone colors. It was a performance that might pass muster in an ordinary production of Traviata, but in such special surroundings felt fatally pedestrian.
What really makes the torment kick in here is the feeling that Peter Gelb's Met is now shying away from this kind of risk-taking production. What looked to be one of the highlights of next season, La Forza del Destino directed by the provocative Calixto Bieto, has been indefinitely postponed, while two other productions, Norma and Tosca, by the all-but-moribund David McVicar remain on the 2017-2018 schedule.
One of the messages of Decker's Traviata is that, just like love, art is inherently dangerous. It's a lesson that seems to have gone over the head of the Met.