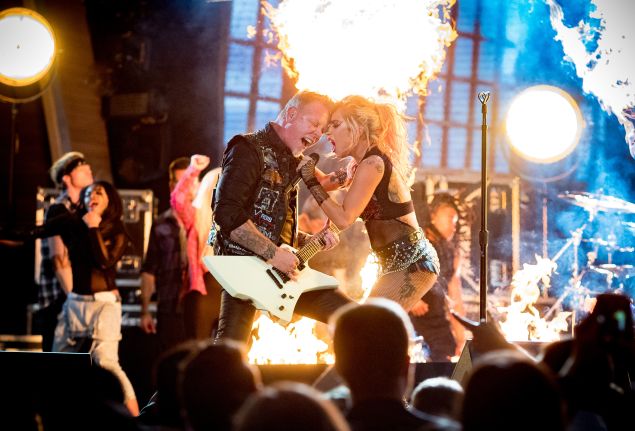 Most Grammy viewers will remember last Sunday's Metallica/Lady Gaga collaboration for the mic snafu that made James Hetfield's vocals inaudible for half the performance of "Moth into Flame." What they should remember is how much ass Gaga kicked. It wasn't just how on point her impression of Hetfield's growl was or how metal her outfit was, but the way she commanded the stage like a true rock star. Oh, and that stage dive? Hell yes, Gaga!
It was clear she was living the dream. Apparently, the band had an amazing time as well. In an enthusiastic interview with Rolling Stone about the performance, Metallica drummer Lars Ulrich gushed about Gaga's energy saying, "We're just getting started."
Now, with the possibility of future collaborations on the table, we can't help running through Metallica's incredible backlog of music and wondering where Gaga fits in.
Here's just a taste of some songs it would be absolutely incredible to hear Lady Gaga interpret.
"Enter Sandman"
The most popular Metallica song is also the collaboration we are most likely to actually get. The song's basic pop-song structure and sheer amount of vocals make it an easy first pick for Gaga. And she could do some seriously spine-tingling work with that spoken-word section. Here's to hoping she can take us "off to never never land" with this one.
"Fade To Black"
Metallica's first and best ballad, "Fade To Black" is a damn near perfect song. With Joanne, Lady Gaga has showed she doesn't have to be driving at 60 at all times, and can tone it down for some softer sounds. Not to say anything Metallica does can be considered soft, but the breadth of Gaga's work bodes well for this track.
"Master of Puppets"
The title track from Metallica's best record of the '80s (fight me), "Master of Puppets" is an iconic song. Her Grammy's and Super Bowl performances proved just how much energy Gaga can bring to a stage, and this is a song that must be seen to be believed.
"Seek and Destroy"
https://www.youtube.com/watch?v=J-tvJcTPxHc
It's easy to categorize Lady Gaga as just a pop artist, but she truly does love metal. She has proudly claimed how Iron Maiden changed her life and that her favorite song is "Black Sabbath" by Black Sabbath. There isn't an album more metal in all of Metallica's discography than their first, Kill 'Em All and "Seek and Destroy" is an obvious pick.
"Nothing Else Matters"
Perhaps the most covered Metallica song, "Nothing Else Matters" is one of the few that can be considered beautiful. The Lisse cover proved a woman could definitely tackle this one, but left some emotion to be desired. Emotion is certainly something Lady Gaga has in spades and can clearly bring to other artist's music.
"Welcome Home (Sanitarium)"
Not to be confused with Coheed and Cambria's hit "Welcome Home" (although hearing Gaga on that would be equally as intriguing), this Master of Puppets track is one of the most melodic of early Metallica. With Gaga on the verses and Hetfield on that chorus, this collaboration could be a true banger. And thematically, a song about mental institutions could fit Lady Gaga's personal brand of crazy quite well.
"Blackened"
What a track to open up a record with. While "One" is the easy pick off In Justice For All, it is too guitar heavy for a new vocalist to do much good (plus it's already a perfect song). "Blackened," on the other hand, has the perfect verse for a deadly dynamic back and forth between Hetfield and Gaga. There is so much potential in the echoing vocals of the bridge that screams at us to add another voice to the mix.
"All Nightmare Long"
At the time of release, 2008's Death Magnetic was Metallica's best album in over 15 years. "All Nightmare Long" is certainly one of the strongest modern Metallica efforts, released just a year before Lady Gaga blew everyone away with her first album. It's pure metal with a catchy chorus that would be a perfect vehicle for a popstar who loves the heavier side of music.
"The Unforgiven"
The song that spawned multiple (bad) sequels, "The Unforgiven" is the most epic track on Metallica's finest album (once again, fight me). There are tons of reasons Lady Gaga should work with Hetfield on this one, the primary one has to do with the lyrics. "Unforgiven" is an emotional affecting piece of lyricism. While some of her work, i.e. "Applause", is a bit unaffected in terms of songwriting, more recent songs like "Million Reasons" and even the older "Born This Way" prove that Gaga has, and has always had something to sing about.
"Whiskey in the Jar"
Technically, this one isn't a Hetfield and Urlich original, but it has gained a reputation as a Metallica song. They even made a video for it. "Whiskey in The Jar" has been adapted by many great artists including Thin Lizzy, and the popular Dubliners version. This wouldn't have to be a Metallica collaboration per se, but it would be fascinating to see exactly what spin Lady Gaga would put on this Irish Folk classic.