You could rent the Houston manse for $10,000 a night.
Airbnb
A perfect retreat for post-game relaxation.
Airbnb
We wonder what movies Gaga watched...
Airbnb
The personal popcorn maker.
Airbnb
The outdoor fireplace.
Airbnb
We imagine it's hard to leave this place.
Airbnb
The resort-style pool.
Airbnb
Very into the island vibes here.
Airbnb
The Mediterranean-style manse was customized for Gaga's stay.
Airbnb
One of the five bedrooms.
Airbnb
A necessary game room.
Airbnb
Arched doorways and limestone.
Airbnb
Serious interior envy.
Airbnb
Beamed ceilings, of course.
Airbnb
As Beyoncé did before her, this year's Super Bowl Halftime show performer Lady Gaga stayed in an unbelievably luxe manse for her game day trip, courtesy of Airbnb.
Obviously, Lady Gaga's crash pad was a bit more extravagant than the walk-up apartment or dingy room a tourist might go for, but after seeing her descend on a stage in a flurry of glitter and drones, what did you expect?
When she wasn't killing it at the Super Bowl, Gaga was relaxing at a Mediterranean-style Houston mansion, says Elle Decor. The abode is equipped with necessities like a bocce court, movie theater (with its own popcorn maker, obviously), wine cellar and sauna.
The five-bedroom, 5.5-bath estate is a mere ten minutes from the NRG stadium, so Gaga didn't need to worry about a long commute.
There are limestone and walnut floors and venetian plaster walls throughout, according to the listing, as well as fireplaces in the great room and the first-floor master wing. There's also a limestone fireplace in the kitchen, as well as an indoor game room.
The $20 million mansion has a Renaissance-style spiral staircase, as well as beamed domed ceilings. The "resort-inspired" pool is surrounded by bluestone terraces, and looks ideal for a pre-Super Bowl dip.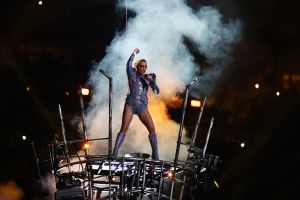 As lavish as the place already sounds, it was reportedly customized for Gaga's stay—luxury home goods store Longoria Collection decorated the home especially for the singer's stay.
For regular folk, the home is rentable on Airbnb for $10,000 per night, with a seven-night minimum stay—yup, $70,000 a week to live like Lady Gaga. If that's out of your price range, but you want to nab an Airbnb that is (royally) celeb-approved, there's always Tromvik Lodge, the Norwegian house Prince Harry and Meghan Markle vacationed in—the nine-bedroom home is available for a mere $362 a night.