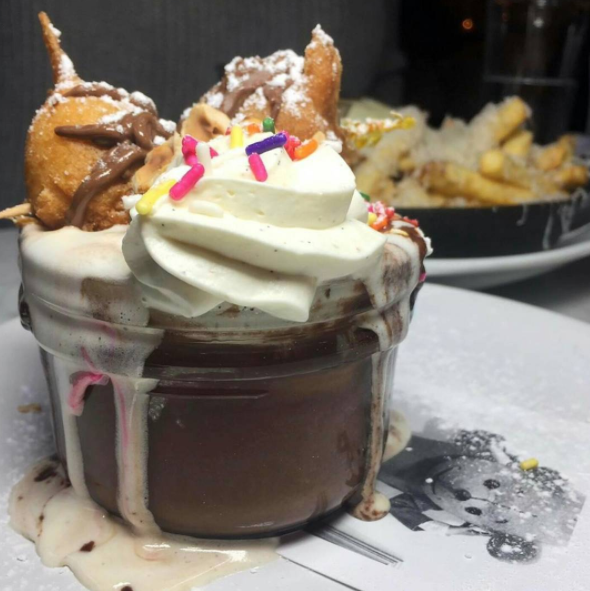 If you didn't have time to plan an elaborate adventure in time for Valentine's Day, including a helicopter tour, Bushwick sex party and/or a liquid nitrogen cocktail, all hope is not lost. You can still make last minute restaurant reservations somewhere très chic, even with only a week left. (But seriously, stop lollygagging.)
Instead of procuring greasy Chinese food and texting "Netflix and chill?" since every single restaurant in the city has been booked for months, consider an alternate activity.
Loosie Rouge, Williamsburg's favorite under the bridge hot spot (it's all very Younger), is offering a $60 three-course prix fixe menu on V-Day. If you happen to be single, consider scoping out the scene with a few friends, as everyone at Loosie's is always undeniably attractive. For the occasion, Chef Olivier Palazzo is cooking up their classic homemade truffle ricotta with grilled cornbread (truly a must-order) along with a chocolate soufflé (although you could always cheat and order their beignets for Instagram purposes).
If you're looking for more of an activity (perhaps the relationship is new and you don't have much to talk about yet, or you don't want to commit to seeing someone on February 14), there's a fondue night at Maman. It's taking place on February 21, so there's no need to spend your Tuesday night having a romance date when you'd rather be in bed.
If you don't want to leave the house, or want to have a night cheese party for one à la Liz Lemon, consider acquiring a raclette service from the dinner party in a box company Feastive. The service is supposed to serve six to eight people, so you could always invite friends over for Galentine's Day. Or you could attempt to make reservations at the actual Raclette, but that would have been more conceivable months ago.
Another option for ordering a date to your house is Datebox, a subscription box that's exactly what it sounds like. Each month they send over activities, including sushi making kits. If making your own sushi isn't up your alley, they have other experiences, including a dance class, which is particularly important if your significant other won't attend a fitness class with you outside of your home. 
Rossopomodoro is also offering a D.I.Y. experience, launching their meal kits on Valentine's Day on Caviar. Their first kit features homemade dough, mozzarella and all the toppings you could ask for, along with a rolling pin (honestly, most New Yorkers don't have one), a pizza cutting wheel, and of course, a step by step guide. Place your orders now, so you're not stuck ordering Seamless and scoping out a new Netflix original show.