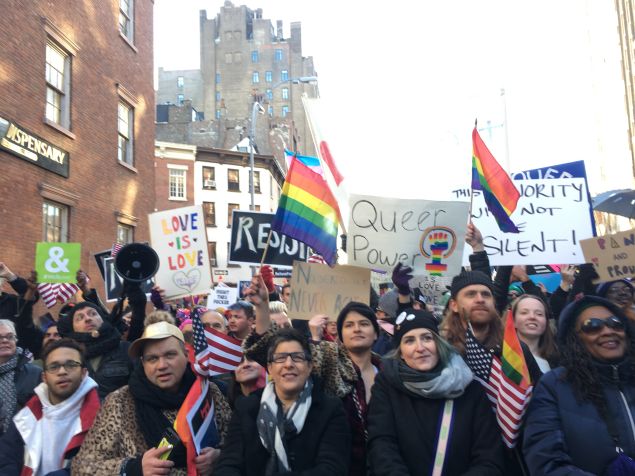 Joined by thousands of New Yorkers, the city's LGBT community gathered at the Stonewall National Monument in Manhattan today to express solidarity with individuals impacted by President Donald Trump's executive orders targeting Muslims, undocumented immigrants and his selection of anti-LGBT nominees.
The "LGBT Solidarity Rally," organized by Manhattan Councilman Corey Johnson, sought to express solidarity with undocumented immigrant, refugees and Muslims in the aftermath of several White House fiats aimed at limiting their ability to enter the country. Johnson, who is one of seven LGBT Council members, said that Congress should reflect the "will and values of the American people" and that people should be able to tell their children and grandchildren years from now that they fought back "when a tyrant tried to divide America" and "mold it in his own racist image."
"Tell me, are you gonna say, 'I fought back?' Are you gonna tell them, 'I resisted?'" he told the crowd. "Are you gonna tell them, 'I stood up for my Muslim brothers and sisters?' That 'I stood up for my Latino and Latina brothers and sisters?' That I stood up for immigrants and refugees?'"
The rally came shortly after the Trump administration apparently scuttled plans for a new executive order that would rescind Obama-era workplace protections for sexual minorities, but began weighing another dictate that could expand the ability of tax-exempt religious groups to openly advocate political causes.
It also followed an injunction from Seattle Federal Judge James Robart that temporarily blocked the implementation of Trump's 90-day ban on travel from seven Muslim-majority nations. Trump lashed out on Twitter at"this so-called judge," and appealed his restraining order even as the Department of Homeland Security moved to comply with the ruling.
Protesters in the Village held signs with phrases like "RESIST," "INTERSECTIONALITY NOW" and "United Standing Against Dictator Trump." Activists, advocates and elected officials also encouraged attendees to yell, "Dump Trump!," "Lock him up!" and "Impeach him!"
The rally had 62 sponsors, including the New York Immigration Coalition, the Muslim Democratic Club of New York, the Stonewall Democratic Club, Gays Against Guns, the Jim Owles Liberal Democratic Club, GLAAD, Make the Road New York, LGBT Faith Leaders of African Descent and Gay and Lesbian Independent Democrats.
State Senator Brad Holyman, who is gay, said that there should be more LGBT and female elected officials and that the White House could use them, too. Last month, he introduced the T.R.U.M.P. (Tax Returns Uniformly Made Public) Act, which would would require presidential candidates to release five years of tax returns in order to appear on the ballot.
Fourteen states have now introduced or intend to introduce the bill.
"Now I gotta tell you, it took a long time to come up with that acronym," Hoylman said. "But the T.R.U.M.P. Act would force all presidential candidates to release their taxes, to release their taxes before they can qualify for the ballot in New York State."
Former Council Speaker Christine Quinn—who formerly held Johnson's seat—jeered at the idea that the gay community would be content just because Trump had left former President Barack Obama's anti-discrimination policies in place.
"They're scratching their heads, they're scratching their heads because they thought we'd be happy, that we'd be grateful that somehow not taking away our rights, just seeing us as one limited community would be enough," Quinn, the first female and first openly LGBT Council speaker, said.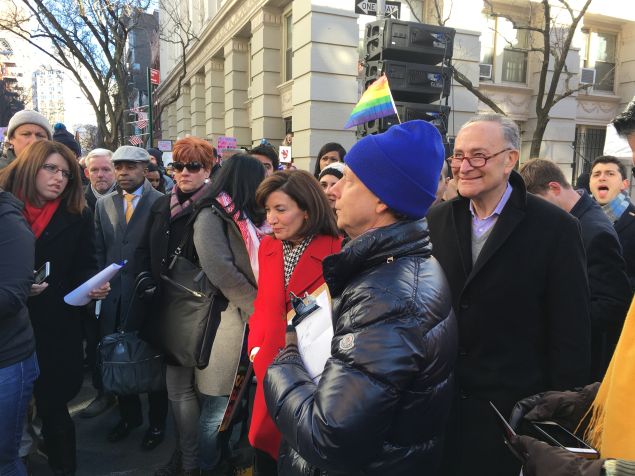 Senate Minority Leader Charles Schumer vowed that his Democrats would stop the confirmation of Trump's Secretary of Education-designate Betsy DeVos when she comes up for a vote early this week. Schumer accused DeVos of supporting "conversion therapy"—the practice of trying to reverse a young person's sexual orientation—which the Trump nominee has denied, though she has donated to at least one organization that appears to endorse the notion.
Schumer, the most powerful Democrat in Washingotn, also vowed to fight Trump's other nominees and roll back the clock on the country's previous accomplishments.
"We are gonna do everything to make sure that the Supreme Court does not turn the clock back to the 1960s, the 1890s or the 1920s," Schumer said. "So I stand with you. Every fight we make—we have a lot of fights—but we're gonna win 'em all and I know you have my back and I have yours. We are gonna dump Trump!"
Alphonso David, Gov. Andrew Cuomo's counsel, who is gay, noted that New York State legalized same-sex marriage in 2011 and the governor's legislation to end the AIDS epidemic by the end of 2020.
"The governor wants to make sure that all of you know that he will stand by you, shoulder to shoulder, to make sure that every single individual right is protected in this state and if we need to file a lawsuit, we will to protect your rights in New York," David said.
Jamila Hammami, an LGBTQI Tunisian Muslim woman of the Queer Detainee Empowerment Project, said that her family migrated to the United States to flee violence and that other Muslim QDEP members with similar experiences are coming to this country "where there's even more violence waiting for them.
"I notice as I stand here, I feel great concern," Hammami said. "Where are black Muslim siblings at? I don't see them on this stage. I don't see our black migrant siblings either and I don't see our Palestinian siblings here speaking their truth."