Linda Evangelista, the supermodel of the '90s, is probably best known for saying that she wouldn't get out of bed for less than $10,000 a day. Now, in 2017, she seems to have lowered her price to $160. Well, to be honest, that's the price of Erasa XEP-30, the skincare company that has hired her as an executive. And she's willing to commute all the way to New Jersey for this anti-aging product, because she really believes in it.
Seriously, Evangelista has graduated from just being the face of a product to being hired as the Vice President and Creative Director of Erasa in November 2016. She really puts in work at the anti-aging company; this is not just another model striking a pose.
"In the mirror, my lines were finer, my pores smaller, my skin color better. That's what got me excited. I always thought the battle against my melasma cannot be won, but I want to say 80 percent of it is gone," she explained to the Observer over breakfast at the Mandarin Oriental. The model is plagued with the treatable but incurable skin condition that causes the epidermis to darken. And it's true, even in the weak winter light, Evangelista looked flawless. At 51 years old, her face is nearly devoid of lines and her cheekbones are as sharp as ever. She was even rocking a subtle smokey eye behind her light Tom Ford frames, but only because she had to run to a school cocktail party later that evening.
"I hardly ever wear makeup. In fact, I think I messed up today because I don't wear foundation," she admitted, leaning in as if she was letting me in on a secret. And I guess she was; Evangelista claims that Erasa XEP-30 is basically her miracle cream. Her dermatologist has accused her of cheating on him, all thanks to this singular product. She has even abandoned her other pricey products. "I only have two steps. [Erasa] and my moisturizer. I've thrown everything out the window."
She was first introduced to the product by Marc, the husband of Georgia Louise, facialist to the stars. Marc does not have skin in the skincare game (pun intended), but the facialist's financier husband gave Evangelista a bottle of Erasa in December 2015 and asked her to give it a try.
"I said yes with no intention [of trying it] because I get beauty products all the time and honestly you can't try them all," she admitted. On a lark, she added the product into her skincare regime and after three weeks, something was up with Evangelista's skin: her pores were smaller and her skin just seemed brighter. She kept using the product, noticing that Erasa offered instant gratification by lifting, tightening and adding a slight glow. Evangelista kept using the product until she thought her bottle's pump broke. In actuality, she had used up every last drop of concentrate.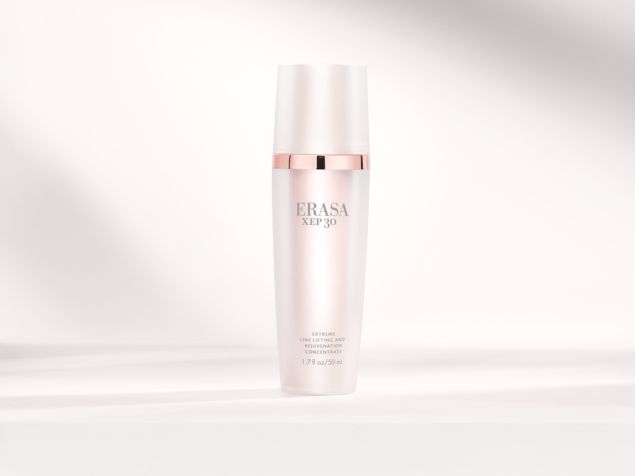 "I've never run out of a product in my life. And that's when I realized, 'oh my god this is something really great,'" she gushed. She then asked Marc to introduce her to Erasa's people. After meeting and "falling in love" with Erasa's chief technical officer, Jules Zecchino, Evangelista was offered a position with the company, and she didn't hesitate to say yes. Now having gone through five bottles of Erasa, and working for the company for a few months, Evangelista is just as enamored with the product as ever.
This is the first winter that she hasn't done retinol, because Erasa is entirely effective at reducing deep wrinkles. And she's about to pull the plug on her skincare fridge, where she used to stock her pricey creams, serums and face oils.
Ok, but what's the scientific deal with Erasa? This product is the first on the market to use XEP-30, a patented neuropeptide that relaxes the surface of the skin and effectively reduces the appearance of wrinkles. It also contains two other wrinkle relaxing peptides, Argireline and X-50 Myocept. Erasa also includes Creatine, Niacinamide and "a proprietary whey protein," which increases the production of collagen. The combination of 97 percent pure Glabridin and Magnolia, Boswellia and White Birch extracts are used to combat inflammation. And we all know that fighting inflammation is a major key for looking youthful.
Erasa also works at improving the appearance of under eye circles, minimizing pore size and evening out skin tone. In the brand's clinical trials, 42 percent of the sample saw a 70 percent or better reduction in wrinkles, after only 14 days. So just imagine how the skin improves after two months of Erasa use.
Apply the product twice daily on dry skin, and take note from how Evangelista uses it: "Dab, spread and work quickly, because there's no viscosity to it. [Erasa] didn't want to put slippery, unnecessary stuff into it."
However, don't be fooled into thinking Erasa can replace your moisturizer, which is exactly what Evangelista did. "I skipped months of moisturizer for fear of diluting it, because I didn't want to cancel anything out," she admitted. In fact, Evangelista is currently in the process of testing out Erasa's next logical product launch: a moisturizer.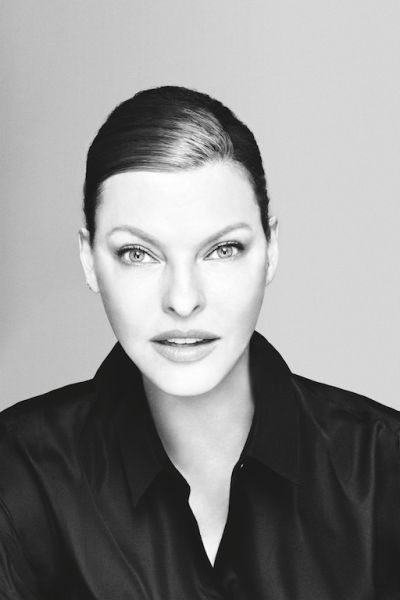 "I don't know how many versions of the moisturizer we [went through] to get it right," she told Observer. "I find it sad that I have to throw away last week's version because we already tweaked it and moved on." The moisturizer is currently being tested and perfected in clinicals, so expect to see the product hit the market sometime this year. Zecchino, the former chief scientist at Estée Lauder, likes to ensure that each Erasa product is safe and effective before releasing it to the public. He told the Observer that the production of each new cream takes over a year, during which the company aims to refine the technology and delivery system of each formula.
Erasa is also working on introducing an eye cream and a lip balm in the near future, because as Evangelista puts it: "I want to address anti-aging from head to toe."
According to the supermodel, the best time to start incorporating these preventative products into your regime is at the ripe age of 20. According to the Dartmouth Undergraduate Journal of Science, "after the age of 20, one percent less of collagen is produced in the dermis each year." So if you think you're too young to start thinking about your skin's future, you might want to think again. And pick up a bottle of Erasa, stat.