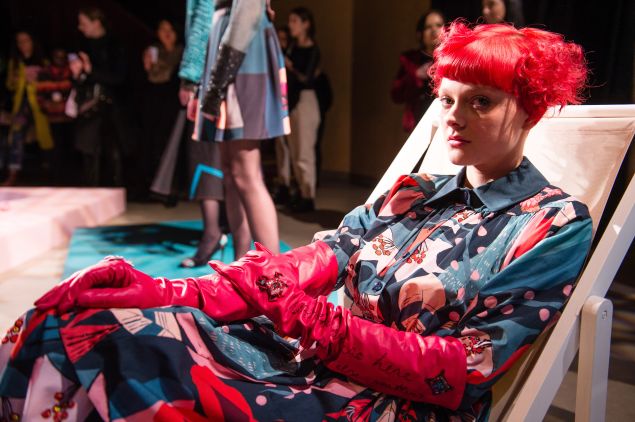 London doesn't do polished red carpet frocks. Instead it does crazy imperfection, in the form of gaping seams, disparate asymmetric styling and exaggerated trailing sleeves, all of which turned the perception of 'fashion' and 'beauty' on its head in London last weekend. Explosive rainbow shades, a scattering of old style handicrafts, juxtaposed within an extreme jumble of texture, fake fur, lace, fringing, leather and sequins, led to the overall feeling that the freedom to uniquely celebrate our own self-expression is what next season is all about. Fashion without boundaries is more vital than ever right now.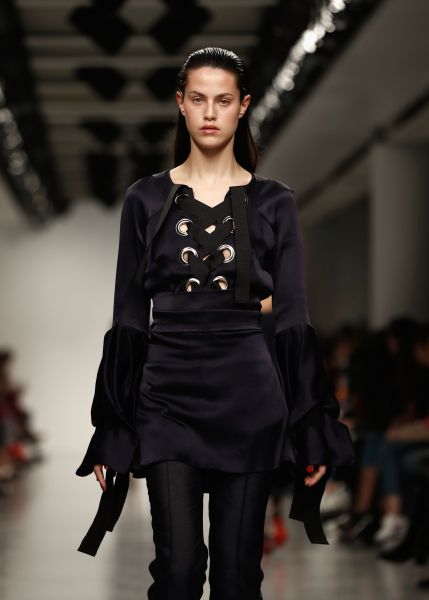 The political agenda was set by up and coming label Teatum Jones, who kicked off London Fashion week with a message, inspired by the mutated dolls of artist Hans Bellmer created in the 1930's, to oppose the fascism of the Nazi Party. Non-conformist models explored the concept of their collection in oversized silhouettes and multi layering, using industrial webbing threaded through giant metal eyelets to allow each individual body shape to redefine the volume, length and tension of their outfit by wrapping and binding at random. Using strong (not quite jewel) colours, mustard, burgundy and cornflower blue, the design duo Catherine Teatum and Rob Jones co-hesively mixed multiple textures, fabrics and prints, including bias cut satin crepe dresses, chunky cashmere cardis's worn slouchily off the shoulder, and scratchy artistic doodles painted directly onto woven wool suiting. All fabulously imperfect.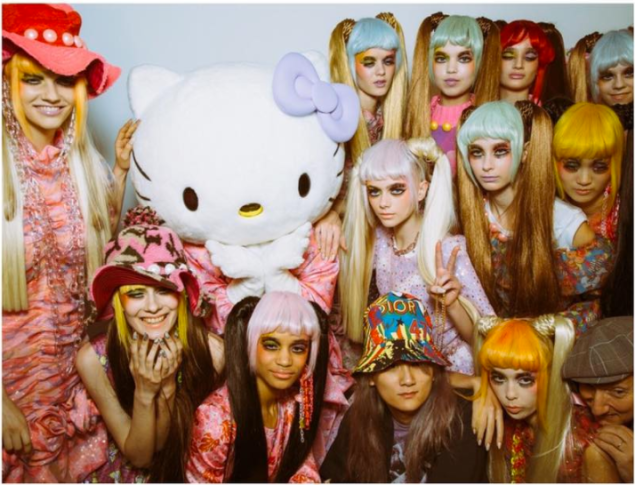 Tumbling layers of high necked Victoriana nighties with gathered frilly tiers, ribbon bows, Hello Kitty prints and golf ball sized pearl jewellery, summed up Ryan Lo's hybridised Harajuku gender neutrals. Showing for the first time since he graduated from the British Fashion Councils NEWGEN scheme Ryan's colourful escapism came in the form of fuzzy camo print pants with giant contrasting turn ups, sloppy star print cardi's with trailing sleeves in fizzy pink and scarlet colour clashes and multi printed metallised 'bacofoil' fabric cut into the sweetest drop waist dresses with giant sculptural sleeves.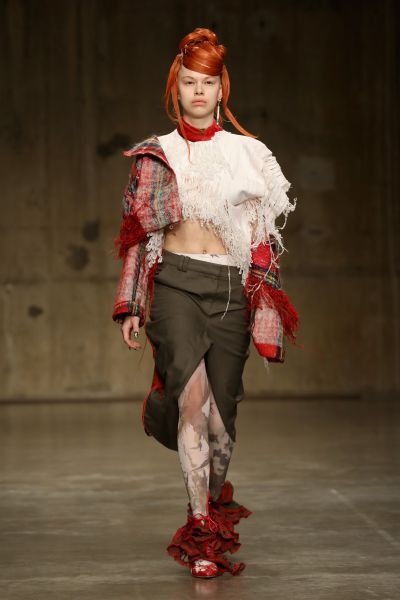 Growing up in the multi coloured chaos of South London has apparently been processed and creatively re-cycled into recent Central St Martins graduate A Sai Ta's latest collection, resulting in a disarrayed aesthetic which is not for the faint hearted follow the crowd fashionista. Showing his new label ASAI with the support of the Fashion East collective, strong colour and fragmented texture overload the senses in an eclective style of mis-matched beauty. At the core of his mix and clash, rag tag bag lady look the fabric is so intensely broken down, over bleached and distressed, seams dissected, fibres shredded to gossamer trailing ribbons that his signature dresses become closer to the concept of fashion as art.
Radical young London doesn't always need to be brutally disruptive, sometimes just a touch of asymmetric styling will do. Slouchy volume that rejects excessive embellishment in favour of strong structural lines and modernistic tailoring is the philosophy behind Eudon Choi's new collection. Easy flowing lines and luxury fabrics combine to create new takes on wearable pieces, wide cut trousers with giant buttoned cuffs, a classic white shirt with an exaggerated shoulder line that falls asymmetrically at the back, and a modern interpretation of a bulked up parka. Maximalist layering for winter makes sense, with contrasting textures of soft buff leathers, crisp cottons and chunky cable knits successfully working as individual and collaborative pieces.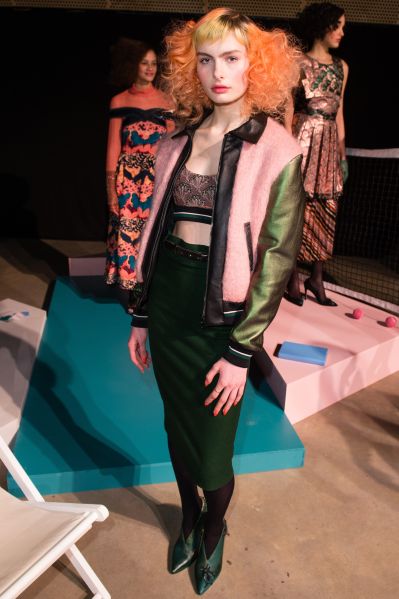 Vivid colour, detailed print and luxury embellishment are all designer staples for Roberta Einer now in her third season in London. Boosting her global credentials, she was recently named as the winner of Saks inaugural Emerging Designer Showcase competition, and this collection continues her collaboration with Swarovski crystals. Drawing inspiration from the glamour of southern Portugal in the 1940's, models languished lazily in a make believe tennis court showcasing Einer's ultra-playful take on femininity. Bold colour choices juxtaposed with disparate textural forms and experimental ornamentation are key to her overtly edgy style. Traditional couture techniques are radically deployed for extravagant decoration on flippy skirts, leather bomber jackets and glittery lurex slip dresses.