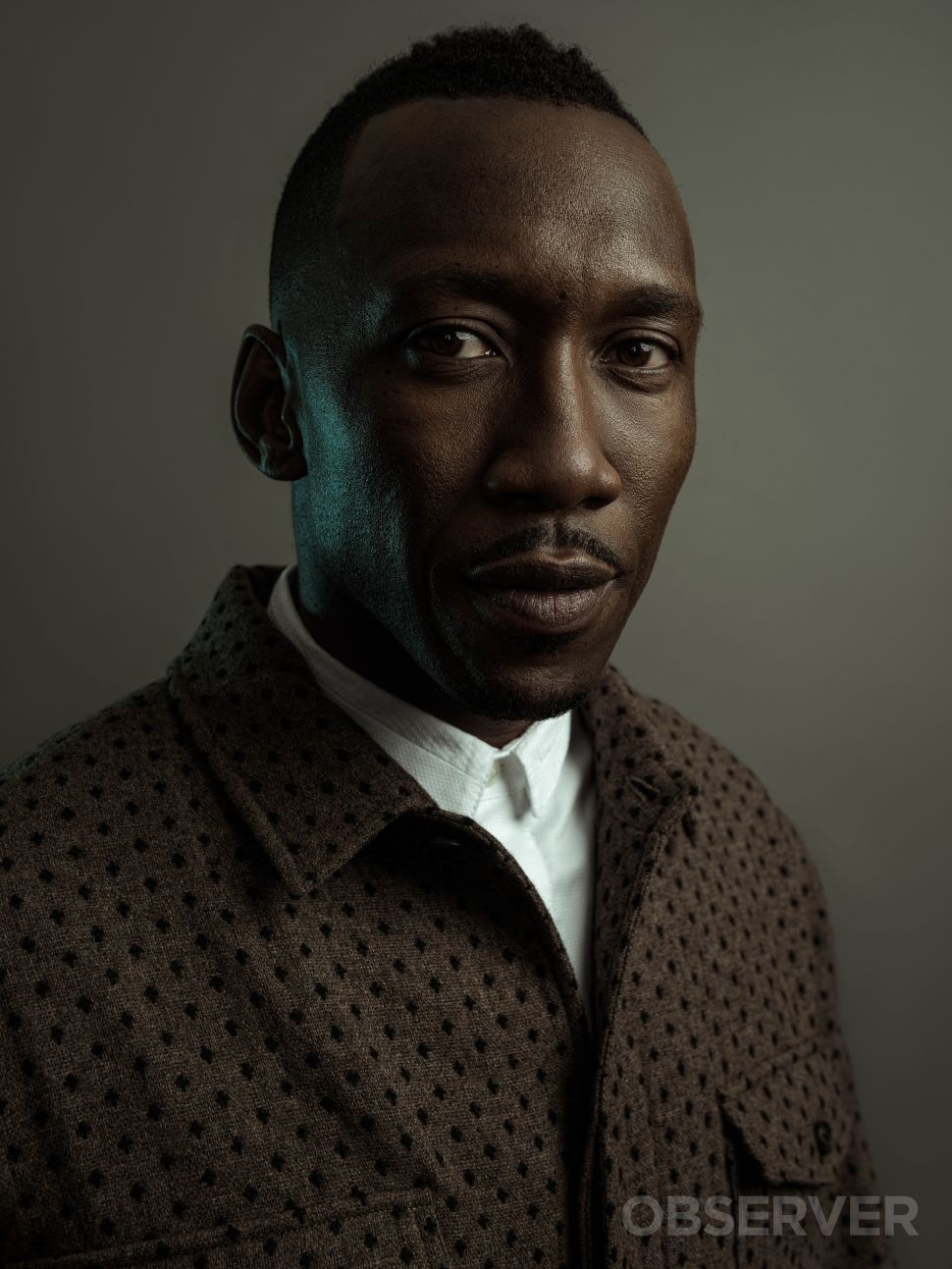 Give Mahershala Ali the Oscar and then let's go home—without all the political speechifying, the tears of winners addressing their peers in words they've been practicing since playground bullies aimed dodgeballs at their heads.
The self-possessed Moonlight star, 43, rises 6 foot, 2 inches, dark-skinned and dead handsome as he threads his way through the bar at The London NYC. He bears a statesman's gravity (so evident in his House of Cards character Remy Danton). And his gracious greeting reflects the impeccable manners of a child raised, in part, by a grandmother who expected better things of Mahershala than the local street-corner boys of his native Hayward, California.
Ali is all the stronger because he began his acting career in doubt, wiser because he reaches deep into the souls of his characters and crafts their backstories out of the clay of truth. He is a seeker and a listener—and in this heady time where he's already received a Screen Actors Guild Award for Outstanding Performance by a Male Actor in a Supporting role, and dined out on the honor of simply being nominated for an Oscar, he remains grounded by his roots in community, family and his Muslim religion.
Seated opposite, ignoring his herb tea on a gloomy weekday, Ali (née Mahershalalhashbaz Gilmore) immediately expresses his dismay at the whipsaw of contemporary politics: "As a black man growing up you never expected there to ever be a black president. To have that happen it was emotionally and positively overwhelming for so many people, but specifically for black people. This [election] is the underbelly of that, equally as shocking and unbelievable but for very different reasons. To see somebody who essentially was a reality television presence, no political experience to become the president is absolutely shocking."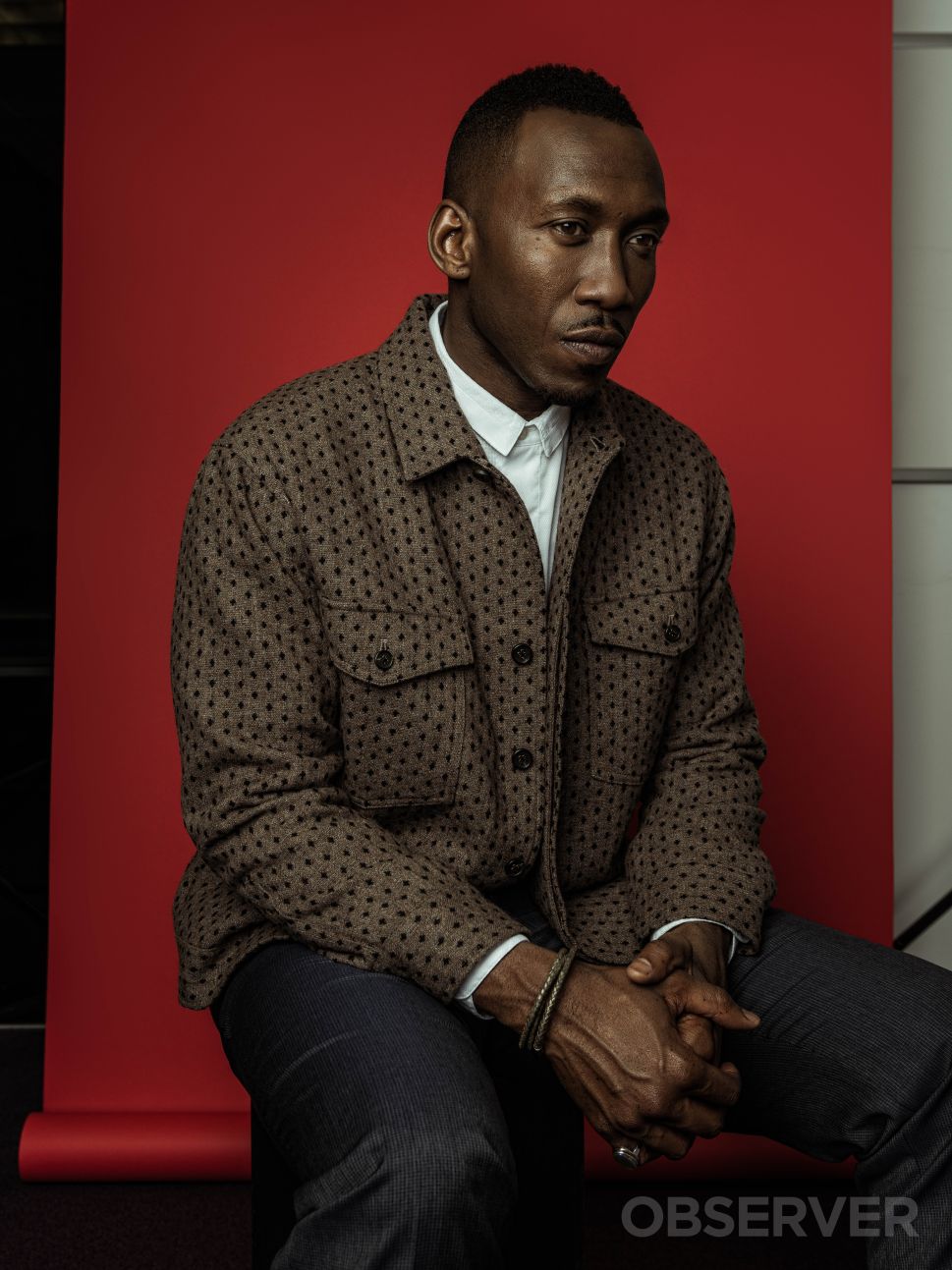 Not so shocking is Ali's recognition for playing a character of polar opposites: uplift and criminality. His Miami drug kingpin Juan bonds with Moonlight's gay protagonist, Chiron (Ashton Sanders). The movie's signature image is that of Juan holding the boy in the surf as he teaches him to swim, a moment of connection and communion for a fatherless boy and (in a coincidental plot twist) the man selling crack to the child's mother Paula (Naomie Harris, also nominated). Writer-director Barry Jenkins bathes his characters in an empathetic light but refuses to wash away the sins of the adults. When the first act ends and Ali's powerful presence disappears, the audience flounders in grief and confusion at his loss. We flounder, like Chiron, like generations of Black youths, robbed of fathers, uncles and brothers by gunshots and prison.
The theme of fatherlessness and its societal ramifications also resonates in Ali's richly realized villain Cornell "Cottonmouth" Stokes in TV's Luke Cage, the Harlem-set Marvel superhero series about a bulletproof black vigilante in a hoodie (Mike Colter). A talented musician, the orphaned Stokes is inducted into the hall of violence early on by the murderous matriarch Mama Mabel. "That is something that we as a country, even more specifically as someone who comes from a Black community, it's something that we're trying to work out," Ali reflected.
"We've lost so many fathers to incarceration, lost to the system in that cycle of what happens when you do not have education," Ali continued. "Education is just a tool to allow you to move up the ladder economically and the opportunities to realize yourself…If you remove education you remove opportunity. Therefore, you have people wallowing in quicksand. As people have children everyone is being sucked into that same pit."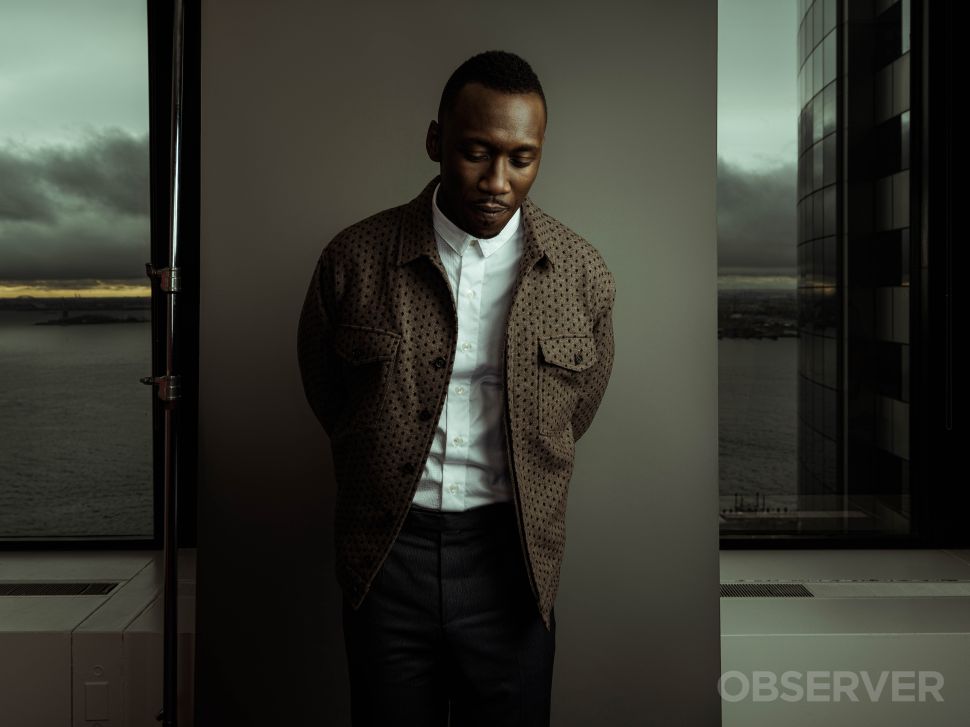 Ali has come a long way from Hayward to Hollywood by way of New York. The past two decades have included stints on Crossing Jordan, The 4400, Treme and a spot in The Hunger Games: Mockingjay Part 1 and 2 as well as the Oscar-nominated Hidden Figures. "When you do have success, it's unfortunately too often considered a miracle that you get out of certain communities."
That leap—of recognition, of economic mobility, of status—epitomized by Ali's Oscar nomination, has also transformed his relationship to his original community. It's possible to feel like a success abroad and an outsider at home. "There are just certain experiences that I can't communicate and share with my family…When you start succeeding as an actor, it's difficult to explain some of the circles that I travel in or what it's like to be in such close proximity or to work with someone like Nicole Kidman. I don't know how to explain that to a family who are wonderful but are low-key, grounded, simple people."
Looking around, as if to acknowledge that this booth exemplifies this privilege shared by two white businessmen in expensive suits sucking expense-account martinis nearby, Ali explained, "There are these amenities that come along with this life that at a certain point it's hard not to take for granted. They're going to fly you first class. You're going to stay in some of the best hotels and you're not paying for that. You're along for the ride. When you're around family these things are extraordinary luxuries to them. There becomes this point of separation, but it's also really grounding for me to go back home and to be around my folks. I come from working class people who had to work for everything."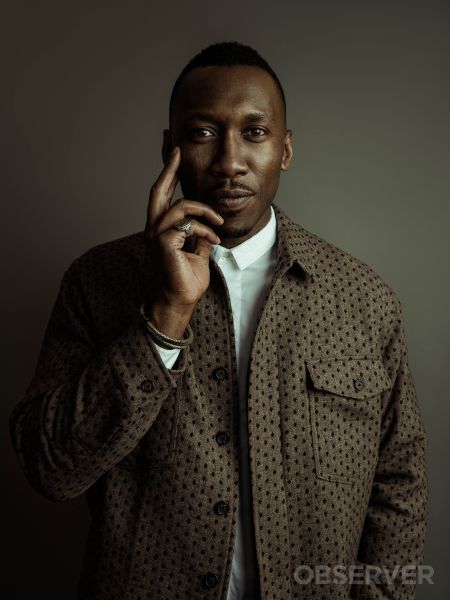 Ali's mother, a hairstylist, gave birth at 16. His stepfather sandblasted ships at the Alameda Naval Air Station. United employed his grandmother while his grandfather was in management for the City of Oakland. "These are the people who I was around," said Ali. "I left home when I was 16, and I moved in with my grandparents. I was raised by the tribe. My aunts and uncles had me on the weekends. My parents were really young when I was born. My mom was terrific in so many ways, but it was challenging having a boy at that age."
Ali's biological father, Phillip Gilmore, became a parent at just 17. In 1977, when the Oscar nominee was three, his father won a Soul Train dance contest. Gilmore got $2,500 and a car, which he sold to move to New York. He then traveled the world with the Dance Theater of Harlem and ultimately landed on Broadway. "Even though he was on Broadway he was in the chorus, or an understudy. He was never a lead. When they did a national tour; he was one of the principals of Dreamgirls. He almost had a working-class life in the world of Broadway."
Said Ali, "When I visited him in New York in the summer, I met all these wonderful people. It exposed me to another part of life, of being cultured, of broader possibilities. It fed my ambition." Gilmore died in 1994 when Ali was 20 but not before inspiring his son that there was a world beyond the Bay Bridge. From his father, Ali learned "If you can see it, you can be it."
This wider exposure gave the actor an advantage when he returned home. "I was locking into what my passions were becoming, how I wanted to express myself. I felt like I had something to say. I just felt like there had to be more for me than what was in Hayward."
Fear also shaped Ali's development. "I was afraid of being mediocre because I had a sense that I had potential for something. If I ended up staying in Hayward I wasn't going to get to do that. In my assessment of myself I would have failed."
However, following in his father's dancing footsteps was no sure thing. After playing basketball for Saint Mary's College in Moraga, California, he attended the NYU Tisch School of the Arts. But he succumbed to a deep doubt in his second year, never considering himself an actor while surrounded by committed students who had already spent years honing their craft. "At the end of my second year I debated quitting," said Ali earnestly. "I was going to go make some money on these ferry boats in San Francisco, travel to Italy and maybe not return to school. Working with other students, I was really uncomfortable and it was difficult, but I had picked up a couple of other skills and learned some more techniques that had freed me up." And then it clicked. "By my third year, acting started to feel clearly like a calling as opposed to just somewhere to put my creative energy."
Now, in creating his characters, whether it's Moonlight's Juan or Luke Cage's equally magnetic Cottonmouth, Ali develops detailed backstories for his characters. For his latter role as a Harlem kingpin (and cousin to Alfre Woodard's Medean politician Mariah Dillard) dug deep to create one of the most complex villains in the Marvel universe. Describing his method of bringing color to his characters, Ali said, "Just like in your life, there are things about your past that there is no shying away from. In building these characters you have to give yourself anchors that are real truths."
As the awards attention opens doors, the open question is whether Ali will successfully migrate from supporting player to lead in an industry that's far from color blind. "That's what I want. I never had the opportunity to carry the plot. Besides aspects of my ego involved in wanting that, it comes down to the desire to grow as an actor. As you continue to explore the same stretch of runway at a certain point you feel you have to stretch your wings a little bit more. I really would love to do that. God willing, I believe that that's coming."
In the meantime, the Best Supporting Actor frontrunner continues to hone his craft by learning from his co-stars, like Oscar-nominated Emmy-winner Woodard. He noted her penchant for "owning space, it's the way she steps into a room. She's very generous and kind but if there's anything happening that's a distraction she asks kindly to remove that element. She's aware that she only has a moment to capture something. I can see her wrestling with the psychology of the character, but also being acutely aware of how things in the environment can affect that mind state. For me, there might be some business going on in my periphery on cell phones. It's a distraction, but I'll let that slide sometimes. I don't want to be rude."
Generously heaping praise on Woodard (who truly let loose in Luke Cage opposite Ali), he continued: "She takes you in. She's acutely aware that she's doing the scene with you. I have worked with other actors of her caliber who felt as if you were opposite them as a prop—and not as a partner." Could he be referring to Kevin Spacey of House of Cards? No comment but a glimmer of a smile he quickly, ever so politely, buries.