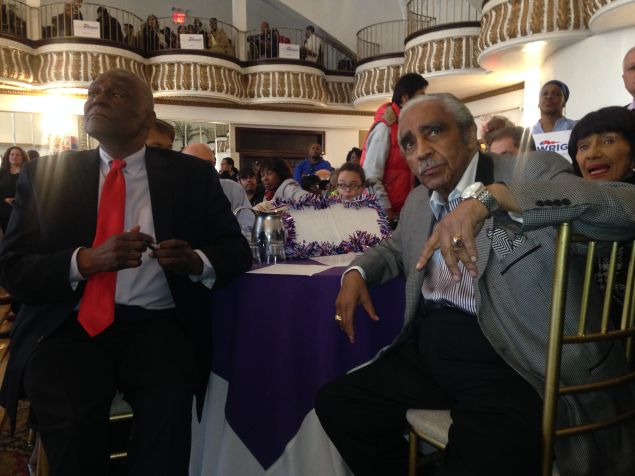 Manhattan Democratic Party Chairman Keith Wright, who abdicated his Assembly seat last year to unsuccessfully pursue retired Congressman Charles Rangel's job in Washington, confirmed over the weekend that he is interested in returning to Albany—by running for the position of Harlem State Senator Bill Perkins, who is expected to win a special election to fill the City Council vacancy created when Assemblywoman Inez Dickens left her local post to assume Wright's old role in the State Legislature.
The Observer approached Wright at a Saturday night gala for the Amadou Diallo Foundation, an organization created in honor of the African immigrant NYPD officers gunned down in the Bronx in 1999. Asked if he would seek the State Senate seat should Perkins—a longtime rival—triumph in the vote scheduled for next Tuesday, the party boss gave an oblique but affirmative answer.
"You know, elected officials—whether they're former elected officials or current elected officials—are always interested in elective office. Elected officials don't die, they don't fade away, they're always looming in the shadows," he said. "Listen, I was a very effective New York State assemblyman. Whatever I do, whenever I do it, I always put 100 percent into it. So you have to see where your usefulness is best utilized."
The Manhattan Democratic Party is badly fractured, and the chairman holds influence over just a handful of seats, procedures and appointments. Nonetheless, it stirred controversy when he took a job earlier this year with the lobbying firm Davidoff Hutcher & Citron, as good government groups fretted about potential conflicts of interest.
Wright's former Assembly district overlaps heavily with Perkins' State Senate seat, and his name recognition would likely make him a favorite to win. His victory would grant Gov. Andrew Cuomo a new ally in the upper chamber of the statehouse, where many of his fellow Democrats view him harshly.