If you're looking for a good Instagram opportunity in Soho, skip Kylie Jenner's merch shop and visit Mansur Gavriel's candy shop.
The purveyors of many, many must-have bags unveiled a new, super sweet boutique last night and it's decorated in the color of the season: yellow. Just like everything the brand releases, a visit to this store is a treat for the senses. Rows of yellow bucket bags perch on yellow shelves, grosgrain mules march in a line on a countertop and a tree sprouts out of the center of the space. A whole selection of shoppable Italian sweets are displayed on shelves, too, including Jordan almonds, Mantovana and balsamic cakes and Biscotti Di Prato.
"We're in Italy a lot for production; everything is made there and our materials are sourced from there," Mansur told the Observer about the inspiration for the shop. "We're always very inspired by the packaging of different products there."
In particular, the design duo are obsessed with candy and the Italian specialty, panettone.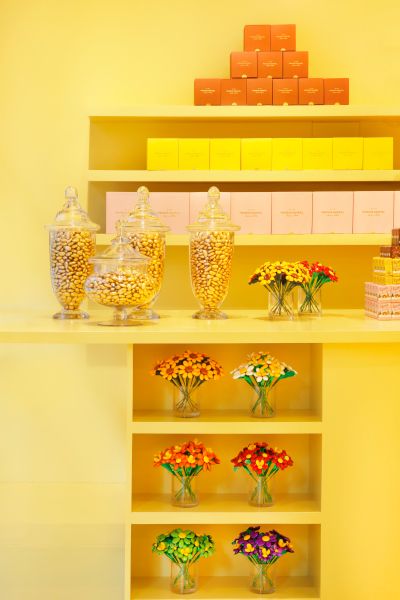 So if the brand's Italian leather totes or suede sandals are too far out of your price range, consider purchasing some Italian sweets curated by Mansur Gavriel. We promise the experience will be better than buying a King Size package of M&Ms from your local bodega, as there's a wrapping station in the store that will package your candy in a custom box, which obviously falls in line with the Mansur Gavriel aesthetic.
"We love to play with form, color, line and repetition, so we're attracted to environments where you can play with these ideas. So, whether it be product or the world we create," explained Floriana. She noted that they love welcoming their customers into their world, which expands by a few bag styles and a few shoe silhouettes ever season. Clothes will follow suit, next season.
That's why we recommend visiting Mansur Gavriel and taking a good look at the uniforms worn by the sales associates. The sleek dresses were custom-made for the shop and we really hope they are a sign for what's to come from the brand's forthcoming clothing range. Sadly, the designers refused to offer up any hints about the highly-anticipated clothing debut.
"Can you tell us anything?" we begged Mansur and Gavriel.
"No, sorry," they both shook their heads. Guess we'll just have to wait until next season. In the meantime, we'll be anxiously snacking on Jordan almonds.