Performance artist Marina Abramovic sold this loft in 2012.
Halstead
The sellers completed some major renovations on the co-op.
Halstead
The apartment takes up the entire fourth floor of the Soho building.
Halstead
The kitchen bears almost no resemblance to the enclosed blue-and-green space Abramovic kept.
Halstead
The master suite.
Halstead
The owners did keep a bit of color to the kitchen.
Halstead
The bathrooms are newly renovated.
Halstead
We wonder what Abramovic would think of this set-up.
Halstead
The additional bathroom.
Halstead
The artist is no longer present, but performance artist Marina Abramović's old Soho loft is still very much here.
Abramović bought the fourth-floor loft at 70 Grand Street in the late 1990s. She subsequently sold the co-op for $3.2 million to Melissa Ormond in 2012, and now it's back on the market, with a $5 million asking price.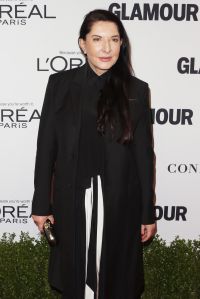 Unsurprisingly, the photos and floorplan show Ormond made a number of major changes in terms of the configuration—to start, it's now a two-bedroom, 2.5-bath home, as opposed to the one-bedroom Abramović resided in.
A few remnants remain, though, as the loft features original timber columns, 16 windows and wide-plank floors, though the kitchen, with a center island, black stone countertops and custom cabinetry, is spruced up.
Gone is the enclosed, blue-and-green kitchen of Abramović's day—the lacquered mint-colored cabinetry is now white, though Ormond did add a bit of color in the form of purple backsplash. It's also now open to the enormous entertaining space.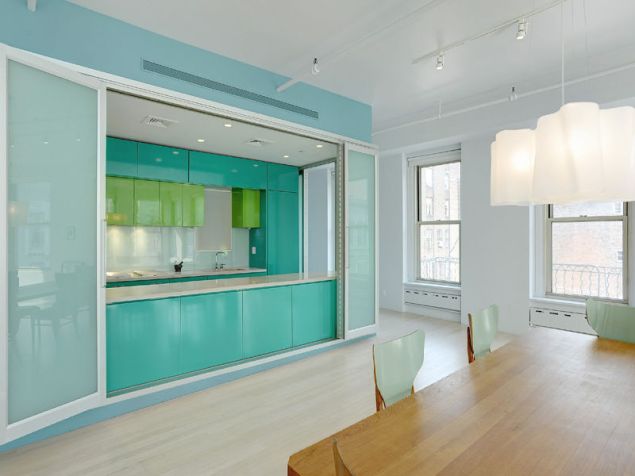 The master suite contains a walk-in closet and newly renovated bathroom with a custom vanity, soaking tub and open rain shower. The master is "pin-drop quiet," according to the listing shared by Halstead brokers Susan Goldman and Richard Orenstein. We wonder if it's as quiet as Abramović's December 2016 70th birthday party at the Guggenheim, which began with 70 minutes of total silence.
A second bedroom suite is positioned on the opposite side of the apartment. The additional bedroom now includes a separate study area and a custom built-in desk, as well as en-suite bath with double sinks and glass-enclosed shower.
As for Abramović, she bought an apartment at 330 Spring Street in 2013 that she sold just one year later. The whereabouts of her current abode aren't clear, but we do know she's living in Tribeca, largely due to the fact that she hosted a dinner at her home called "Spirit Cooking with Marina Abramović." A leaked e-mail invite subsequently led to certain members of the media coming to the conclusion this meant there was some kind of Satanic ritual or sex cult occurring, per Art News. Abramović clarified to Art News that it was a "normal dinner" for approximately ten guests.