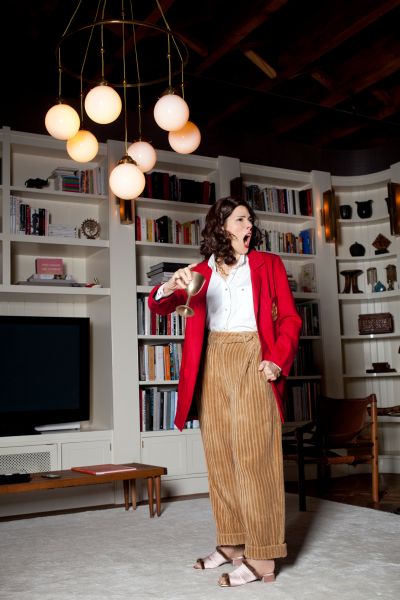 This season at NYFW, considering major celeb models and loud political statements, it seems designers are seeking alternative ways to present their collections. To kick it off, Opening Ceremony went off schedule and showed a ballet to debut their new collection a few weeks ago. Late last week, Rag & Bone opened an exhibition of portraits of over 60 individuals, in lieu of a runway show. So Suzanne Rae's art installation as show on Monday night, held in a Chinatown studio, was not not out of the ordinary.
"When we launched, we had been doing some shows and I was never feeling very satisfied with that process," Suzanne Pelaez, the designer behind Suzanne Rae, told the Observer at the presentation, among the crowd. "With models, I don't know them. I don't know if they necessarily buy the clothes, I don't know if I necessarily buy them. So we took a break from doing shows and I thought if I wanted to do shows I wanted to do something more artistic."
To debut her Fall 2017 collection, and as a return to fashion week, Pelaez asked artist Mae Elvis Kaufman to put on a live performance wearing the pieces. Viewers watched the artist morph into characters identified by her wigs, all while wearing Pelaez's designs.
"We loosely based [the characters] off women we know in real life and then took the aspirational parts of those women and created these archetypes," Kaufman said over the phone, following the performance. Those archetypes went from an older stylish woman who liked to "peacock" a little to a young upper class girl who "behind the scenes will still eat Cup of Noodles." Those characters came alive, one at a time, as Kaufman performed in the residential-like space.
"It was important to capture off-moments even though there was an audience," Kaufman said. "It was about having people witness the process of putting your face on, you know constructing yourself, presenting yourself and maybe questioning yourself."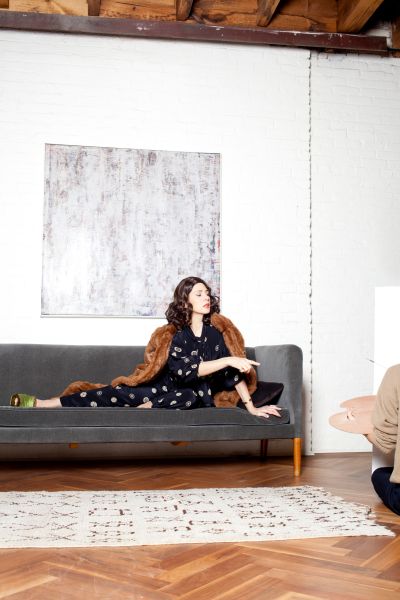 All of these characters—two of whom were modeled by Oscar winning actress Marisa Tomei of Captain America: Civil War, A Different World, and Empire — appeared in an exhibit of photos lining the space, wearing pieces from Pelaez's latest collection. Tomei was present at the evening event, but did not participate in the performance.
"The clothing has a very feminist root," Pelaez explained. "I believe, as many believe, that fashion can be intelligent. There are many ways that one can express thyself and it doesn't have to be a superficial thing." With that intellectual approach in mind, Pelaez designed a collection perverting the classic idea of the Old Boys Club. She created her own crest, pins and pinky rings, dressing Tomei and Kaufman in blazers and the like, to evoke that idea. But throughout, she altered the designs by adding in feminist symbols and the sign of the woman. One print from the range, that appeared on pants and a dress, featured these symbols as well as the phrase "I'm not your seductress," which is a line that the designer introduced to the brand a few collections ago.
"No matter how prestigious or accomplished I ever become, I'll never be a part of that club," Pelaez said. Thus, her new creation. In line with the idea of parodying, the collection, which marks the designer's second season doing shoes, features a lot of faux materials. In particular, a large fur coat from the range is fake.
"It's not only environmentally friendly but it's also more egalitarian, because the price point is much lower," Pelaez smiled. And we all know that is as far away from an elite club as you can get.