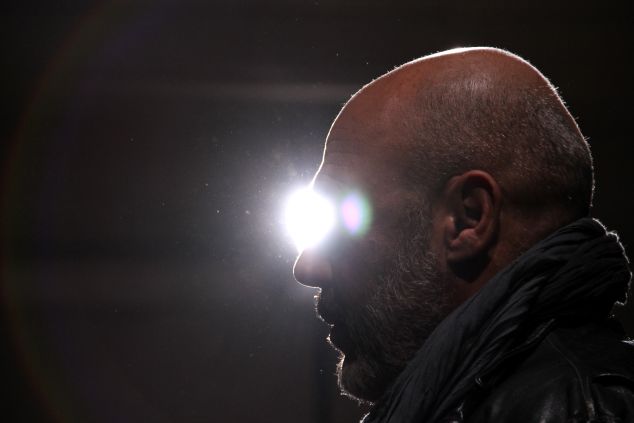 When speaking to fashion show producer Thierry Dreyfus, it's easy to get lost in the long list of clients that make up the glittering elite of the fashion world. Legends like Raf Simons, Victoria Beckham, Acne's Jonny Johansson, Hedi Slimane are listed alongside household brands like Helmut Lang, Jean Paul Gaultier, and Yves Saint Laurent. But when asked about his work with fashion's greatest legends, Dreyfus coolly corrects me. "Thinking about legends is already a mistake. There are no legends. There are people who are involved in what they are doing."
Every season, Dreyfus and the team at his production company, Eyesight Group, work with designers to create the dazzling sets that, for the span of a five-minute runway show, transport an audience—both present and virtual—into another world. "I prefer to consider Eyesight like artisan, in the sense that luxury is not a question of price, it's a question of taking time to think, to make." The team's designs have already shaped the runways of men's fashion month and couture fashion week, producing shows for OAMC, Comme des Garçons, Maison Margiela, Schiaparelli, Ralph and Russo and Zuhair Murad. But even with such a dazzling roster, Dreyfus prefers not to name names.
Mentioned by Suzy Menkes, in the International Herald Tribune, as "the man that is making the City of Light live up to its name," Dreyfus' artful precision and design has solidified his place in fashion through the decades. Starting as a lighting designer for theater and opera productions in France, Dreyfus caught the eye of fashion show producers and runway revolutionaries Norbert Schmitt and Bernard Trux. The production duo was the first to integrate dance choreography in fashion shows. Finding Dreyfus' background in the theater intriguing, Schmitt and Trux brought him on as a producer. "They were the people who really twisted a fashion-something into a fashion show," Dreyfus reflected.
In 1984, after seeing a play where Dreyfus had designed the lighting, designer Patrick Kelly approached him to work on his fashion show. In response, Dreyfus inquired if the show was men's or women's. When Kelly assured him that it was a women's show and Dreyfus accepted, due mostly to the opportunity of working with beautiful models. Dreyfus eventually went on to meet designer Helmut Lang, for whom he produced shows for 17 years. Through the '80s and '90s, he worked with the most sought-after names in fashion, developing a unified view of the avant-garde designers of that era.
While his lifetime in fashion production has made him well known within fashion's elite, Dreyfus seems unconcerned with the cache that comes with working with the world's top talent in the style realm. He simply sees himself as a facilitator of their creative expressions: "I think there is one star, which is the designers and the brand. We are here with our skills making it seen by people."
However, the immaculate specificity that is signature to Eyesight remains vastly understated. The execution surpasses logic and skill, but relies heavily on intuition, vision and personal relationships. Fashion retains its romance and imagination through original immersive experiences. From offbeat runway paths to otherworldly sets to quirky seating arrangements, Eyesight takes the originality of each designer, brand and collection to heart.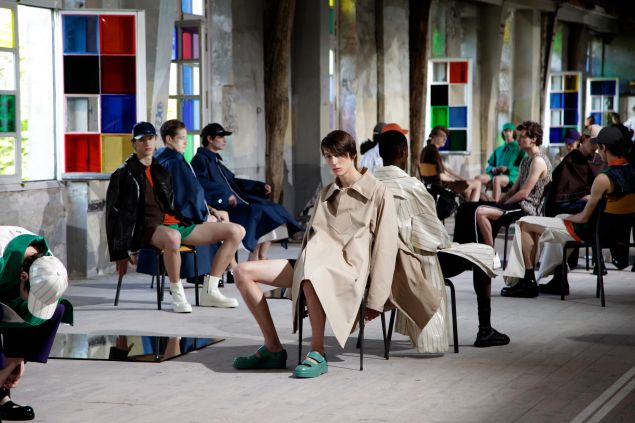 An integral part of the process is a salon-like home-cooked dinner at Dreyfus' home in Paris. This is where he discusses with the designers everything from the vision for the show to Rothko and Cocteau. "It has to be an intimate place," explained Dreyfus. "A lot of designers have an image, so if we were going to a restaurant they have to be in their image." At Dreyfus' home, privacy is paramount and a necessary component for cultivating these relationships with designers. It's at these meetings where Dreyfus is able to become acquainted with the origin and sensibility behind each collection. "If Jonny from Acne was telling me 'red' or Victoria was telling me 'red' or if Raf was telling me 'red,' I would not hear the same red. It's the same word, but each has their own sensibility behind the same word."
While this emphasis on conversation feels foreign in the current world of clipped text messages and 10 second Snaps, Dreyfus maintains a classical approach, while staying up-to-date in the age of social media. "We just changed the way of lighting the shows two or three years ago because the sensibility of the digital camera, the human eyes and a phone, are very different. It's about how to make the image on social media, which is so important, as beautiful as what we've done [in-person] with our clients."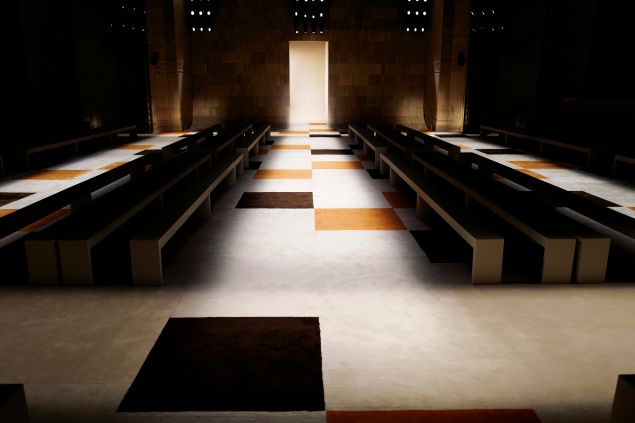 The strategy behind Eyesight's approach centers on relationships—the designer to the collection, the audience to the designs, the digital viewers to lighting. "People have a better experience when they have different images. It seems like each image was a whole different show in the same moment," he said.
This awareness of perception is born from Dreyfus' own work in photography. "I don't understand somebody who speaks about wine and has never gone to see how the vineyard is run. You cannot speak about light without having worked on film and digital."
While the concepts for shows are highly calculated, they maintain a spirit of experimentation. None of the lighting is workshopped in a studio beforehand, but Dreyfus' 35 years of experience leads the charge of determining how to layer colors and how the result will be received by viewers.
Even as a permanent fixture in the milieu of the fashion world, Dreyfus remains unconcerned with the fame that comes with working in fashion. "Even when you're in front of Mr. Saint Laurent, you're just in front of a human being who will stand up and go to the toilet."