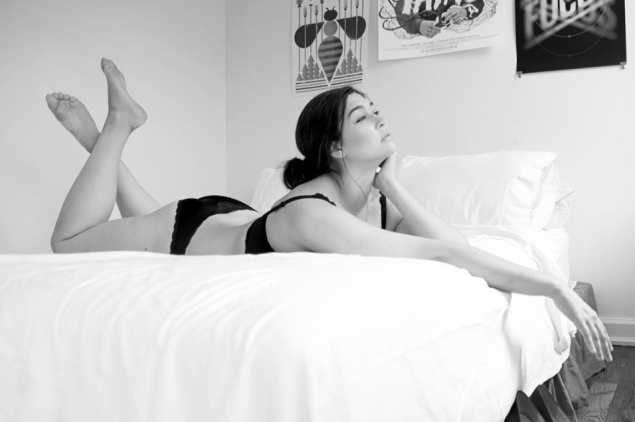 Model Madison Bumford is sitting on her couch, wearing a pair of black ripped jeans in H&M's largest size with a black sparkly V-neck with a choker detail; her bangs are freshly cut. Her agency wants her to look more unique, so she can try out straight-size model castings.
She eats two slices of pizza, then jokes she'll have kale for dinner.
Bumford (whose professional moniker is Madison Reis) is a size 14, and she's not your average model. Though she's signed to an agency as a plus-size model, the 20-year-old is often too small to fill out plus clothing, but too large for standard-size modeling. She falls somewhere between the two.
During New York Fashion Week, Bumford trekked out to several casting calls as a plus-size model, made it to the final round for a few, but ultimately never got cast. This season, a record 27 plus-size models walked in various fashion shows like Chromat, Christian Siriano and Michael Kors, but Bumford believes that many of the old brands are still "stuck."
The struggle begins when designers make a sample in a size zero or two, with the assumption that it will perfectly fit the model, save for minimal pinning or clipping. For the most part, most of the size zero fit models have similar measurements; the same goes for the size twos. In order to be more size inclusive with their runway models, companies would have to make samples to specifically fit each model's body. The bottom line—every size 12 doesn't look the same, or have the same body measurements.
"I mean hey, that's just fashion," Bumford said. "But we do have a long way to go."
From a young age, Bumford always felt like the odds were stacked against her modeling aspirations. At age seven, she wanted to be a jockey, but had already outgrown the height requirement. In high school, her best friend was a standard-size model (size 0-2). Bumford was tall enough to model, so she decided to become one. But she was never quite small enough, despite years of restrictive dieting.
Once, a friend forced her to eat a Jimmy Johns sub while she cried, and that was the breaking point. At 5'11", she wore a size two, but when she went on casting calls, they would still tell her to "lose more weight and then come back."
Now, she is signed with True Model Management in New York City, and can model anything from a size eight to a size 20. To fit into an eight, Bumford shimmies into a pair of Spanx. But for anything bigger than a 14, Bumford has to affix padding to her butt and legs, to properly fill out the clothing.
"I think every single plus-size model has had to pad at one point or another," Bumford pointed out.
While Bumford definitely wants to see more plus-size models in clothing—both in ads and on runways—she doesn't necessarily want to replace straight-size models. She thinks everyone should be equally represented. Model Ashley Graham recently told Vogue magazine that sixty seven percent of women now wear above a size 14, which is technically considered plus-size. But Bumford doesn't agree with the term "plus-size" to define women.
"I just think it's silly because I don't fit into most plus-size brands, but I'm a plus-size model," she said.
Bumford pointed out that many straight-size models like Gigi and Bella Hadid are "hella blessed with crazy good genes," and she empowers them to love their bodies in the same way that she does. However, she said after signing with an agency and being accepted just the way she is—curves and all—she realized how many models still feel the pressure to remain thin, so they can keep working.
"I've talked to a lot of retired models who were like, 'Yeah I wanted to eat again so I stopped modeling,' and that sucks," Bumford said. "I think a lot of the girls are working really hard to do something that's not natural for them."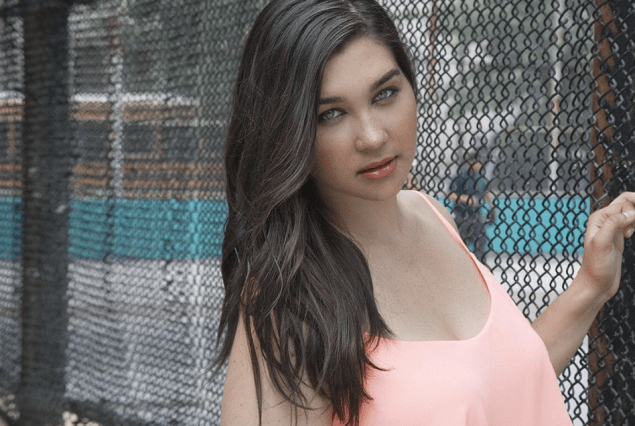 That's why Bumford uses her Instagram account as a platform for body positivity, because she wants everyone to feel beautiful in their own skin, especially since she never felt that way growing up. She often hashtags pictures on Instagram with "#beautybeyondsize" or "#effyourbeautystandards."
"I realized that so much of my brainpower was being spent towards focusing on how my body looked. Now that my body is literally my job, I actually think about it way less," Bumford said. "I just wish girls knew that it's not so much about counting calories or doing all this crazy stuff to make yourself feel better. Know what's going to make your body feel good and keep doing that."
This past year, she took a year off from her studies at NYU and took a position as a marketing manager for SelfMade, a startup company that focuses on technology and personal branding on Instagram. Next fall, she hopes to return to NYU to study individualism through digital design (essentially, she will be studying why we like social media), but also plans to continue with her modeling career.
Bumford has already modeled for Victoria's Secret, Lane Bryant and PromGirl, among others, and she is currently in talks with brands who want to cast her as straight-size in the future.
So what would Bumford's dream job be? "American Eagle, the brand I wore growing up, " Bumford said. "If I could have seen someone who looked like me on those ads, it would have made a huge difference in my life."