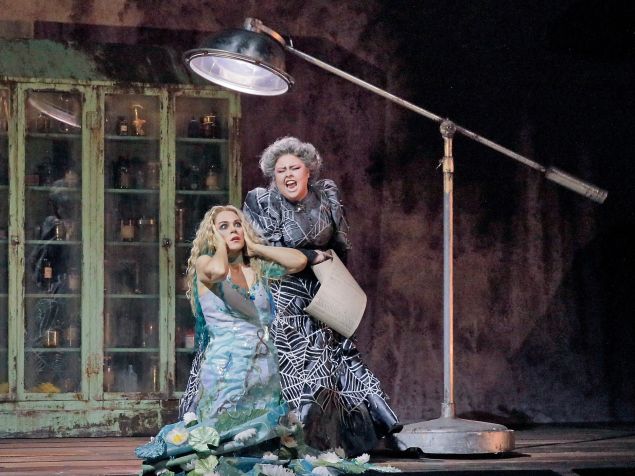 Even though Dvorak's opera Rusalka boasts luxuriously romantic music and an intriguing myth-based story, it didn't show up in at the Metropolitan Opera for nearly 90 years after its 1901 premiere. Unfortunately, after Thursday night's ghastly new production of this piece, it may be another 90 years before it returns to the Met.
Rusalka is not the easiest piece to put over. The leading character is deliberately presented in a vague, perplexing way: "Rusalka" is not even a proper name, but rather a generic term meaning "water spirit" or "mermaid." And, as the title suggests, the opera is a version of the "Little Mermaid" fairy tale about a supernatural creature who longs for human love. It's a plot thin in incident, especially for an opera that runs well over three hours.
Heading the cast of this production is Kristine Opolais, whose cool, bright soprano has over the past few seasons displayed alarming signs of decline. At Thursday night's performance, she seemed to be micromanaging her voice, sacrificing volume and color for a consistent if grainy tone. Even so, she tired quickly, singing the whole last act below pitch.
Opolais shot to fame in 2010 in a production of this opera in Munich that tapped into her prodigious acting ability. In that staging by Martin Kusej, the water nymph was a human girl kept in captivity in the basement of a suburban home, where she was beaten and raped by her drunken father. Though that production was very extreme, uncomfortable to watch even on DVD, it did represent an attempt to deal with disturbing themes underlying the fairy tale, isolation and obsessive love.
At the Met, director Mary Zimmerman seems to have no grasp of these darker elements, or indeed any notion what the opera is about even on a surface level. The elemental witch Jezibaba effects Rusalka's transformation from nymph to human with the assistance of cutesy half-animal creatures who suggested a queasy mashup of  Beatrix Potter and The Island of Dr. Moreau. The gorgeously creepy final scene, in which Rusalka's kiss kills her lover, is cheapened with sentimentality when the undead water spirit blubbers over the corpse and wistfully dons his overcoat before trudging off into the night.
This is Zimmerman's fourth attempt at directing an opera at the Met over the past ten years, and the conclusion is inescapable: she hasn't a clue what she's doing. Neither, apparently, does conductor Mark Elder, whose heavy-handed leadership left Dvorak's ethereal score sounding turgid and opaque.
Struggling bravely against the odds were tenor Brandon Jovanovich as the Prince and bass-baritone Eric Owens as Rusalka's father, the Vodnik. Jovanovich sang powerfully though with little gleam in the voice, and Owens brough a rich legato to his second act lament, though the apparent lack of direction by Zimmerman left him looking like someone had painted King Henry VIII bright chartreuse as a prank.
Providing a moment of welcome if unintentional camp was soprano Katarina Dalayman, who whooped her way through the Foreign Princess's music while swanning about in a scarlet ballgown Latrice Royale might find over the top.
What makes this show bearable, if not indeed indispensable, is the presence of the magnificent mezzo-soprano Jamie Barton as Jezibaba. It's hard to find adjectives superlative enough to describe her voice: huge and sumptuous, but with such broad possibilities of color that the singer can chill the blood with just a glint of steel in the tone. Though I didn't care for the jokey take on the character Zimmerman imposed on her, I was flabbergasted at how passionately Barton threw herself into the performance. Lurching, heaving and writhing nonstop, she looked as if she might any moment explode out of sheer malevolence.
If everyone involved in this Rusalka were operating at Barton's level, the Met would have its biggest hit of the decade. As it is, the company might be better off condensing the opera to a single hour-long act called Hello, Jezibaba!