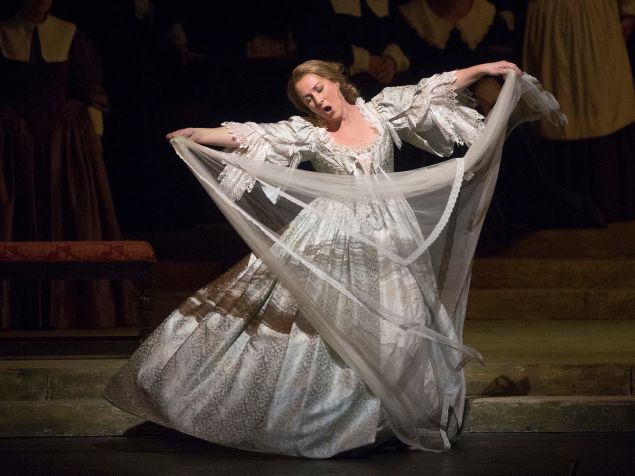 Though most of the reviews of last week's Met's revival of Bellini's I Puritani concentrated on the singing of tenor Javier Camarena (and rightly so: to so rare a combination of technical ability and artistic subtlety attention must be paid), we should not overlook his leading lady, soprano Diana Damrau. In a sense, she outshone even Camarena, because she not only sang the difficult leading role, she also directed the opera.
No, that last part's not literally true, of course. Officially credited as "stage director" in the program was Sarah Ina Meyers, but her contribution to the proceedings seemed to amount to little more than trooping the chorus on and off and grouping them in Rembrandt-inspired tableaux. So in a practical sense whatever happened dramatically in this Puritani was driven by Damrau's aggressive physicality, darting and swooping and twitching to express the heroine's incipient madness.
As a concept for this opera it's not bad: a disempowered woman reacts to an oppressive patriarchy by spinning out of control, while the men around her go about their business obliviously. But it artistically sound, or even fair, to depend upon a star performer to determine the dramatic theme of a work? Isn't that a job for a director—a real director?
At the Met, the answer seems to be "well, sometimes." The company presents productions like Patrice Chéreau's Elektra and Mariusz Treliński's Tristan und Isolde in which the director's vision is both clearly apparent and seemingly omnipotent. Though one can sense some collaboration with Nina Stemme, the superb singing actress who performed the leading roles in both these opera, it is also obvious that the frameworks of the characters of the damaged, childlike Elektra, and sullen middle-aged Isolde were imposed by the respective directors as aspects of a complete production concepts.
But, at least at the Met, directors on the intellectual level of Chéreau and Treliński are rare. More frequently we encounter the likes of Richard Eyre, whose Manon Lescaut and Carmen have been revived this season. His only intervention to these works is to drag the action kicking and screaming into the 20th century, so that performers of these leading roles are burdened with the incongruities of a Nazi-dominated French government deporting prostitutes to the United States and a ragtag band of gypsy smugglers merrily co-existing with the atrocities of the Spanish Civil War.
Fortunately for whatever tatters remain of Eyre's reputation as an opera director, the leading ladies for this season's revivals came in with clear and striking ideas about their characters and, like Damrau in Puritani, essentially created productions where there were no productions before. As noted in my reviews of these performances, Anna Netrebko transformed Manon Lescaut into a rhapsody on the theme of the ephemerality of youth, and Clémentine Margaine conjured a Carmen who not only posssed a heart and a conscience, but was in fact the only adult in the room.
Similary, in Mary Zimmerman's virtually unstaged production of Dvorak's Rusalka (I can only imagine the director spent the entire rehearsal period lecturing her cast on "Tendencies and Trends in Modern Drama") , the only shred of a through-line was provided by Kristine Opolais in the title role. Unfortunately, she seemed to have brought her dour, weepy interpretation to the Met ready-made, the way divas used to travel from theater to theater with trunks of their own costumes. (Her glassy-eyed take on the part fit much more plausibly into the creepy Martin Kusej staging of this work she headlined in Munich in 2010.)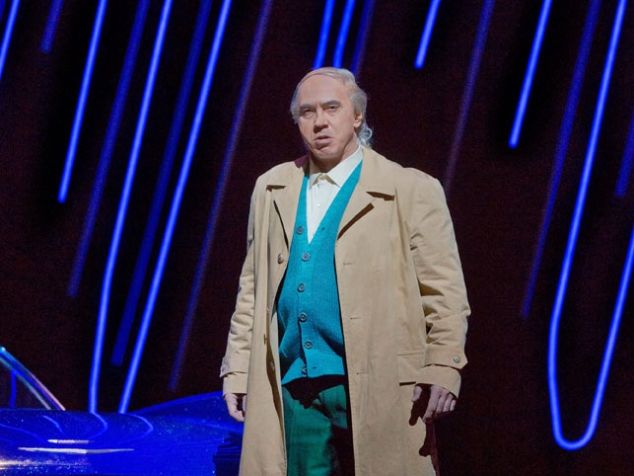 The diva-as-director phenomenon is not limited to the female gender. One of the most memorable portrayals of recent seasons was baritone Dmitri Hvorostovsky's take on the title character of Rigoletto. He performed this role at the Met in 2013 in Michael Mayer's production, which transposes the action to Las Vegas in the 1960s. To Mayer's credit, he does have a strong and compelling vision of at least one character in the piece, Rigoletto's master the Duke, who is reimained as a sociopathic lounge singer who doffs his onstage bonhomie as easily as he strips out of a sweat-soaked dinner jacket.
Alas, Rigoletto is far less defined in Mayer's production, but Hvorostovsky seized the chance to put his stamp on the part. One of the handsomest performers in opera today, the baritone put on belly padding, a comb-over wig and what appeared to be a dental prosthesis to become a visually repellent low comedian. But the transformation didn't stop here: physically this Rigoletto constantly violated others' personal space, even pawing at his daughter in a vaguely repulsive way. What fueled this jester's cruelty was not his physical disability but his compulsive neediness.
But there's a catch-22 here. If you leave a production full of blanks where the characters ought to be, then you must cast a Hvorostovsky every time the show is played. When Rigoletto returned this season, Zeljko Lucic played the title role generically, just a grouch in an ugly sweater vest. You wanted to ask him how come there's no heat in your apartment.
Surely a better (and certainly more exciting) solution is to pair energetic, committed singers with a high-concept production. For those of us curious how that that combination might work, the Met is conveniently offering a revival of Willy Decker's cold-eyed production of La Traviata starting next week, with the vivid young stars Sonya Yoncheva and Michael Fabiano in leading roles.
If my theory is correct, these performances will kindle the incandescent buzz that means "opera." And the Met will accomplish this miracle without burdening Diana Damrau with all the heavy lifting.