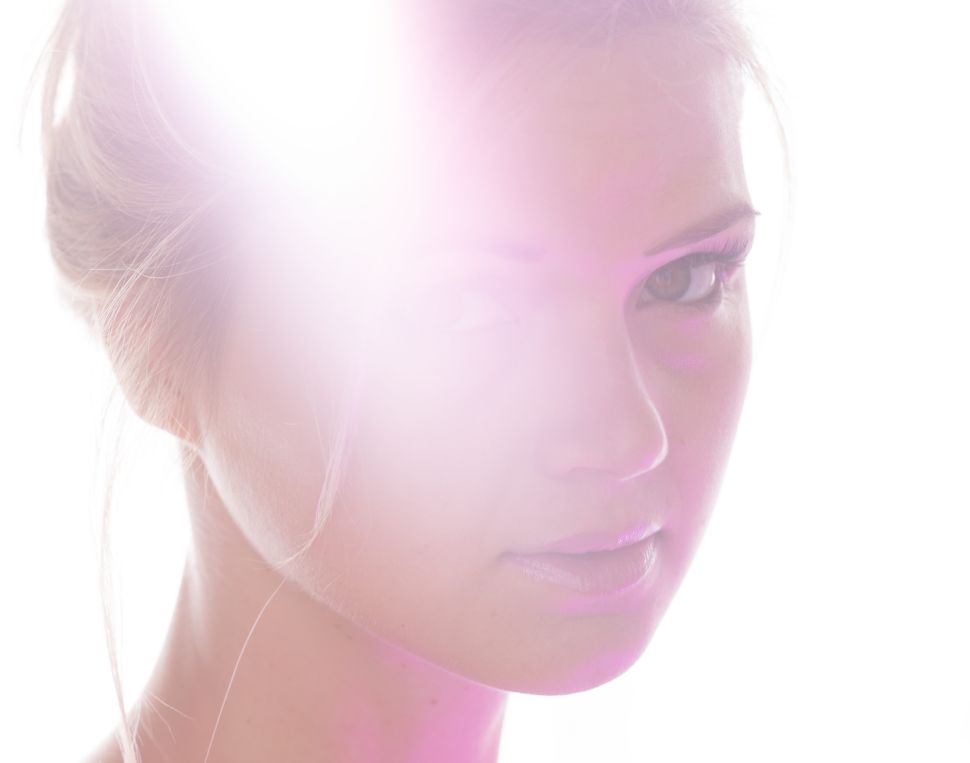 If you've been paying attention to the beauty press and blogs, you've probably noticed buzz about microneedling. Also referred to as derma-rolling and medical needling, this is a method of rolling a device covered in tiny needles over the skin. The intention is to make micro-wounds that will stimulate collagen production and enable better absorption of skincare products.
This sounds like something you'd expect to be done exclusively in a doctor's office—or in a horror movie—but at-home devices are growing in popularity. The GloPRO Microstimulation Facial Tool is the top selling beauty tool at Neiman Marcus, and the brand sold $30 million worth of products on HSN in the past eight months. The GloPRO has a body attachment for addressing skin all over, and some swear that the device has cured their keratosis pilaris (chicken-like bumpy skin, usually found on the backs of arms). No wonder Bergdorf Goodman and Nordstrom just picked up the brand.
But even in a doctor's office, is it actually wise to puncture the skin on purpose? "Generally speaking, it is a safe treatment," says RealSelf contributor Dr. Sejal Shah. "The injury microneedling creates is very controlled."
As for the at-home devices, Dr. Shah says, "While technically safe, I generally don't recommend it. Microneedling can potentially damage the skin if performed by untrained hands. Also, as the device punctures the skin, it can be difficult to ensure that it is clean and sterile in the home environment."
There's another good reason not to try this at home: It probably won't do much. While in-office needles penetrate up to 3mm, store-bought devices don't reach that depth. Renowned dermatologist Dr. Dennis Gross, who recently began offering microneedling in his New York City medical practice, says, "Bottom line, it is a matter of how deep the needle goes. At home, there is not a dramatic result given the limited depth."
But it's not just the injury that makes microneedling effective. "The key is to combine using the professional tool with an active ingredient, such as a hyaluronic acid filler," says Dr. Gross. "The delivery system makes all the difference. You're infusing the skin with this dose of hyaluronic acid for an immediate firming and plumping effect. The other solution I like to use has vitamin C as well as a hyaluronic acid filler, which addresses grooves just below the epidermis level."
If you decide to give it a try, manage your expectations. "Although microneedling may help skin sagging by stimulating collagen," says Dr. Shah, "I don't recommend it as a treatment for someone looking for significant lift and tightening."
But if you're trying to eliminate acne scarring, London dermatologist Dr. Sam Bunting says in-office microneedling works well. "By laying down collagen, you tend to lift up those indentations," she says of the impact of microneedling on pockmarked skin. Dr. Bunting also sees improved pore clarity, though it can take months of treatment to notice anti-aging effects in the form of firming and smoothing.
Unlike lasers and other treatments, microneedling can be used safely and effectively on most skin types—including more pigmented, darker skin tones. As for downtime, it's minimal. "For most patients, a weekend of looking red and sunburnt seems to be the height of it," Dr. Bunting says. She is even happy to perform the procedure on a weekday, since makeup is usually sufficient to conceal any resulting redness. Dr. Bunting recommends allowing four to six weeks to elapse between treatments, to allow each repair cycle to complete.
Don't expect to show up for a consult and get microneedling the same day. Dr. Bunting says the procedure works best on someone who is already on a medicated skin regime. She typically has patients spend at least six weeks using products containing vitamin A—such as retinol—and vitamin C, plus rigorous sunscreen application, before the first treatment.
https://www.youtube.com/watch?v=MJJTNkVdFbA
Jackie Danicki created one of the first and most popular beauty blogs in 2004, and has consulted some of the world's most iconic brands on digital content strategy and innovation. Jackie blogs at http://burnedoutbeauty.com, and you can find her on Twitter, Instagram, and Snapchat as @burnedoutbeauty.