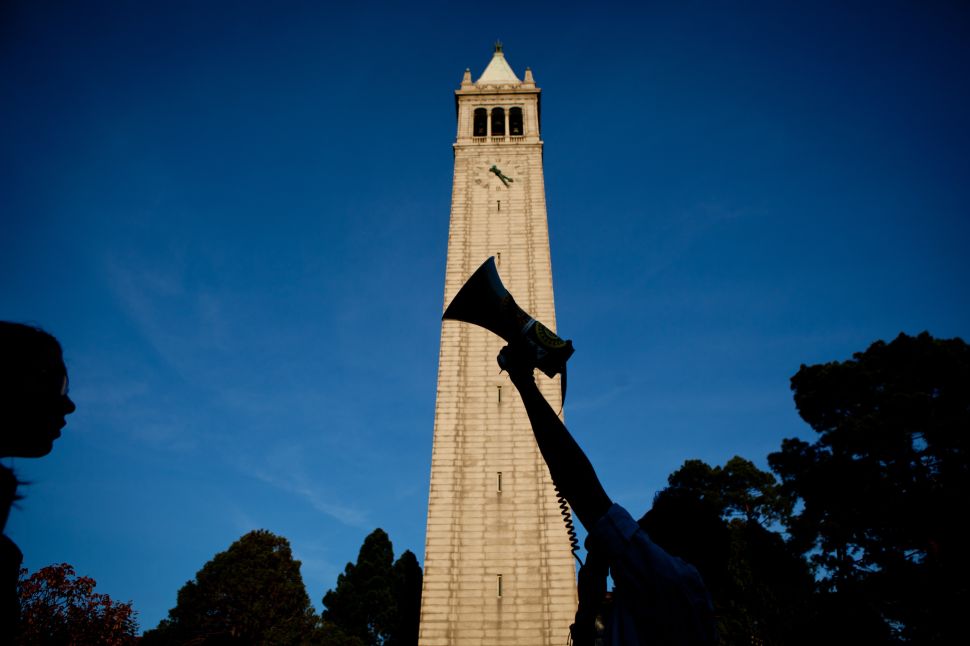 Conservative firebrand Milo Yiannopoulos had been invited to speak last week at the University of California's Berkeley campus. At the reported direction of campus police, university officials canceled the speech, citing public safety concerns, after a violent protest resulted in a reported six injuries and over $100,000 in property damage. Days earlier, a letter had been sent to the UC Board of Regents, expressing concern over "a sharp rise in hateful, intolerant acts directed at individuals holding divergent ideological and political viewpoints."
Spearheaded by campus anti-Semitism watchdog AMCHA Initiative and co-signed by 47 education, Jewish and civil rights groups—including the Simon Wiesenthal Center and the Brandeis Center for Human Rights Under Law—the letter urged UC administrators to "implement the Regents' Principles Against Intolerance" adopted last March in the wake of increasing anti-Semitic activity throughout the UC campus system.
"Intolerance has become a serious and growing problem at UC. On too many campuses, one group's freedom of expression has been used to denigrate, harass, intimidate, and shut down the expression of another group," the letter stated. "Debate is veering into hate, and the campus climate is at risk of becoming toxic for a variety of students targeted for actions of intolerance."
'Colleges have become a place where they want everyone to look different but think the same.'
UC Santa Cruz lecturer and AMCHA Initiative Director Tammi Rossman-Benjamin responded to the Berkeley violence in an exclusive interview with the Haym Salomon Center:
"In the current climate of increasing polarization and rising levels of hatred and intolerance across our nation and particularly on our college campuses, as we saw last week when violence broke out at UC Berkeley, implementing policies that encourage tolerance among our nation's youth and protect the right to free speech on campus, even speech we find hateful and offensive, couldn't be more important."
Rossman-Benjamin added:
"On a university campus, these acts of intolerance not only deprive individuals of their freedom of expression and their social, political and academic rights, they undermine the very mission of the university. The Regents' statement couldn't be more relevant, timely and important for all University of California students right now and should be implemented immediately."
Concern over infringement of free speech rights is not limited to the UC system. Conservative political commentator and author Ben Shapiro was "banned" by DePaul University in Chicago this past August. California State University, Los Angeles President William Covino tried to cancel an appearance by Shapiro last February. He eventually caved after threats of lawsuits surfaced.
The Berkeley incident was only the latest Yiannopoulos speech to be canceled. The Breitbart writer has also been canceled at New York University and the University of Miami.
Attempts to silence conservative voices are nothing new. Harvard University professor Ruth Wisse cited incidents going back as far as 20 years, when she wrote in a May 2014 editorial for The Wall Street Journal:
"Pressure from faculty egged on by Muslim groups induced Brandeis University last month not to grant Ayaan Hirsi Ali, the proponent of women's rights under Islam, an intended honorary degree at its convocation. This was a replay of 1994, when Brandeis faculty demanded that trustees rescind their decision to award an honorary degree to Jeane Kirkpatrick, former U.S. ambassador to the United Nations. In each case, a faculty cabal joined by (let us charitably say) ignorant students promoted the value of repression over the values of America's liberal democracy."
Wisse added:
"Universities have not only failed to stand up to those who limit debate, they have played a part in encouraging them. The modish commitment to so-called diversity replaces the ideal of guaranteed equal treatment of individuals with guaranteed group preferences in hiring and curricular offerings."
Rossman-Benjamin has been on the frontlines combating anti-Semitism and the silencing of pro-Israel voices for nearly a decade. She sees conservative thought on campuses under the same attack that Israel advocates have been enduring for decades.
"Colleges have become a place where they want everyone to look different but think the same," explained Charlie Kirk, executive director of Turning Point USA, a free market, limited government student advocacy group. "The intolerance on our college campuses has overtaken the foundational aspect of free speech that once prevailed on our college campuses."
Inquiries for comment to the UC Board of Regents by the Haym Salomon Center have gone unanswered.
Paul Miller is president and executive director of the news and public policy group Haym Salomon Center. Follow him on twitter @pauliespoint.