The artist embarks on a self-imposed exile to change their intention. It's a deliberate decision to vanish when the forces that used to feed your work don't sustain it anymore, an embrace of sparsity that comes from going off the grid.
The music that Jaime Fennelly makes as Mind Over Mirrors would fit that narrative well had Fennelly's retreats into nature been one lone trip, but self-imposed exile has long been a part of his process. Ambient tones and drones recall the time-lapse of an epic nature documentary but soon transform into a theme or a groove, rendering the compositions active listening.
Working in a cabin at Red Clover Ranch about 20 miles east of the Mississippi this time around, Fennelly absorbed the grandeur of Southwestern Wisconsin's riverine landscape, a distinct geographic anomaly untouched by glacial drift, working through the winter solstice. The sketches of songs with Oberheim synths and his cherished Indian pedal harmonium eventually became Undying Color, an ode to the cyclicality of nature and an elegy for his late uncle.
Fennelly and I recently had a thoughtful conversation about the seeming sonic disparity of his worldly musical influences, how he liberates his work from traditional performative contexts, and the greatest change in his process yet—letting other people in. It's refreshing to see a musician approach their work with such intention, such mindfulness, such clarity of vision.
As the places where we can discover new music continue to rise and fall, maybe we can all benefit from the self-sustaining solidarity that comes with tapping into the rhythms of nature.
[youtube https://www.youtube.com/watch?v=FtaHFE3DtT4]
I generally try to start these interviews with some light anecdote before we get into the heady stuff, but I don't know how to do that with you.
[Laughs]
So I'd be remiss if I didn't ask you if consciously immersing yourself in nature to capture some of its ebb and flow feels a little bittersweet now, considering the lack of priority the current administration has assigned to helping the environment. Does it feel weird releasing this in a different sociopolitical climate than you recorded it under?
It doesn't feel weird, no, unfortunately things have been fairly fucked up for a long time. And clearly the current crew have made sure it's at the bottom of the priorities list. It's sad, but releasing the record, hopefully someone can listen to it and create some inspiration.
Nature's been a really big inspiration for me in my work. I was just reading how the Republican Party now wants to pass a bill where they can sell off 3.2 million acres of BLM [Bureau of Land Management] land between several states, which collectively equals about the size of Connecticut.
Well they've been finding ways to drill through national parks for years. It's been a subversive practice, but now we're maybe just seeing it happen without shame, out in the open.
Right. Corporate interests have been the dominant force in America for several decades, and now we're just seeing it in a really blatant way. But you know, hopefully enough people create some form of resistance. This has nothing to do with the record, but in my own personal opinion if someone like Hillary won, a lot of people would still be living their comfortable, ordinary lives and not be particularly vocal about a lot of the things that need to change.
Post-capitalism has really run its course, and now we have a very evil, very rich bad businessman with a bunch of cronies running the country. It definitely has its worst face on.
I could argue that does have something to do with the music. Brian Eno released Reflections on January 1 as an ambient reflection of the new year, and although this record of yours moves a little bit further away from ambiance than your previous recordings, there's something to be said for music like that in the way that it trains the brain to sit with things and to think in a way conducive to empathy or feeling.
Yeah, have you heard the Joanna Brouk collection that Numero released? She's kind of an early pioneer of New Age music, and in the liner notes there was this couple of sentences that totally resonated with me, I'm trying to pull it up as I'm talking to you because it speaks to what we're talking about.
"In 1972, Brouk described her music on Ode to Gravity as a balm for the isolation and solitude of the human condition."
And her quote is, "It's taking people to a place they know in their souls but they don't know anywhere else. It's a mirror—it makes you believe that you exist, that I exist."
I just read that and it really reminded me of my own work, as well, and certainly in performance.
"There's this immersive experience that ends up happening just through the performative nature of what I'm doing."—Jamie Fennelly
How does that inform your M.O.?
I probably most easily connect that quote to my live shows. For the last few years I've been playing solo, and when I play solo I set up on the floor of the venue, in the middle of the audience, facing the PA. It really skews the whole experience in the space, for myself as a performer, and also for the audience.
I think it ends up creating a really different dynamic for all parties. I definitely feel more connected to the people who are directly around me, and I'm hearing the exact same thing that the audience is hearing through the same sound system. The audience is also able to actually see what I'm doing—it's not like I'm up on stage and they can't see what I'm using for gear.
A lot of times I'm up on stage and people are like, "Oh, is there a computer up there?" So there's this immersive experience that ends up happening just through the performative nature of what I'm doing. Those solo sets in particular are quite loud in sound and full in frequency.
Do you feel that your harmonium facilitates much of this warmth and this intimacy? There's a quote about Harry Partch's term "corporeal music" that may connect to your work, an element of physicality and presence. Is that part and parcel with what we're talking about?
Yeah, I would say so. A lot of that also has a lot to do with a couple of different dance choreographers who I started working with in the early 2000s. Miguel Gutierrez is one I've continued working with, even very recently. And even a long time ago in my early 20s, working in that medium and collaborating with dance really gave me some serious insight into what it means to be a performer in space.
Being watched and being aware to make considerations about space, about sound—how sound exists in that space, how your body and other people's bodies also exist in that three-dimensional space.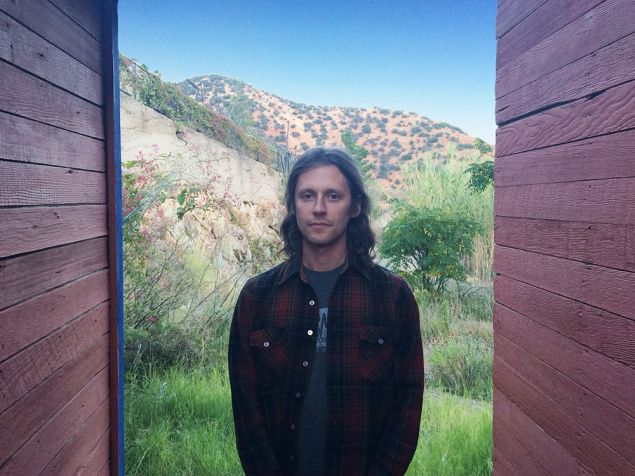 That ties back to Undying Color, too. My understanding was that you were mourning your uncle and you consciously decided to immerse yourself in this environment to take it all in. The physicality of those conditions comes across on the record. Was that a conscious way to approach the composition?
I don't know if I could say it was an intentional thing, it's just kind of what I make. I didn't set out to create a really different body of work that was informed by a different set of ideas from my previous work. These are all connecting points across my albums and performances over the past few years.
How does working in cross-disciplinary contexts work for you as a sound artist? Is the sound artist treated as someone more ephemeral in those circles? At these new avant-garde art spaces opening up, do you feel like you have a seat at the table the same way a choreographer or videographer might?
Well, which table are you talking about?
The creative, interdisciplinary table. In Brooklyn we have BAM and all these other creative nonprofits that get grants and have money set aside to commission innovative, collaborative works. They work with composers, performers and live musicians, dancers, actors…but I wonder how collaborative of a process it is. 
I guess the economy or cultural landscape of what scenes look like right now for music versus dance or painting, visual art, video art does seem like there's some kind of change happening with places like National Sawdust. But at the same time, how does that place afford to open up in Williamsburg?
It's complicated, because there's one person that has a lot of money, they get a whole board of advisors and I don't even understand the complexities of it.
I moved out of New York in 2007 for a variety of reasons, and even if I wanted to move back, I wouldn't be able to afford [it]. And the dance world is really based on funding for development and performance—it doesn't have the whole economy the music industry has with albums or being able to go on tour and perform 20 shows in a row. So I guess I can really speak of my own personal experience within it, doing the types of shows that I've been doing in rock club settings.
[youtube https://www.youtube.com/watch?v=BsL03U2LFmA&w=560&h=315]
There's an element of subversion to that, too. There's something cool about presenting music maybe a little outside the realm of "new music" in a rock club. I used to be such a muckraker about nonprofits like National Sawdust, really eager to find out who the donors are and where to follow the money. But now I'm just super grateful they even exist, particularly with the looming prospect of the National Endowment of the Arts being eliminated. We can't really rely on the government anymore to nurture the creative class at all. But like you said, maybe something good will come out of it. Borne from the desperation is activism, education and all that stuff.
You know I saw Haley Fohr in Hudson a couple of years ago at Basilica Soundscape, and her performance blew me away. With her and Janet and everyone you brought onboard for this project, I wonder, what effect letting all these other players put their fingerprints all over such a personal song cycle had on you?
The process of working with Haley was really gradual—she was on the record before Undying Color, so it's a gradual accumulation. Working with her one on one and trying things out, it made sense. Going out on the road we did a couple of tours together.
Being ingrained in Chicago, living here longer and meeting new people, I started thinking about how I actually start opening this up more. It existed as a solo project for so many years, out of economy, but also because that was the place that I was in. I wasn't in the place to put together a band, because I didn't necessarily have the right people in mind.
Versus in New York and I put together Peeesseye with Chris Forsyth and Fritz Welch and it took time to figure out who has music that has common ideas that would be complimentary to work with. Someone who would push you to get to the next phase of development in your own work.
"It took time to figure out who has music that has common ideas that would be complimentary to work with. Someone who would push you to get to the next phase of development in your own work."
You had to be in a place to receive that, too. The implications of you working more and more with Haley are that a creative relationship can't be forced, and it has to gradually progress.
Yeah, and it was through experimentation. Now that I see what it's like to have Haley on a record, I started thinking, what if we have other female vocals on the album that are complimentary to Haley's? And also thinking about more instrumentation that's inspiring, that I've also been hearing in the music, in an abstract way.
There's lots of stuff I hear in the music that other people wouldn't necessarily hear, because I have a different relationship to it than anyone else. But violin/fiddle and percussion have all been instruments I've envisioned in the work, but haven't known the right person to fill those duties.
Just through being in Chicago and meeting Jim Becker…I've known Jon for a long time, but it takes time to establish relationships with people where you start feeling comfortable. It's something so personal.
Well without trying to unpack the mysteries here too much, your sonic and folkloric inspirations on this record are really vast and all over the place. Otha Turner, The Apatani, and they're connected to what the harmonium accomplishes for you as a breathing mechanism and a mark of physicality. How do keep yourself open to discovering these sounds, and parse them out across your music so that they have the intended effect? How do you stay both a student and a teacher, making space and time to absorb this vast array of worldly sounds then absorb them into your own work?
For one, I'm constantly finding out about new music. Or let's say you've listened to one thing for a long time, then you stop listening to it, listen to 50 other things and go back to the first thing. You hear it differently. And it kind of brings back sonic memories or ideas of where you were when you first heard it, but it also kind of musically informs your personal relationships.
You respond to the feeling it elicits in you and remembering it.
Yeah, and you relate to it differently musically. Maybe you hadn't thought about that music existing or being contextualized in this other way because you hadn't heard some other thing yet that informs your experience with the first thing. The Otha Turner music I've listened to on and off for 15 years, and just through listening to that music on and off I begin to relate to it differently.
Working with Jon Mueller and seeing him perform, I also came to make a connecting point between his drumming and Otha Turner. It kind of became a nomenclature of being able to describe a musical style to Jon. And I started listening to Otha Turner a bunch more recently, which then kind of informed the way that I was talking to Jon and Jon was talking to me about what we were trying to do with the drumming. I don't know if that answers the question.
It does! I just wanted a personal roadmap, which you gave me, so thank you. This feeds into the more wide-angle question I have—how do you feel about the term "New Age Music"? That term seems to get thrown around a lot and stuck on anything that's a bit more meditative or transportive.
Yeah, these terms of musical styles are always changing. Ideas of what jazz was in the '20s are not what jazz was in the '70s, and so they're just malleable terms that, over time, tend to take on a lot of different meanings for different people. I don't particularly align my own music with "New Age" music, and of course there's a lot of completely horrible New Age music.
I guess you could always take a piece of it, too. Someone could say your music was "devotional," in the abstract sense, or "methodical." Terms which may be applied to New Age, but only describe very tangibly the fact that these sounds put the listener in a certain place.
Yeah. Someone said that my music was "praise music" in a quote, and I thought that was super cool, I kind of liked that term. Then I googled that term and said, "Oh my god! I'm not making fucking Christian music!" The majority of people that talked about "praise music" were only talking about the Christian religion.
[youtube https://www.youtube.com/watch?v=QX6Q6aD9vKc]
I guess it depends what you're praising.
Yeah, exactly.
Can you unpack this line from your press release for me? "The ancient Driftless terroir of Undying Color likewise contains evidence of Mind Over Mirrors' enduring colorfastness in the midst of state change, from fixity to flux, maintaining clarity through change."
There's three things happening at once. There's me working on Mind Over Mirrors in a rural setting—I lived for three years on a very remote island in the Pacific Northwest that was essentially when I first started developing Mind Over Mirrors, and that was kind of an anchor point inspired by these years I'd spent that were vastly different than earlier in my life, growing up in New York.
Well what does that all mean when you don't live in that place anymore and you live in Chicago or wherever but are working on the same project? The project is changing and shifting.
Then, connected directly to that, is me transforming and opening up Mind Over Mirrors from a solo experience into a full group. And what are the constant, consistent connecting points through that change?
Then there'd be the geological narrative of that drifts area, this one are where ice receded north and didn't just flatten the land like most of the Midwest. So there's this whole other natural history involved in that.
This is an American story, the self-imposed exile—dude removes himself from the noise of the city and the noise of civilization to listen better, dude listens and hears what he hears, dude brings what he learns back to the people. That's a whole narrative in of itself, and as you've found so much wisdom in that removal do you feel any better equipped to work in an urban atmosphere now?
You know, it's always a constant struggle. But I'm totally more well-equipped having had that experience, for myself, not for anyone else.