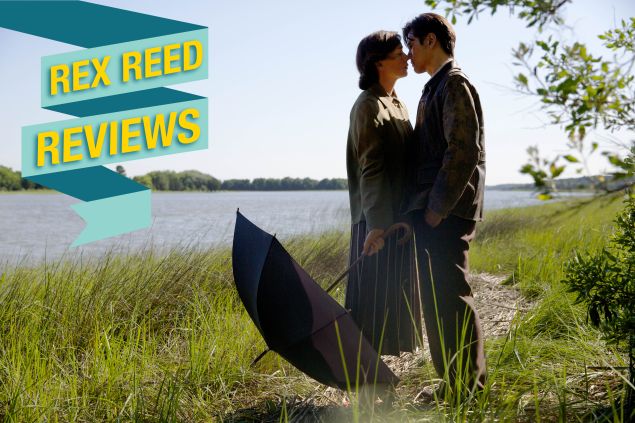 It's always good to see Margo Martindale and Diane Ladd on the screen. They are the only actors with recognizable name value in a little film called Sophie and the Rising Sun, but their presence is more than welcome. Without them, this warm, heartfelt but decidedly wan little film about an interracial couple striving to survive against ugly, overwhelming odds in the Deep South might disappear in front of your eyes and leave no trace.
---

SOPHIE AND THE RISING SUN ★★★
(3/4 stars)

Written and directed by: Maggie Greenwald
Starring: Julianne Nicholson, Takashi Yamaguchi and Margo Martindale
Running time: 116 mins.

---
Made almost entirely by women, this lovely, evocative movie was written and directed by the talented Maggie Greenwald (Songcatcher), from a novel by Augusta Trobaugh, and set in the year 1941, when World War II was already robbing small towns of most of their draft-age men, leaving the women home to keep the home fires burning. One autumn day, out of the blue, a cross-country Greyhound bus makes an unscheduled stop at the depot in Salty Creek, South Carolina, to deposit a badly injured Asian man, unconscious and without identification. The locals in this remote fishing village, already suspicious of outsiders, have never seen a foreigner and have no idea what to do with him until the sheriff talks a kind widow, Anne Morrison (Martindale), into taking him in and nursing him back to health. When he begins to recover from his wounds and his face takes shape again, she is startled to discover a handsome, soft-spoken, well-mannered, native-born Californian of Japanese ancestry named Grover Ohta (played by the remarkable Takashi Yamaguchi from Clint Eastwood's Letters from Iwo Jima and The Last Samurai with Tom Cruise), whose passion for gardening transforms her stately but rundown property into a showplace of beauty. A slow trust develops that is shared by Anne's neighbor, Sophie Willis (the excellent Julianne Nicholson). Sophie is a reclusive eccentric who barely scrapes together enough money to keep up the house her parents left her, now falling to ruin, by crab-fishing from the local dock and selling her catch to local cooks. Sophie and Ohta develop an even closer relationship through their mutual love of art, music and flowers—a friendship that secretly grows into an intense love affair.
Affection is not shared by everyone. As the war rages in Europe and the already suspicious rednecks grow more intolerant of the Oriental visitor by the day, a small group of women comprised of Sophie, Morrison and her housekeeper Salome (Lorraine Toussaint) decide to defend and protect Ohta, defying their friends and fellow churchgoing Daughters of the American Revolution snobs headed by the town's chief gossip, busybody and troublemaker, Ruth Jeffers (Diane Ladd). Things disintegrate badly and tense racial tensions come to a boil when the Japanese bomb Pearl Harbor. Ohta is a peace-loving American citizen, but to the people in South Carolina he's still a mysterious alien with skin of a different shade and, worse, still, a "dirty Jap." American soldiers stab him and leave him for dead on the road, local robbers destroy Morison's garden and vandalize her house, and everyone faces an uncertain future in which decisions must be made that change their lives forever.
The actors are superb. The nuanced writing and direction have insight. The three-dimensional portrayals of women in the rural South during the war are praiseworthy. Obviously, they were aiming for the same kind of ensemble camaraderie as August: Osage County (in which Margo Martindale and Julianne Nicholson previously co-starred) and The Help. They are all exemplary, including Diane Ladd, who lives with her invalid son, does charity work, helps out friends in need and refuses to play the thorn in everyone's side as a Bible-quoting bigot, instead finding the element of soft Southern magnolia in her character's traces of bruised humanity gone astray. There's a lot to admire here, but it's the sensitive interracial love story at the center of the film that feels vague, bland, underdeveloped and unconvincing. The "sides" are beautifully prepared and intricately served, but the main course is uncooked and lacking in flavor.