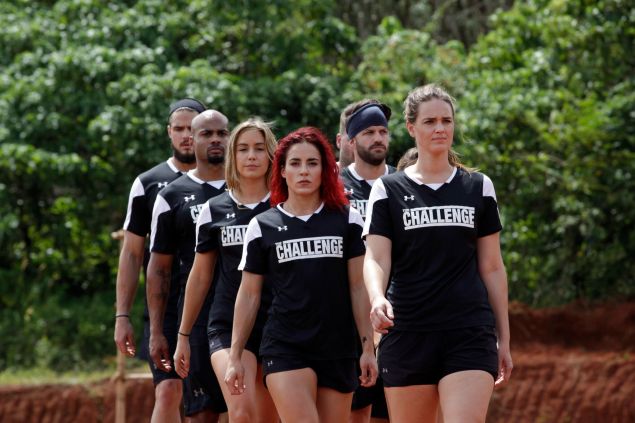 Four weeks in and the champions have arrived. With about a minute left in the show. That's fine because the second I saw Laurel lead that pack out I dropped down to my knees like Willem Dafoe on the poster for Platoon. I don't know that I can even handle a full hour with them on there. Yes, I can. For they are the champions of competing on the Challenge but I am the champion of watching it.
Before we get to the big reveal of Laurel, Cara Maria, Camila, Ashley, Darrell, CT, Johnny Bananas, and Zach some other stuff happened. Like somehow Amanda can give an interview in the pouring rain and not get wet at all. This season's tarp game is apparently strong-to-quite-strong.
Lots of last minute kissing going down. Corey with his braided "please don't roll this footage" hair and Kailah. Nelson and Toya rolling around in the sand, straddling the beach. And later on in The Oasis, Smashley and Hunter in the pool and on the top bunk. Hunter is like "I am a Southern gentleman and I would never have sex with someone I didn't care about." Does that mean that he didn't have sex with Ashley? Nope. It means he obviously really really cares about her. Duh.
For the challenge this week, the three remaining guys and girls got locked in cages and had to roll their way across some dirt to unlock themselves. But that is not important. The major takeaway is that the winner gets a one year supply of Burger King. A ONE YEAR SUPPLY. I would give a year's salary for one year's worth of Burger King. But how does it work? Do you get 365 Whoppers in a lump sum? Or do you get a card like in Happy Gilmore where he can go into any Subway and get a free sandwich? You know how many chicken nuggets I could eat in a year? Twenty a day.
Shane and Amanda won sending Silvia vs Toya and Nelson vs Anthony into the final elimination. Winners get tickets to the Oasis, losers spent the last few weeks camping out in a shelter with stray dogs. The elimination was at the Tiger Cave Temple. They set some firecrackers off behind the four contestants as they walk to the starting point, which freaked out a bunch of monkeys. That seems like a bad idea. When TJ started to introduce the game, a bald headed man in a robe walked right through his shot and TJ was just like "hello." TJ is unflappable. I bet he respects that man for walking through and not quitting halfway.
In order to win, they had to climb up 1000 feet of stairs to the top of the temple. That is so many feet. I would like compare the strategies for doing this because I think there were some interesting choices made. Toya got held up by an angry monkey. That is what happens when you set firecrackers off around them. It started to rain when they were midway up the stairs. Silvia decided she was thirsty so she cupped some water that had pooled on the stairs and drank it. Nelson was climbing up on all fours, using his hands on the steps. And finally, Anthony was psyching himself up by saying "you're like Forrest Gump," which I guess means that the woman who played his mom also played his love interest a decade earlier, shout out to the Tom Hanks and Sally Fields classic, Punchline. In the end, Nelson and Silvia won. They got to go back and tell everyone it was time to move into the Oasis.
Which of course means it is time to party. Different people party in different ways. Kailah and Jenna found a shower they could dance in that has a shelf for them to put their drinks on. Dario, Corey, and Nelson cheers that they have bathrooms, cold cuts, and clean towels. And Nicole ate about a gallon of peanut butter. Seriously, this giant jar was scraped clean while she used a salad spoon to scoop it directly into her mouth. I have to imagine it was a new full jar when the got there.
The next day with everyone lined up for a new challenge, TJ revealed the truth. To be a champion, you have to beat the champions. And out they come. I'm assuming that they're going to be eligible to compete and win. There are twelve underdogs and eight champions. So starting with twenty people, four going to the final. The math makes sense. Next week is going to be the best night of my life.