Roughly 200 Muslim New Yorkers and people of all backgrounds prayed and rallied in front of John F. Kennedy International Airport's Terminal 4 this afternoon in opposition to President Donald Trump's executive order barring entry to people from seven Muslim-majority countries.
The Jummah Prayer—a congregational prayer Muslims hold every Friday—and interfaith action, hosted by the New York Immigration Coalition and Majlis Al Shura: The Islamic Leadership Council of Greater New York, was meant to show solidarity with the Muslim and refugee community in response to Trump's ban on travel from Syria, Sudan, Somalia, Libya, Yemen, Iran and Iraq. Muzna Ansari, the Muslim-American policy manager for the NYIC,  thanked all the New Yorkers who "have shown up like never before" for protests in the week since the White House fiat came down.
"Our actions sparked similar protests across the country," Ansari said, pointing to the federal judges who have enjoined parts of the executive order, and Trump's promise to comply. "This is because of you. Thank you for showing up and continuing to show up."
Terminal 4, where a Customs and Border Protection detained a dozen people approved to enter the country under President Barack Obama, was the site of massive protests last Saturday. Federal jurists in Brooklyn, Boston and California have determined that the Trump administration cannot impede the entry of people with visas, green cards and dual citizenship.
Imam Al-Hajj Talib 'Abdur-Rashid of the Mosque of Islamic Brotherhood in Harlem led the prayer. During his sermon, 'Abdur-Rashid said that the United States is not "becoming great again" but rather is "still developing into a perfection of its greatness" and remarked on the upcoming 50th memorial anniversary of the sermon delivered by the late Dr. Martin Luther King, Jr. in which he spoke out against the Vietnam War and the "triple evils of militarism, racism and poverty."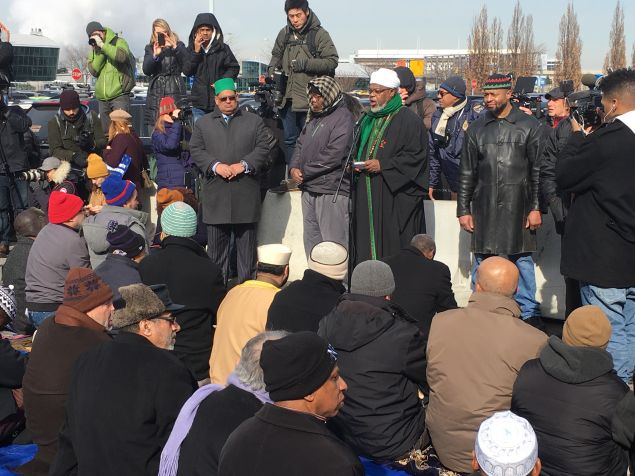 He noted that King described a "beloved community" in which the wealth of the world is shared by all of the people of the world and in which poverty, hunger and homelessness are eliminated "because of an international standard of decency."
He told reporters after the event that he wonders how the Trump administration is going to react to the peaceful protests that have sprung up across the country against his actions.
"They're going to be faced with a great nonviolent uprising from the American people and we'll see if they are able to handle this," he said. "They are able to handle violence. But when nonviolence comes into play, we'll see if they are able to handle that some other way other than being violent."
And he told the Observer that he is pleased with the way that Gov. Andrew Cuomo, Mayor Bill de Blasio and City Council Speaker Melissa Mark-Viverito have responded to Trump's actions—particularly their continued support for maintaining New York as a haven for undocumented immigrants.
"We're only 12 days in, got a long way but I think the position of Governor Cuomo, his articulated position—and Mayor de Blasio and the City Council—of looking at New York as a sanctuary city, sanctuary state and saying openly and almost defiantly that we're not going to, as a city, back away from the New York standard," 'Abdur-Rashid said. "I think that that's a very good thing and we the people need to support those elected officials who stand up for us."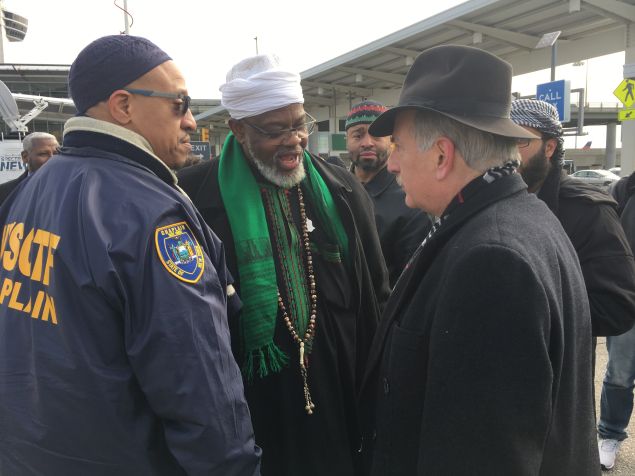 Queens Assemblyman David Weprin said that he has the largest mosque in New York City in his district—the Jamaica Muslim Center—and called Trump's Muslim travel ban "the most un-American executive order I've ever seen." He also reiterated that the United States "was founded on immigrants."
"I'm very upset and my constituents are very scared, a very large Bangladeshi and Pakistani Muslim population and everybody's you know thinking that they're gonna be next on the list and we all have to stand together in solidarity against this anti-immigrant, anti-Muslim executive order," Weprin told the Observer after the action.
Jane Hirschmann and Dorothy Zellner, co-founders of Jews Say No!, a group that disagrees with Israeli governmental policies toward the Palestinian people, told the Observer after the event concluded that they came to show support for the Muslim community.
Hirschmann, whose parents were Holocaust survivors, said that her parents were lucky to get into the United States because "many, many Jews were turned away." She said that the United States is "all over the world destroying people's lives" and that not accepting refugees is "a really awful thing."
"We have a saying, 'Never again, nowhere, no place for no people and we're never going to do this again,'" she said. "So we have to fight this mess and ban, we have to accept refugees from any country. It's ironic that, for example, we go into Iraq, we ruin their country and then when the Iraqis try to get here, we say, 'No, you can't come in.'
Zellner said that Trump's executive orders are an indication that fascism is on its way.
"I'm the daughter of immigrants also and what's happening in the countries that—we have to be careful because there are many early warning signs of fascism and we as Jews know what happens but everybody knows what happens when fascism comes," she said. "So I'm for standing up wherever—wherever, whenever."
The Trump administration released a statement this evening indicating the executive order did not apply to individuals with United Nations or North Atlantic Treaty Organization visas.