When Naomi Campbell was a child, her mother told her she couldn't be a model. But that didn't stop her from practicing her runway walk every chance she got.
"I remember my mother one night caught me trying to do my own runway walk in the hallway," Campbell told a packed audience at a Hearst master class, "and she was like 'let me show you, if you really want to know.'"
And that's how Naomi Campbell's signature walk was born. At age seven, Campbell appeared in Bob Marley's "Is This Love" music video and she's been working ever since. At 16, Campbell booked her first modeling job with Elle. Since then, she's been been cast time and time again in fashion shows for Yves Saint Laurent, Versace, Prada, and Chanel. As one of the five original supermodels, the London native has been featured on over 500 magazine covers.
Most recently, Campbell landed on the March cover of Town & Country. On Tuesday night, the magazine's Editor-in-Chief, Stellene Volandes, welcomed Campbell to the stage at Hearst Tower for a Q&A session.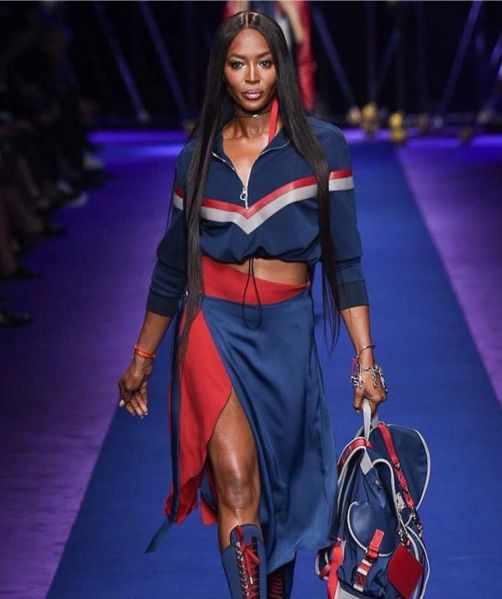 Campbell seemed confident and candid as she poked fun at herself, but she admitted she hadn't been able to sleep the night before. She was nervous, much like she is when she sets foot on the runway, though you'd never be able to tell.
"I've had some accidents as you all know," Campbell said. "I've fallen down. I've lost a skirt. My top fell out. Things happen. You just have to keep going."
Volandes asked Campbell if she would be appearing on a runway anytime soon. Campbell responded with a cryptic "I don't know," as she dramatically shrugged her shoulders and squirmed in her chair. Last spring, the runway diva was so motivated to make it to fashion week that she made a surprise debut at Kanye West's Yeezy show, even though she was struggling to walk, due to a knee injury.
"I like the challenge," Campbell said. "I had an injury, but I was like 'bandage my knee up, I'm doing it.'"
While discussing all of the places she's traveled, both for work and play, Campbell revealed that she used to love skiing, but her TV producers and directors didn't approve of it, due to the injury risk. So, did she turn to something much safer? Not exactly. Instead, Campbell picked up scuba diving, where she says she regularly hangs out next to big fish and baby sharks.
"I can't swim very well, but I can dive," Campbell said. "I can't seem to float, but you know, I can float in the Dead Sea."
The room erupted in laughter.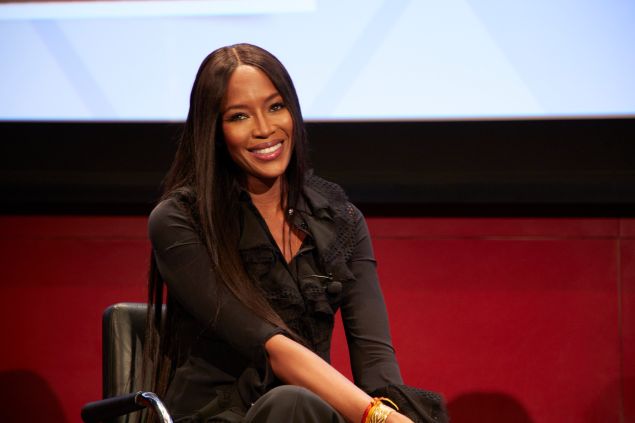 Campbell's resilience goes far beyond the physical setbacks. In the '80s, she was a contract model for Yves Saint Laurent, where she said all the other models were booking for covers with French Vogue. Campbell was upset—she knew she was good enough, but they told her "We've never had a black girl on the cover. It's not even a question." She told Yves Saint Laurent, even though she had been warned not to speak to him by people at his company; she could talk to anyone. After she told him, he threatened to pull his advertising from the magazine if they didn't put Campbell on the cover. That year, she made history as the first black woman on the cover of French Vogue.
"People say 'oh, you've gone through racism,'" Campbell said. "But I won't say I ever went through racism, it's that I would never accept it. I would rise to the challenge to prove, and find a way around it, and get what I wanted."
Later, Campbell acknowledged that the part of her career she's most proud of is helping pave the way for other women of color who aspire to be in the modeling industry, even though she's unimpressed with the lack of diversity she still notices.
"It's getting better, but I will not shut up until it gets to the point of equal balance," Campbell said.
The audience met this statement with applause, and then Volandes followed up with a pre-selected guest question: "Do you think there are more opportunities than when you first started out?" Campbell admitted there are, but is still disappointed in the low turnout of minorities in couture and editorial modeling.
"Just casting a girl of color no matter what, because she deserves to have that job, not because she's going to get numbers on social media. Cast her because she's great," Campbell insisted.
While reminiscing on friendships, a picture of Campbell as a teenager popped up on a screen behind her. In the picture, she was posing next to her longtime friend, supermodel Christy Turlington, one of the original five supermodels, and a member of the Trifecta with Campbell and Linda Evangelista.
"She was my roommate," Campbell said, laughing. "We didn't have anything in our fridge except Rolling Rock."
Throughout the conversation, Campbell reflected on many other relationships, from designers to her mother, to her late friend and mentor, Nelson Mandela. It was clear that each relationship left an imprint on her in one way or another.
"I grew up in front of the world and made many mistakes, and I would apologize. I always felt regretful for them, but that's part of the growing," Campbell said. "I have been so blessed. I've had such a colorful journey and met so many incredible people, and learned so many things from those incredible people. I've loved my past so far."
Although Campbell prides herself on being an honest, open book about her experiences, the audience wanted to know the biggest misconception people have about her.
"That I'm not funny," Campbell said, "but I know I am."
Again, she was met with laughter. There she was, turning yet another no into a yes.