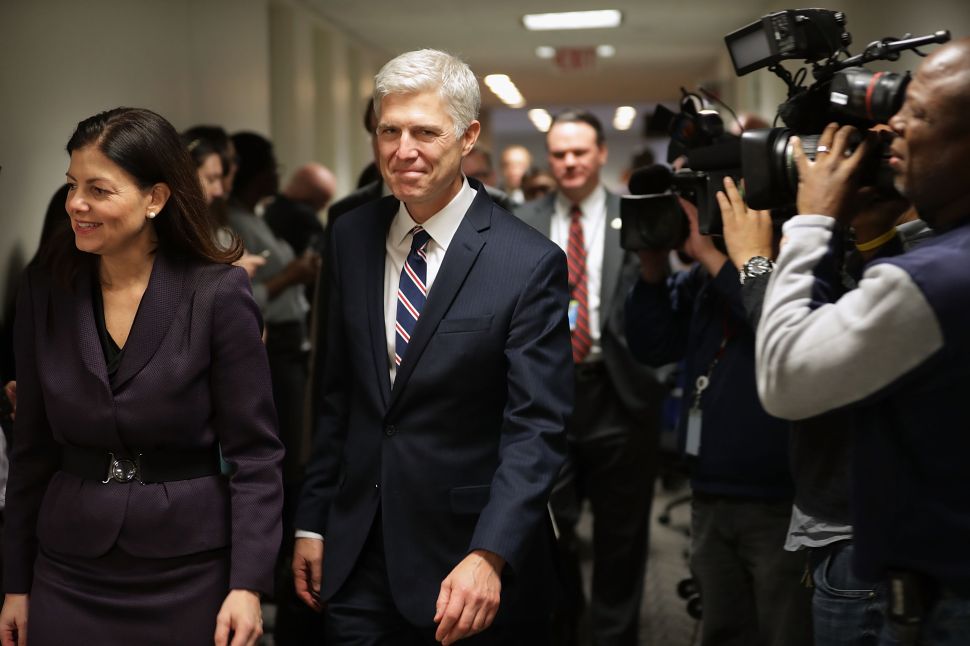 One gets the strangest sense of déjà fait with the Supreme Court nominations process. It seems only yesterday when I was mulling which of the eminently qualified front runners were to be picked, and then Merrick Garland emerged as the reasonable choice. Was not to be this time, which is a shame for he has been treated shabbily by the Senate. I say this not simply because I would wish a Jewish majority on the Supreme Court—but because he is a good pick, a sensible head and is largely centrist.
As one qualified in multiple jurisdictions, it has always come a surprise when the political or interpretative leanings of the Supreme Court nominees are scrutinized at this stage. In the UK the powers that be have tried an outlandish experiment for the past god-knows-how-long of trying to appoint the best person for the job. In that I mean, one who has managed to harness the balance of intelligence, understanding of the real world and fairness—otherwise known as judgment. Bizarrely in the United States, nominees are chosen not for their impartiality or ability to look at every conundrum afresh, but instead are selected for their predilections for prejudice—how they are likely to judge certain issues.
At a time when political discourse is riven with polarity, a Republican president must have wanted to appoint a judge who will restore the conservative majority on the bench that existed when Justice Scalia was alive, while not pushing the envelope too far. In other words, a desire to preserve the status quo. I am quite satisfied that Neil Gorsuch fits that bill very well and I am also quietly relieved that the President resisted pressures to appoint one who is much further to the right, or ideologically motivated to shake things up.
Gorsuch is on the younger edge of nominees and seeing as he is also from Colorado this might mean that he should be a little bit more in touch. He sits on the 10th Circuit Court of Appeals and stands firmly within the expected conservative tramlines. Gorsuch also considers himself the inheritor of Scalia's mantle of having insight into the minds of the Founding Fathers (short of holding a judicial séance, I am yet to understand how they manage to do that). He is more than just an Ivy League education at Columbia, Harvard (with President Obama) and Oxford—Gorsuch clerked for two Supreme Court justices, one who will now be his peer, and worked at the DOJ. In short, he has ticked all the right boxes.
On a geeky personal note he wrote one of my favorite dissents (later approved by the Supreme Court) in Summum v. Pleasant Grove City, in which his general common-sense approach was evident. With issues of environmental protection likely to be before the Supreme Court in the near future, it is no bad thing to have a judge who has been marinated in the métier from an early age since his mother was the director of the EPA appointed by President Reagan. This fact, that Judge Gorsuch was brought up with such a successful and powerful female role model also provides considerable solace that his views of women and their wombs are probably more evolved than some of the others who were in the mix.
I was hoping that El Presidente had a sneaky moment of madness and announced the appointment of Senator Ted Cruz, who has the pedigree as a lawyer before the Supreme Court, and would have affirmed Cruz's clear belief of his own infallibility. However, this has been one of the more sage moves of the past couple of weeks. Gorsuch is a judge who has quite happily stood up to the concept that the judiciary should bow to the executive's interpretation of the law. In fact, he has criticized other judges for such deference, and is a staunch believer in the concept of the separation of powers which augmented by his education in British concepts of natural law.
Gorsuch is not just a safe choice in my view he is the right choice. He has the smarts for the job and while he has written books against the practice of euthanasia in any circumstances, I am not sure that he holds a burning desire to overturn Roe v. Wade, which again should quell some of the fears of the recent lady marchers. While the Democratic politicians have announced their intention to filibuster come what may, this is not the hilltop on which to take a stand. I would urge them to stop wasting time and get on with their jobs of actually doing something rather than seeking to block a brilliant lawyer, a sensible jurist and from all accounts, a decent skier.
Robert Garson is Managing Partner of Garson, Ségal, Steinmetz, Fladgate LLP, an intellectual property and international litigation firm in New York. He is also a barrister qualified in England and concentrates on IP and First Amendment matters.